ACE Brand Personal Pit Crew Sweepstakes

Did you ever need some help with a task and wanted it done correctly but in a timely fashion? Was there a project that you wanted to check off your to do list? What if you could have your own personal pit crew help you with a project, what would it be?
Sounds too good to be true right? Wrong! ACE Brand from 3M Company, in partnership with Roush Fenway Racing launch the ACE Brand Personal Pit Crew Sweepstakes.
All you need to do starting today through Thursday, October 31, 2013 is enter the sweepstakes by sharing your project ideas at ACEBrand.com/PersonalPitCrew. Then just spotlight how you would use your very own pit crew for a chance to win a series of prizes.
With the contest are some sweet and shareable videos featuring the No. 16 3M Racing Team, also known as the Pit Bulls. They are helping families accomplish everyday household tasks at lightning speed. No matter if it is getting the family out of the house in the morning to cleaning out the garage.
The Pit Bulls support driver Greg Biffle – before, during, and after the race – and the ACE Brand Personal Pit Crew Sweepstakes brings these pit crew skills from the race track to the household. Just as the pit crew is on hand and always ready to service their racecar during a pit stop, they will be ready, willing, and able to help the winner of the ACE Brand Personal Pit Crew Sweepstakes accomplish just about any routine task.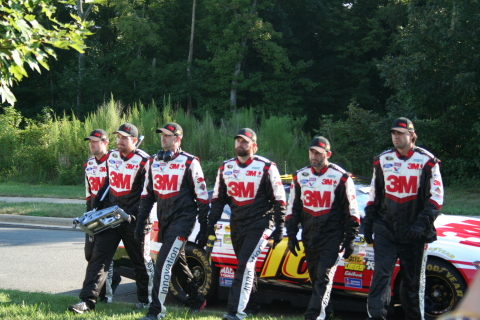 "At ACE Brand we are proud to be the official braces and supports of NASCAR – delivering on our promise to help people perform at their best," said Scott Erickson, brand manager, ACE Brand. "Just as Greg Biffle relies on his pit crew to get through every race in top performance, the ACE Brand Personal Pit Crew Sweepstakes gives you the chance to have your very own pit crew help you complete just about any project."
The grand prize winner will receive $5,000 to go towards their project plus their very own "Personal Pit Crew", consisting of members of the 3M Racing team along with a team of professionals, to do the work. It can be anything from a room make-over or a landscape job to refurbishing a car, and more (up to $5,000 in total value).
Plus three runner-up winners will receive NASCAR merchandise packs including an authentic 3M Racing Team shirt worn by a member of the 2013 team and signed by Greg Biffle. The winners will be selected at random and notified in early November.
"When I heard ACE Brand was going to give fans the opportunity to win a personal pit crew, I knew it was going to be big," said Greg Biffle, driver of the No. 16 3M Ford Fusion.  "The people at 3M are always coming up with creative ways to bring the NASCAR experience closer to the fans and it doesn't get much closer than getting your own pit crew."
The partnership between 3M and Roush Fenway Racing is longstanding and the No. 16 3M Pit Bulls can be seen on the racetrack during every NASCAR Sprint Cup Series race, supporting Greg Biffle. For the drivers and pit crew members who so skillfully keep the racecars going, ACE Brand is committed to providing a complete line of elastic compression bandages, hot and cold therapy products, and braces, and supports to keep  the crew ready and active.
To watch the video series, enter the ACE Brand Personal Pit Crew Sweepstakes, and for more information about the sweepstakes and ACE Brand Products, visit www.ACEBrand.com or www.ACEBrand.com/PersonalPitCrew.
Related Posts
Comments are closed.