Comedy Gives Back Gives Us A 24 Hour Comedy Telethon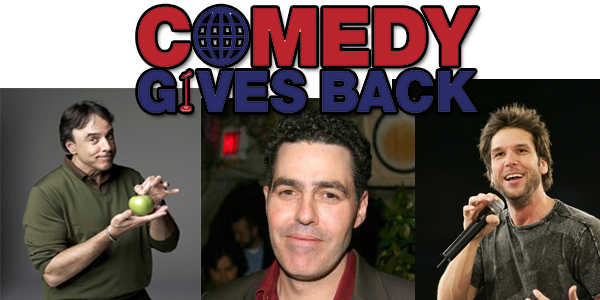 Comedy Gives Back a 24 hour international digital telethon takes place on Wednesday, November 6th with shows originating from New York City, Los Angeles, London and Sydney, Australia. The whole event will be streamed live to audiences around the world and across all internet-connected devices by way of Dailymotion.com, the leading global video destination.
Comedy Gives Back, now in its second year, is a social benefit enterprise that unites traditional and digital native comics to raise money through donations for a new charity each year with this year's charity partner being Malaria No More whose goal is to end deaths from malaria.
"We are so inspired by the comedy community who has rallied to help make our vision a reality to create a day of laughter, to raise money and awareness for Malaria No More," says Zoe Friedman, Co-Founder of Comedy Gives Back. "And with the telethon being distributed digitally, a donation to this worthy cause is simply a click away."
Comedy Gives Back will feature some of the best comedic talent from around the world including: Maria Bamford, Greg Berhendt, Adam Bloom, Jim Breuer, Ronny Cheing, Dane Cook, Rhys Darby, Dana Gould. Adam Hills, Marc Maron, Rove McManus, Eugene Mirman, Kevin Nealon and Iliza Shlesinger.
Tickets for the live stand-up shows go on sale today www.comedygivesback.com/tickets. The shows will take place at Gotham Comedy Club in New York City at 8PM (ET), opening night of the New York Comedy Festival; The Improv in Los Angeles at 8PM (PT) and 10PM (PT) (Comedy Juice Presents Comedy Gives Back); The Leicester Square Theatre in London at 10:15PM (GMT) and The Comedy Store in Sydney  at 7PM on November 7th (AEDT).
In addition to the 12 hours of global stand-up, the remaining 12 hours will consist of live hosted comedy blocks presenting video premieres and highlights from the leading digital comedy brands such as IFC, Earwolf, Cracked.com, Sideshow Network, and more. Confirmed live and taped talent includes Jimmy Kimmel, Kevin Pollak; Scott Aukerman and Comedy Bang Bang; Shira Lazar and What's Trending. These segments will be streamed live from The What's Trending Studios in Hollywood.
The Comedy Gives Back live-stream will be made available through Dailymotion's proprietary video player. Dailymotion will also be the sole distributor of the live stand up shows Video On Demand following the free 24 hour live-stream. VOD content will be available on November 9th.
Related Posts
Comments are closed.