Patrick Willis Interview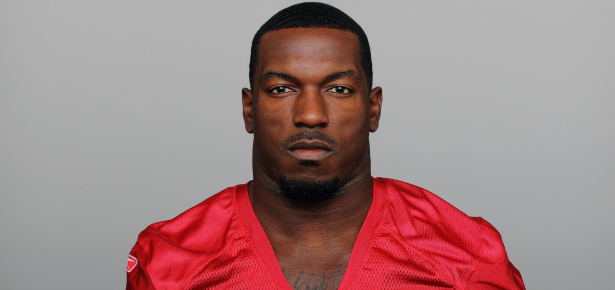 Last week I had a quick chat with 49ers All-Pro linebacker Patrick Willis, a beast of a guy with the most intimidating neck you will ever see. Willis has been a tackling machine ever since he has drafted out of Ole Miss in 2007. The guy's never missed the Pro Bowl. In any conversation about the best linebacker in the NFL, Willis tops the list. Dude's just a monster.
He also had a really tough upbringing. The guy grew up in extreme poverty, supported his younger siblings and had to leave home because of an abusive father. But he always believed in himself and his abilities. And he's promoting that sense of self-will with a new Duracell campaign.
The Duracell Trust Your Power campaign encourages people to trust the power they have within to achieve their dreams. When fans tweet #TrustYourPower or comment on the Trust Your Power YouTube video (below), Duracell will make a $1 commitment to provide disadvantaged youth scholarships to ProCamps, an organization that runs sport camps for kids ages 7-14.
We talked to Willis about his head coach, the hardest guys to tackle in the NFL, how long he plans on playing and what advice he has for kids going through tough times. Here's the interview:
Patrick Willis Interview
CS: Coach Jim Harbaugh – I get the feeling that guy still wants to suit up and play.
PW: Oh yea.
CS: Can he still fling it?
PW: You know what, he can. He gets out there every day before practice and throws some passes with the guys and whatnot. He's out there running around and sometimes he even does some of the drills. One time he tried to do a special teams drill and coach slipped and fell completely on his backside. There's no doubt in my mind that if he could suit up today, he would.
CS: So he can be used as an emergency QB?
PW: Yea, I think so. He wouldn't be able to move that much. He'd probably just sit in the pocket.
CS: (laughs) Who do you think is the toughest player to tackle in the NFL?
PW: Toughest player… I don't know.  I've played against a few of 'em. Adrian Peterson and Marshawn Lynch. Those two guys, from the running back position, those are two tough guys to bring down. There's more, but those two guys really stand out.
CS: Do you plan on playing as long as Ray Lewis?
PW: I'm going to play as long as my body allows me to. As long as my mind and body tell me I can still do it and my production level is still good, then I'm going to play.
CS: You had kind of a rough upbringing. What words of encouragement do you have for kids who find themselves in similar tough circumstances?
PW: Really, you got to look at this campaign – Trust Your Power. Only you know what you're capable of. Only you know what you can give. At the end of the day, you know inside that you have all the power in the world and trust it and go after what you want to go after. Don't let anyone else tell you otherwise.
Related Posts
| | | |
| --- | --- | --- |
| | Print article | This entry was posted by Chris Stout on November 7, 2012 at 11:59 am, and is filed under Sports. Follow any responses to this post through RSS 2.0. Both comments and pings are currently closed. |
Comments are closed.