Super Bowl XLV Pick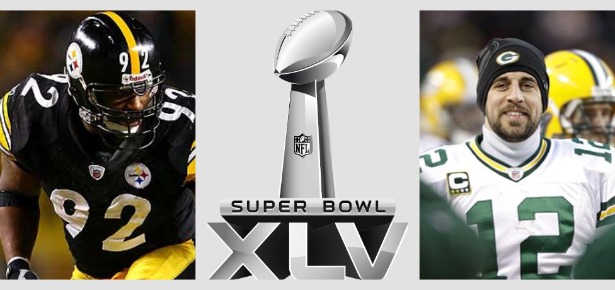 What a fantastic Super Bowl matchup this is. The team with the most NFL championships is set to duke it out with the team that owns the most Super Bowl titles. The Packers and the Steelers are pretty evenly matched, as evidenced by the 2.5 point spread in Green Bay's favor. It's the lowest point spread for a Super Bowl in almost three decades. So yea, we're all going to be treated to a good game.
But you knew this already. You knew that a Pittsburgh-Green Bay matchup was the best possible outcome. Can you imagine what sort of nonesne media hype would surround a Jets-Bears matchup? Cutler's a girl and Rex won't shut up, yadda yadda. But that didn't happen. We got two world class teams from small markets and each team has a huge fan base.
The Steelers have more than 30 players who've played in the big game before. The Packers have two. The only Packer with a ring is fullback John Kuhn, and he got that ring while playing on the Steelers practice squad in 2005.
So why are the Packers favored to win the game? Two words: Aaron Rodgers. The guy's playing on a different level. He threw for almost 4,000 yards, completed 65.7 percent of his passes and posted a 101.2 passer rating during the regular season. He followed that up with. He's been even more dangerous in the playoffs, completing 71 percent of his passes and posting a 109.2 passer rating while winning three straight games on the road. Rodgers wasn't spectacular in Chicago (two picks, no TDs), but he showed just how tough he was after getting crushed in the head by Julius Peppers and bouncing back up.
But Rodgers isn't doing it all by himself. James Starks has been surprisingly useful on the ground. The Packers D has allowed only 69.7 rushing yards per game during the playoffs. During the regular season, the Packers were second in the league in takeaways and points allowed. Tramon Williams has three picks in the postseason. Sam Shields has two. Clay Matthews has 3.5 sacks and BJ Raji even managed a pick six somehow. This is a defensive unit that is firing on all cylinders. They've fully bought in to to the system that Dom Capers installed, and they're going to give the Steelers offense a tough challenge on Sunday.
But what about those Steelers? They've won 9 of their last 10 playoff games. They're a team that doesn't lose Super Bowls. They have the experience, they have the focus and they have a better defense.
For all of Green Bay's accomplishments on D, the Steelers are that much better. Pittsburgh's holding opponents to 52.5 yards per game in the postseason. It's true that the Packers finished second in the regular season in takeaways and points allowed, but the Steelers finished first in both categories. Troy Polamalu just won his second Defensive MVP award, and the dude didn't even play in Week 15 or 16.
Then there's LaMarr Woodley and James Harrison. Woodley had 10 sacks, three forced fumbles and two picks in the regular season. Harrison had 10.5 sacks, six forced fumbles and two picks to go with his 100 tackles during the regular season. Woodley has a sack in each of Pittsburgh's two playoff games and Harrison racked up three sacks against Baltimore. This is the most formidable one-two QB pressure punch in all of football. If anything can slow down Aaron Rodgers, it's these two guys.
There are so many other subplots to discuss: Charles Woodson fighting for his first ring; Big Ben's big redemption; the rise of Pittsburgh's young receiving corps; the ability of the Packers receivers to find gaps in the Steelers secondary; Rashard Mendenhall coming off one of his best games as a pro. We could go on and on, but really it boils down to this: Aaron Rodgers has been lights out, but the Steelers have the pieces in place to stop him. Big Ben is no slouch, and he's proven that he can make big plays in the face of extreme pressure. Aaron Rodgers hasn't seen the type of pressure that the Steelers are sure to bring. There's no questioning his toughness, but against the best defense in the league, I think the Rodgers train finally grinds to a halt.
Pick: Steelers +2.5
Last week: 2-0
Season: 133-124-7
Related Posts
| | | |
| --- | --- | --- |
| | Print article | This entry was posted by Chris Stout on February 3, 2011 at 8:32 am, and is filed under Sports. Follow any responses to this post through RSS 2.0. Both comments and pings are currently closed. |
Comments are closed.