Posts tagged
Minnesota Vikings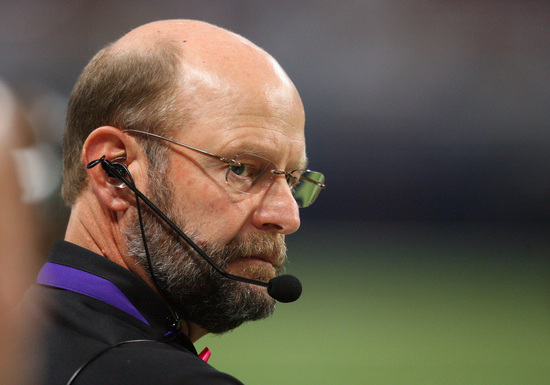 Brad Childress now commands the same respect of the Minnesota Vikings that I do. That makes me feel pretty solid this morning. Write it down Vikings fans. The Brad Childress era ended in Minnesota on 11/22/2010.
When morning reports were released in Minneapolis, Brad Childress was scheduled for his regular Monday interview. I'm confident that every reporter was licking their lips to pose a few queries after yesterday's home debacle to division rival Green Bay. And beyond the division rivalry, this game was, for all intents and purposes, the hope of saving the season. Saving it. Well, saving it for "Chilly." A couple of hours later, it was everywhere–Brad Childress was out, and defensive coordinator Leslie Frazier was in as interim head coach.
If there was one thing that was absolutely certain in the Minnesota Vikings organization before yesterday's beat down: The professional football players in purple, signed to big money contracts, did not want Brad Childress as their head coach.
I have never been a fan of Childress. I wish I could say that "he seems like a nice enough guy," but he doesn't. He comes across as pompous and arrogant in every interview I have ever seen. Even in last season's NFC Championship game, he offered a pre-game interview making himself look and sound like an ego-maniacal ass. No grace. No credit to the Saints. Just a guy who looked like he was reciting a script that he wrote and rehearsed, ready to spout toward the first person who put a microphone in front of his face.
Fans have been calling for the canning of Childress since Week 3, but I must say that I was shocked that Childress was ever part of the Vikings equation for 2010. I was just shocked that Zygi Wilf really thought that Childress was the man who would lead this franchise to the NFL's promised land. Clearly it became obvious to Wilf when Childress continued to grow in his arrogance, continued to grow in cynicism, and within all of it, he failed to lead the team to strong performances on both sides of the ball.
People want to point at Brett Favre for the downfall of last season's NFC powerhouse Vikings. While Favre has had his issues this season, quite honestly, what would you expect? No, it's not because he's older. The dude has looked sharp at the right times. No reason to believe he couldn't perform to task. But who would he throw to? It's not just Favre.
But oh, James, all the interceptions!? How many of those picks have been off people's hands, because receivers "fell down," or tried to catch the ball with their body instead of their hands? Case in point, two of them yesterday–two of them the week prior. Where has the offensive line been? Where's the defense? This team has been a direct reflection of the leadership of Brad Childress.
I believe you'll see a very different team take the field next week vs. the Washington Redskins. And now that Chilly is gone, I'm not so sure that Brett Favre is "done" after this season.