2010 College Bowl Preview
Outside of the NFL playoffs, it may be the greatest multi-week sports season of the year–in fact it is the harbinger of the playoffs for the pros. It surrounds the Christmas and New Year holidays, and it even spurs annual debate through crowning a Champion without a playoff system. Oh yeah. It's time to go bowling!
If you feel there are too many bowl games, get over yourself! Why? Is it too much football for you? Are you paying taxes for these games? C'mon! Get in the holiday spirit, Scrooge.
I don't care who the bowl sponsor is, or who's playing in it…I'll watch it and enjoy it. At first glance a couple weeks ago, I thought the match-ups looked pretty uninteresting, yet after careful consideration, the potential for some great football games is undeniable.
Let's break 'em down in play order:
12/18 – New Mexico Bowl: BYU vs. UTEP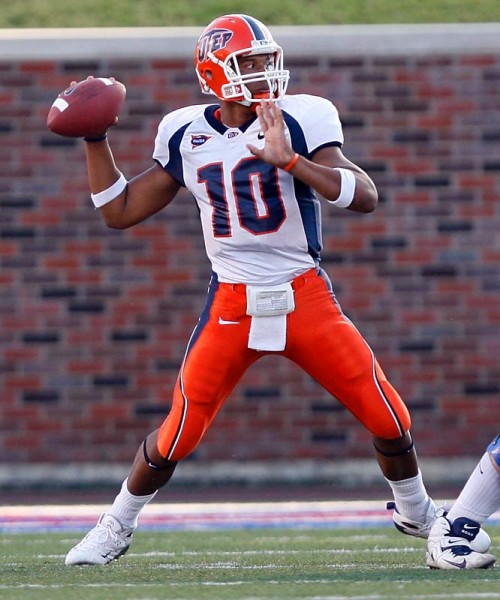 BYU is a pretty easy favorite in this match-up. UTEP QB Trevor Vittatoe is a difference maker, yet his ankle is busted up, and he's less than four days from having to put it to the test. If he's somehow able to play through the pain, the Miners could make it interesting.
12/18 – Humanitarian Bowl: Northern Illinois vs. Fresno State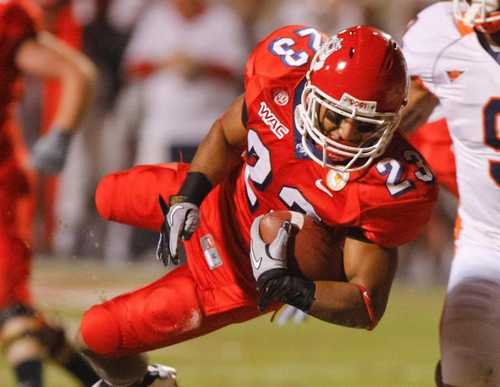 Northern Illinois put up an impressive 10-3 season, losing a heart breaker in the MAC Championship. Now they're meeting a Fresno team led by veteran coach Pat Hill who has been given multiple weeks of preparation. This promises to be a battle, and picking either team would be a logical decision. The vast majority of the nation is going with the bulldogs, but I'm taking the Huskies.
12/18 – New Orleans Bowl: Ohio University vs. Troy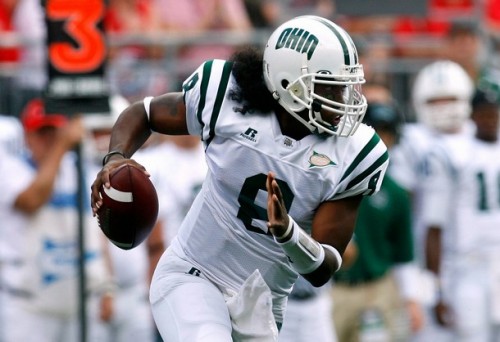 Ohio QB, Franshaw "Boo" Jackson. He can be exciting when he's hitting on all cylinders, yet I was unimpressed with the MAC this season. I'm going against the populous once again on this one, and sticking with the team from the south. I see another battle, and Troy coming out on top.
12/21 – St. Petersburg Bowl: Southern Miss. vs. Louisville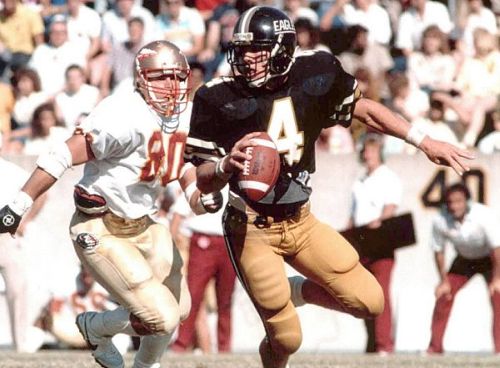 Didn't ya hear? Brett Favre found a game of NCAA eligibility and is coming out of collegiate retirement. I just couldn't pass up the opportunity to use the image. Look at the young gun slinger… Call me insane, but I'm going against the majority again with this pick. I feel like Louisville has the slight edge. It has the potential to be another close one.
12/22 – Las Vegas Bowl: Utah vs. Boise State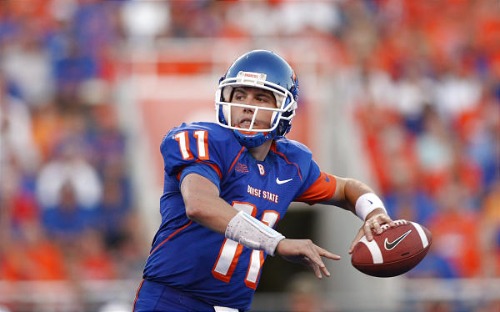 Aside from a couple missteps vs. TCU and Notre Dame, Utah put together an impressive season. They won close games down the stretch and earned this match-up vs. powerhouse, Boise State. The Broncos BCS dreams were crushed in the NCAA game of the year vs. Nevada, yet a week later they went back to work and took care of business. I have a feeling that Kellen Moore is going to go off in Vegas like a 21 year old with their multi-millionaire father's credit card. …that Kellen Moore is going to go off in Vegas like a fat dude at the Circus Circus buffet. He may opt for both options–I know I would. BSU is the team that I would never bet against. You shouldn't either.
12/23 – Poinsettia Bowl: Navy vs. San Diego State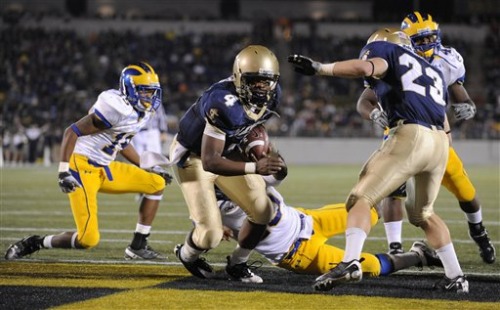 Navy is impressive… but San Diego State is possibly the best 8-4 team in the country. They have played everyone close. Everyone. Their 4 losses were by a combined 15 points. I think the Navy option attack might give them headaches, and I'm rolling with the Midshipmen…as of now. I reserve the right to change my mind due to the factual evidence listed above. It's worth noting, this is the final game for Navy QB Ricky Dobbs–the kid is a stud. He has always played well in big games, and probably loves the thought of being the underdog.
12/24 – Hawai'i Bowl: Hawaii vs. Tulsa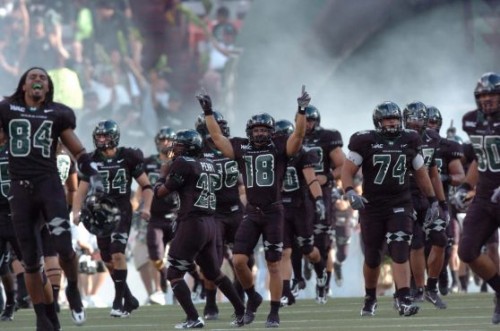 Hawaii at home? Check. Hawaii with a devastating passing attack? Check. Tulsa with a suspect secondary? Check. Tulsa with the ability to score a lot of points? Check. Could be a shoot out, but this one is going to the Warriors of Hawaii.
12/26 – Little Caesars Bowl: FIU vs. Toledo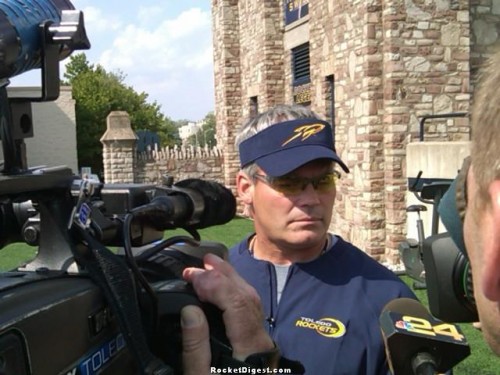 These two teams. Geez. How many times did you see either of these teams play this year? Exactly. FIU is scary because they're a new program, and they just don't know better than to score 50 points in some games. Still, I'm hitching my wagon to the Rockets of Toledo and the best coach you've never heard of, Tim Beckman. Don't be surprised when Toledo is cracking the Top 25 in another few years…if they can keep Beckman around.
12/27 – Independence Bowl: Air Force vs. Georgia Tech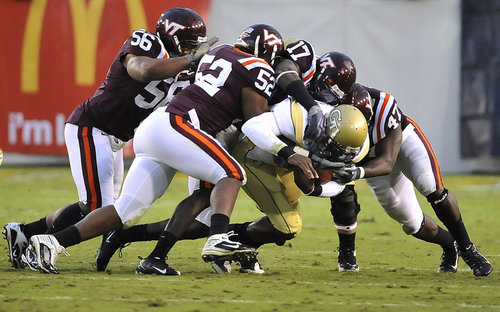 This battle has options. How's that for a play on words? GT QB Joshua Nesbitt is a guy with the potential to take over the field. It would be awesome to see him have the game of his life in the Independence Bowl. Even so, I don't know that the Yellow Jackets have the moxie to dogfight with the Air Force. I'm going with the Falcons.
12/28 – Champs Sports Bowl: West Virginia vs. NC State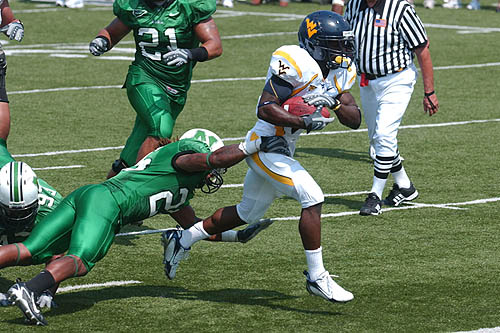 The Champs Sports Bowl will mark the end to the collegiate career of WV star running back, Noel Devine, and if he can rush for 114 yards in the contest, he'll go over 1,000 yards for his third consecutive season. QB Geno Smith has offered a stamp of legitimacy to his sophomore season, and I'm excited to see him after multiple weeks of rest and preparation. If the Mountaineers come into the contest focused, which I believe they will, NC State will have their hands full–unfortunately, WVU has not played well in bowl games without a fella by the name of Pat White under center.
12/28 – Insight Bowl: Missouri vs. Iowa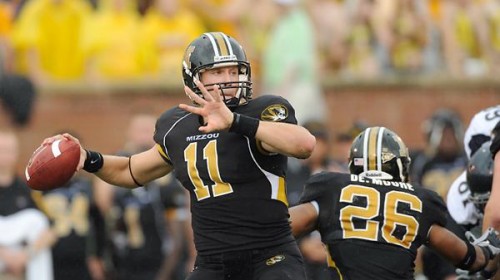 Mizzou flaked for two weeks this season. They sat in the drivers seat, took it to Oklahoma in convincing fashion, but couldn't get themselves up for the inevitable battles vs. Nebraska and the inferior Texas Tech. After getting the wheels back on track, they finished the season strong. Iowa's Ricky Stanzi is a joy to watch. 25 TDs to 4 INTs in 2010–flat out, impressive! He led the Hawkeyes to compete in every game, yet they dropped their final 3 only two weeks after knocking off #5 Michigan State. In this contest, Stanzi will be without a couple weapons who have been suspended for off-the-field issues. We'll see if the Hawkeyes can fill those gaps. In this border war on neutral ground, I gotta go with Missouri. MIZ-ZOU.
12/29 – Military Bowl: East Carolina vs. Maryland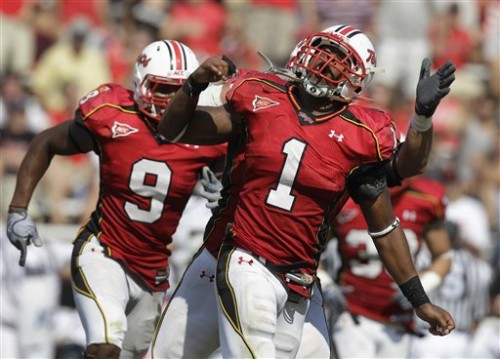 Nothing like two state schools battling in the Military Bowl. ECU started the season off well at 5-2, then dropped 4 of their last 5. QB Dominique Davis will have his hands full vs. Maryland, who is disciplined, talented and oft disrespected on both sides of the ball. I'm going Terps all the way in this first ever meeting between these two teams.
12/29 – Texas Bowl: Illinois vs. Baylor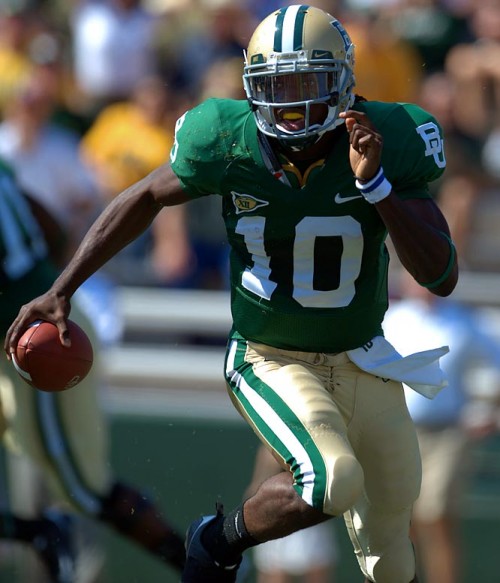 Do yourself a favor and check out at least a visual snippet of this game. Baylor will play with the relative home field advantage, and will look to cap the season on a positive note after dropping their final three games. Baylor QB Robert Griffin III, and Illinois RB Mikel Leshoure are two to watch in this battle. I'm going with the Baylor Bears in their first bowl appearance since 1994.
12/29 – Alamo Bowl: Oklahoma State vs. Arizona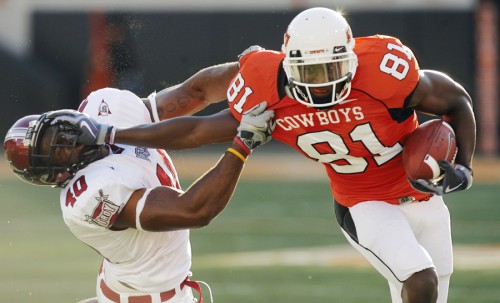 Two words. Justin Blackmon. The Arizona defensive game plan will be to shut this guy down. If I were Mike Gundy, and I were a man…who was forty…two… I would ensure that Blackmon receive 10 touches in this contest, even if they're triple teaming the guy–OSU has to get him the ball. Can you believe Dez Bryant and this dude played together? How'd we miss that? Arizona can compete, and they can also fall flat in the second half of big games; however, you know the Stoops boys are sharing information on how to stop common foes. Regardless, this game belongs to the Cowboys.
12/30 – Armed Forces Bowl: Army vs. SMU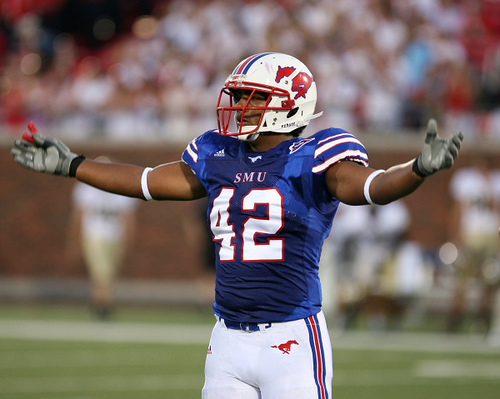 Can SMU stop Army's option attack? I believe that they can. It's so nice to see SMU back in the mix after years of football obscurity–I thought last season might have been a fluke, but it seems they're really on the upswing. June Jones will certainly have a few wrinkles in the game plan with so much time to prepare. Army will move the ball and will score some points, but when it comes down to it, they're inability to pass the ball effectively will hurt them vs. the Mustangs.
12/30 – Pinstripe Bowl: Kansas St. vs. Syracuse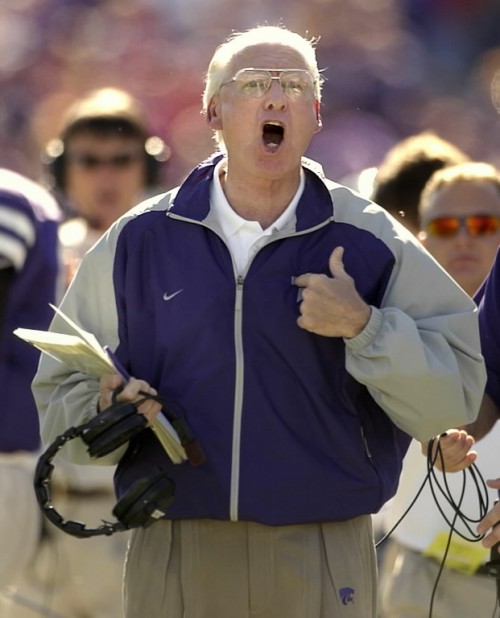 Bill Snyder is letting Syracuse know, "Oh yeah, we're coming to New York, and we're gonna put it down! Meet us at Yankee Stadium, Orangmen!" How can you pick against Bill Snyder? I know I can't.
12/30 – Music City Bowl: North Carolina vs. Tennessee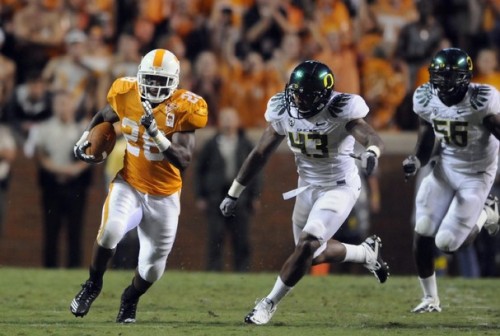 To many Tar Heel fans, this will be the season that "could have been." Broken rules + Player suspensions = Disappointing season. Tennessee, with all Kiffinesque things considered, had an amazing season–competing deep into games with some of the nation's most elite talent. I think Derek Dooley is going to do amazing things at UT! You hear that Colin Cowherd? Yeah, bro, I remember you dissing him earlier this season. He took Lane Kiffin's mess and is going to a bowl game…and the Volunteers will win.
12/30 – Holiday Bowl: Nebraska vs. Washington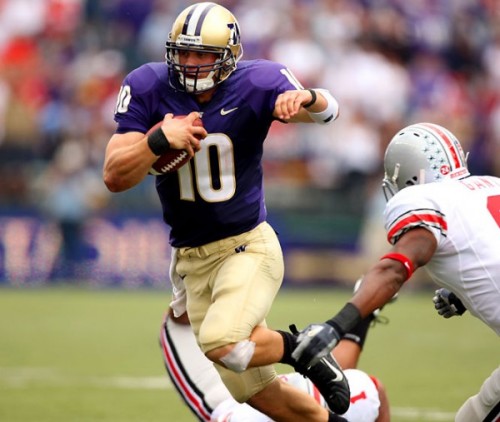 Jake Locker might wish he had declared for the draft after last season. The Huskies just didn't offer much support to the talent under center. Locker will have his hands full vs. a well prepared Bo Pelini/Nebraska defense. I'll honestly be surprised if Washington scores more than 13 points in this game. If you haven't seen Nebraska play this year, have a look-see. Roy Helu Jr. and Taylor Martinez are an exciting offensive duo.
12/31 – Meineke Car Care Bowl: South Florida vs. Clemson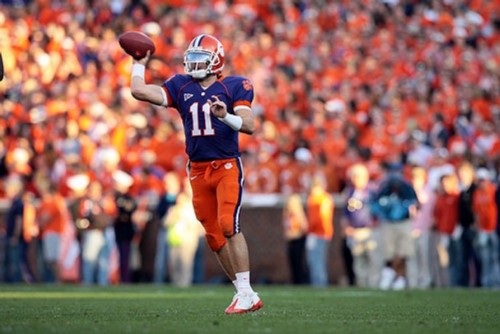 I really don't have much to say about this one. It's not that I don't care, it's just that I don't care very much. Clemson put up yet another sub-par season, and the Bulls of South Florida are still trying to find their way under new leadership. Slight edge to the Tigers.
12/31 – Sun Bowl: Notre Dame vs. Miami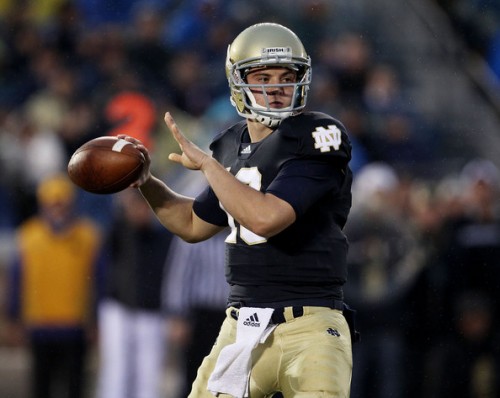 The season in South Bend was riddled with tragedy. Am I about to go out on a limb? I certainly am. Yes, I believe Notre Dame will win this bowl game, but I also believe that Notre Dame has turned the corner under Brian Kelly. Regardless of how I feel, Miami is the popular favorite, and is sitting at -3.5 where you can pay to play. I'm a little shocked by the line, considering the firing of Randy Shannon. Can't really explain my confidence on this one, but I think the gold hats prevail.
12/31 – Liberty Bowl: Georgia vs. UCF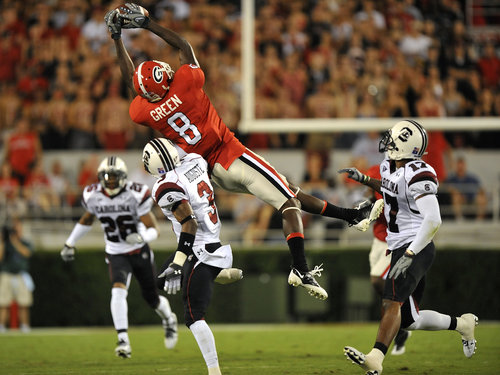 A.J. Green watched the beginning of the season in street clothes. That was the difference in Georgia's season. This Georgia squad proved that they could compete with the best when they went to war with Auburn. They fought hard for their sixth win to enjoy this extra game. I believe they'll take full advantage of it vs. the UCF Golden Knights. If you like NFL talent, tune in to enjoy A.J. Green.
12/31 – Chick-Fil-A Bowl: South Carolina vs. Florida State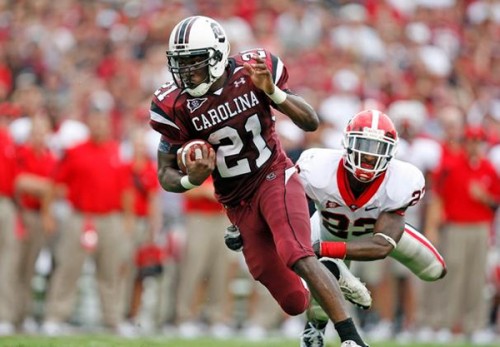 Want to see the best Freshman running back in the nation? He wears #21 for the Gamecocks. South Carolina playing at their best takes it to Alabama. South Carolina missing the mark gets hammered by Auburn. When I say South Carolina, yes, I mean QB Stephen Garcia–it comes and goes with his play–when he plays within the system and minimizes his mistakes, he's dangerous. Not only that, he's surrounded by talent. RB Marcus Lattimore, WRs Alshon Jefferey and Tori Gurley: These three are Sunday players. I like the Gamecocks–I like Steve Spurrier over Jimbo Fisher.
1/1 – TicketCity Bowl: Northwestern vs. Texas Tech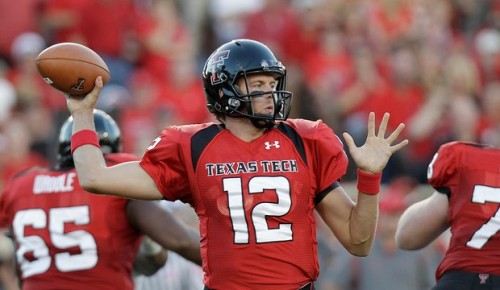 Northwestern hasn't won a bowl game since the 1948 Rose Bowl. I don't think that streak is going to end vs. this Texas Tech team. Tommy Tuberville has quietly taken a messy situation in Lubbock, TX, and worked a few wonders. As much as I love NW coach Pat Fitzgerald's mojo, I think the Red Raiders will be slingin' their guns in this battle.
1/1 – Outback Bowl: Florida vs. Penn State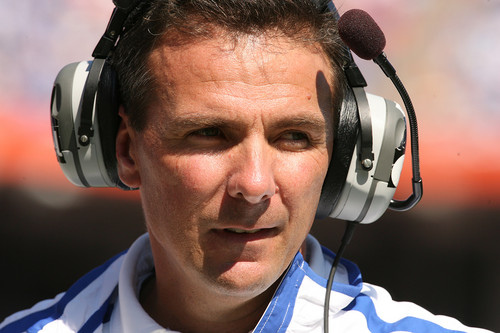 Farewell, Urban. As an LSU fan, I'm supposed to loathe you, but I don't. You're probably as confused as I am about your 2010 Gators squad. This Florida team just seemed unfocused, grossly lacking that on field leadership that Tim Tebow offered the previous four years. Making matters worse is Florida QB John Brantley who is considering a transfer after the season. If I could offer a bit of advice–just play one game at a time, young man, and stay where you are. What can you offer to the program? Where could you lead it? I foresee the squad focused for Urban's final game on the UF sidelines. Penn State will be no pushover, but they simply don't have the firepower to run with the Gators, even if both squads are firing on both cylinders.
1/1 – Capital One Bowl: Alabama vs. Michigan State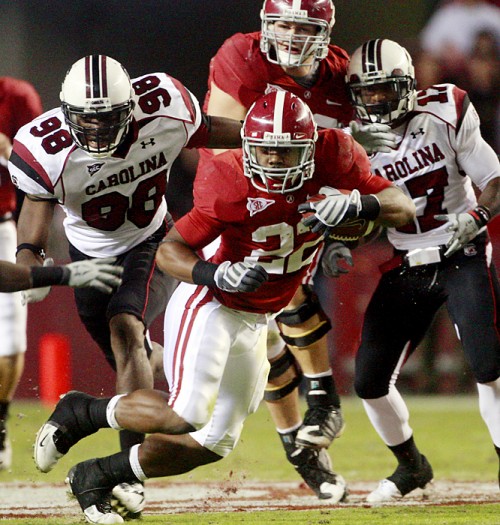 How did Alabama lose three games this season? I still believe they're the most talented team in the country. Rarely do a I look at a coach like Nick Saban and question personnel decisions, but I felt Mark Ingram was underutilized all season, considering the early season knee issue. Yes, I'm an outsider–perhaps both Ingram and Trent Richardson are headed to the draft, in which case, I get it. I hope to see Ingram get 20+ carries in the Capital One Bowl. The Tide will roll in this match-up. Yeah, I'm biased–I love the SEC, and can't stand the Big 10.
1/1 – Gator Bowl: Mississippi State vs. Michigan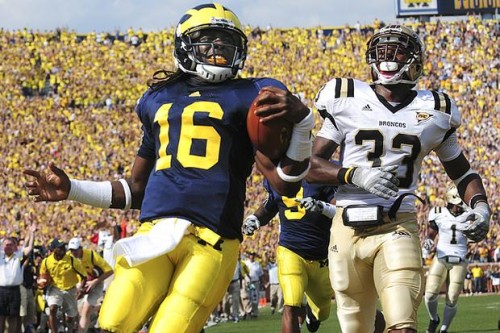 It's another SEC vs. Big 10 match-up. Hmmmm…wonder which way I'm going? I do love watching Denard Robinson play, but after facing Cam Newton, Mississippi State will feel like they're playing against Newton's little brother. Mississippi State is a very good football team, and they'll come off the field with the hardware.
1/1 – Rose Bowl: Wisconsin vs. TCU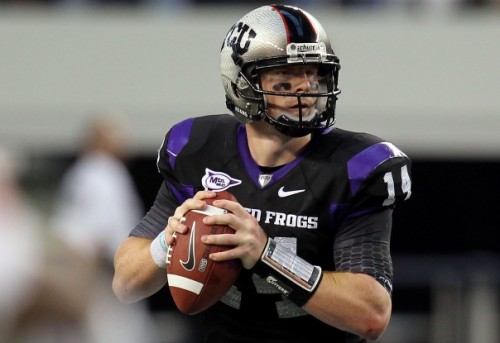 If the regular season was any indication, these two teams could merit an U/O of 100. I see a clash of the titans in the 2011 Rose Bowl game. I feel like TCU learned an incredible lesson in their loss to Boise State last bowl season–they haven't lost since, and they've left nothing on the field since. I'm taking the Horned Frogs over the Badgers, and to finish #2 in the final BCS standings.
1/1 – Fiesta Bowl: UConn vs. Oklahoma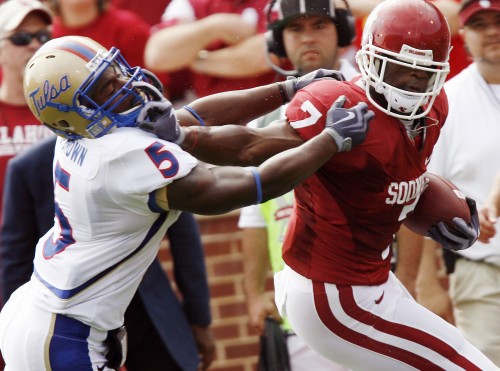 Worst bowl match-up ever? We'll see. This is definitive proof of the failure that is the BCS. Sure, the Fiesta Bowl has a tendency to turn Oklahoma into Choklahoma, but not with this squad, and not vs. UCONN. I pity the Huskies. I know they'll come to play, but I feel as if the OU Stoops crew will be looking to send a message to the BCS and their computers.
1/3 – Orange Bowl: Stanford vs. Virginia Tech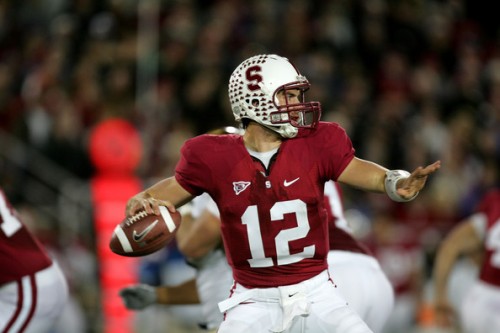 This match-up has the makings of a solid game. After their early season falter, Virginia Tech put together an impressive run–11 straight wins. Stanford's only loss was to Oregon, and it could easily be argued that the Cardinal (yes, Cardinal–color, not animal) weren't playing their best ball until late in the season. I'd go so far as to say that they could beat Oregon if they played tomorrow. I like Jim Harbaugh's boys in this battle. If you tune in, be prepared for the ongoing booth dialog about Andrew Luck as an NFL prospect. I would suggest that the Jr. stick around, considering the NFL season in 2011-12 will probably be 9 games long, beginning in November.
1/4 – Sugar Bowl: Ohio State vs. Arkansas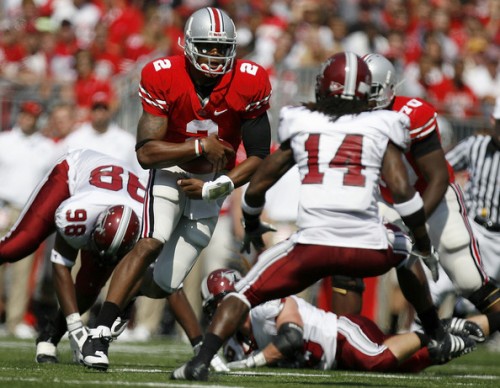 Another Big 10/SEC match-up? Terrelle Pryor is an exciting athlete. Ryan Mallett is a better QB. Sorry OSU fans. I enjoy watching TP, but I don't think you realize what you're up against in Arkansas. The Hogs played with everyone in the SEC only losing to Alabama and Auburn–Alabama by 4, and Auburn in a shoot-out with a score grossly misrepresenting how close the contest actually was. I'll stick with the SEC in this one. I know–shocker.
1/6 – GoDaddy.com Bowl: Middle Tennessee vs. Miami (OH)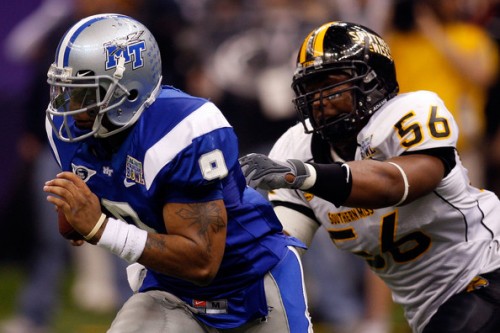 Perhaps a slightly disappointing season for senior MTSU QB Dwight Dasher. The guy can make plays, but missing multiple games at the beginning of the season forced him to try and find mid-season form with no action under his belt. Things won't get easier for him vs. a Miami (OH) Redhawks squad that was on the verge of death a year ago. The 'hawks are flying high and should dictate all aspects of this match-up.
1/7 – Cotton Bowl: LSU vs. Texas A&M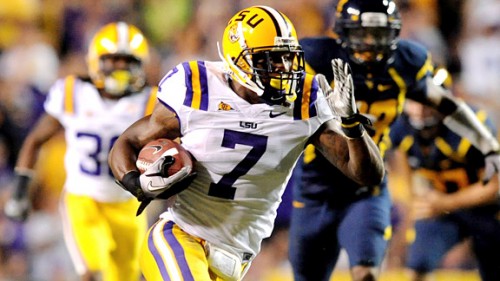 I'll try to keep it short and sweet. A die hard Tiger fan, I'm thoroughly excited for this match-up vs. Texas A&M in Dallas. LSU has struggled offensively nearly all season long, simply due to inconsistent QB play. Running back Stevan Ridley may be one of the best kept secrets in the NCAA. The defense, led by DT Drake Nevis and CB Patrick Peterson are as close to an NFL style defense you'll see at the collegiate level. A&M kicked their season up a notch by going to Frosh QB Ryan Tannehill early in the season–he became their difference maker. He saw some decent defenses in the Big 12, but he's never seen a defense with this speed and strength of this LSU squad–fully rested and ready to roll. If LSU QB Jordan Jefferson can begin to play to his potential, this could cap a nice season for the Bayou Bengals. I LOVE LSU in this one. You should love them, too.
1/8 – BBVA Compass Bowl: Pittsburgh vs. Kentucky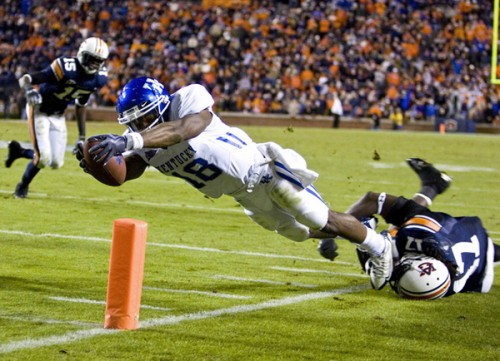 You heard about Kentucky QB Mike Hartline getting suspended, yes? This could actually be beneficial for the Cats, as they'll more than likely go to sophomore QB Morgan Newton. Perhaps Wildcats coach Joker Phillips may also show more wildcat looks with the best player you've probably never heard of, Randall Cobb. The smart choice here is probably the Pitt Panthers, but I'm going with Kentucky in Randall Cobb's final game in UK Blue–SEC over an average team from a pretty weak Big East conference.
1/9 – Kraft Fight Hunger Bowl: Nevada vs. Boston College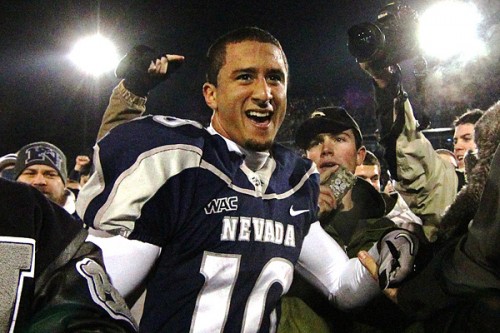 How can you not love Colin Kaepernick? Nevada's pistol attack is absolutely deadly. When they get down, they can come back in a hurry. When they're up, they can bury a team just as quickly. Don't believe me? Just ask Boise State. The Boston College defense may be one of the better units Nevada has faced, excluding Boise State, yet I don't think the Eagles can handle the Wolf Pack attack for all four quarters. Sticking with Kaepernick, leading Nevada to the best season in school history!
1/10 – BCS National Championship: Oregon vs. Auburn
VS.

Can Oregon possibly stop Auburn? I don't think so. I don't think there's any way that they can stop all facets of Auburn's offensive attack, led by Heisman award winner, Cameron Newton. If you haven't seen Cam Newton play this season, you'll have to take my word. My opinion on this matter is worthy of the pundit stamp.
There is no known way to contain him for four quarters. Even when Alabama found a way to contain him for a couple of quarters, he just kept coming. Add to that fact a tremendous supporting cast who also just keeps coming, and Oregon is probably shifting their mindset towards a shoot-out.
Can Auburn slow or stop Oregon? I believe Auburn can, and will. Put it this way: Oregon will have to beat Auburn by putting the ball in the air. Auburn's weakness has been in the secondary, yet they're much improved. With five weeks to prepare for this game, they'll be even better. I just don't see Darron Thomas executing that kind of a passing attack.
I foresee the Auburn defensive game plan focused on stopping LaMichael James. The Auburn defensive front, led by Nick Fairley, will wear on Oregon as the game goes on, and they'll get to Thomas. The difference may be in what Thomas can offer once a play begins to break down.
I don't see this one playing close for very long. It's going to be incredibly interesting to see what happens if the Ducks get down early, playing from an unfamiliar position. For this game to go the distance, Oregon needs to run out front, and score a lot of points.
I like Auburn–clearly. I think once the nervous energy subsides on both sidelines, and both teams get down to business, the contest will end with Auburn raising the Waterford Crystal, BCS Coaches Trophy. Every Auburn fan who booed the hiring of Gene Chizik will happily eat some crow…and it'll taste sooo good.
Related Posts
| | | |
| --- | --- | --- |
| | Print article | This entry was posted by James Sheldon on December 15, 2010 at 12:39 pm, and is filed under Sports. Follow any responses to this post through RSS 2.0. Both comments and pings are currently closed. |
Comments are closed.