Posts tagged
Weezer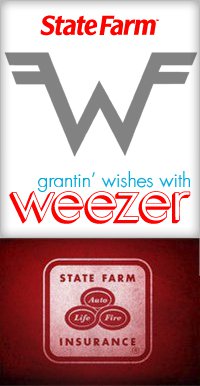 Who doesn't love Weezer? Nobody, that's who. Weezer appeals to everyone, from the old folks who remember buying that first blue CD to the young'uns who discovered the band's mp3's on iTunes. Weezer crosses eras and taste camps. And they also put on a damn good live show.
Well Weezer's got a new set of concert tour dates on tap, and if you want to enter to win a one-of-a-kind experience with the band, check out the pretty sweet contest on the State Farm Facebook page. The Grantin' Wishes with Weezer Contest asks the question, "If you could have one wish granted by State Farm & Weezer, what would it be?" Now that's a pretty open question that can go in lots of different directions. So fans are encouraged to record and upload a video or write-in their wish on the State Farm Facebook page. Facebook visitors can also view a video of Rivers Cuomo and Patrick WIlson introducing the contest on the State Farm page. You can also enter the conest at the State Farm/Weezer booths available at Weezer's NYC concert venues.
When all is said and done, four winners will get to attend the band's final concert of the Weezer Memories Tour Driven by State Farm in Chicago and have their wish granted. The winners will be flown out on January 7-8. If you have a unique idea or creative wish in mind, write it down, film it and head to Facebook to get that wish entered. The contest runs till December 24, so get on it.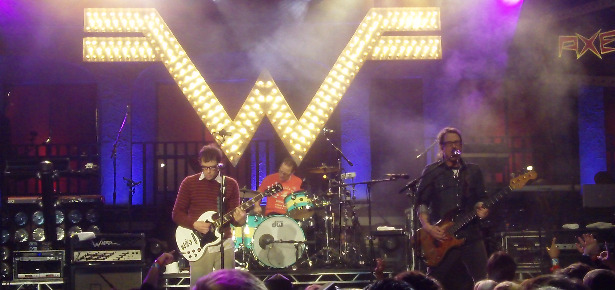 Weezer played a secret show sponsored by AXE at the Dunes Inn Motel in Hollywood on Tuesday, and it was sick. The second installment of the AXE Music "One Night Only" concert series was definitively a hit (the first One Night Only concert was a TI show in New York that sounded like a pretty sweet time as well). The Weezer show featured an open bar, free food, celebs and a chance to see a great live band in the intimate setting of a motel courtyard on Sunset and Western.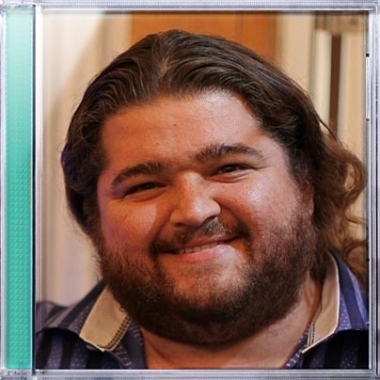 Khloe Kardashian and Lamar Odom were there (Odom looked bored as hell, but hey, way to support the band, Lamar). Vanessa Hudgens, My Chemical Romance and the big guy from LOST were also in attendance. Jorge Garcia (aforementioned big guy) had his face selected by Weezer for their new album cover, Hurley. Jorge got to introduce the band and even did a number with them on stage.
AXE puts on great events, and this was no exception. The line outside was massive, but once people got in, they were treated to free drinks & snacks, great music and good energy. You can't ask for much more than that on Monday night in Hollywood.
Rivers Cuomo and company certainly know how to put on a show. The band played "My Name is Jonas" with My Chemical Romance, did that entertaining MGMT/Lady Gaga cover, played some newer stuff, a lot of older stuff, and just jammed out and kept the crowd involved throughout the entire set. Check out the videos:
Weezer – Jorge Garcia Intro and Hash Pipe – AXE One Night Only – MANjr.com from Chris Stout on Vimeo.
Weezer – Say It Ain't So – AXE One Night Only – MANjr.com from Chris Stout on Vimeo.
Weezer – Surf Wax America – AXE One Night Only – MANjr.com from Chris Stout on Vimeo.
Weezer – Undone-The Sweater Song – AXE One Night Only – MANjr.com from Chris Stout on Vimeo.