Posts tagged
top pot donuts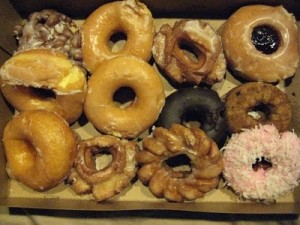 Seattle Seahawks wide receiver Golden Tate has had an interesting week. The first year NFL player was drafted by the San Francisco Giants in the 2010 Major League Baseball Draft, but that's not the most exciting thing that's happened to the guy the past week.
This past Saturday, Tate was apprehended after entering a Top Pot donut shop in Bellevue, Washington, stealing some keys and feasting on some warm maple bars. The shop wasn't open at the time.
The owners of the shop decided not to press any charges, so Tate got off with a "trespassing warning." Tate later apologized for the incident and then tweeted yesterday that Top Pot sold four times as many donuts as a result of the incident.
Here's the audio from the 911 call: