Posts tagged
Roush Fenway

So last night was a great night for our friends at Valvoline and Roush Fenway Racing. We had a rooting interest in cheering on Jeff Burton (due to our participation in the Daytona 500 Blogger Challenge and the fact that he's a really cool guy), but we have a history with the guys from Roush Fenway Racing and Valvoline as well, so it was awesome to see them enjoy success at Daytona.
The Roush team includes Carl Edwards, Greg Biffle, Matt Kenseth, Trevor Bayne and Ricky Stenhouse, Jr. Kenseth beat out teammate Greg Biffle to win the Daytona 500, much like he did during the Gatorade Duel Daytona 500 qualifying race in Thursday's second duel session at Daytona International Speedway. This put Kenseth in the #4 starting position for the Daytona 500, just behind Carl Edwards (who earned the pole) and Greg Biffle who earned the #2 starting spot.
Matt Kenseth finished fourth in the 2011 NASCAR Sprint Cup Series, and his teammate Carl Edwards lost to Tony Stewart in a tie-breaker. Ricky Stenhouse Jr, was the 2011 Nationwide Series Champion. Roush Fenway Racing had three drivers finish in the top 10 in the Daytona 500 yesterday. Not bad at all.
Here are some images from this weekend's festivities at the Valvoline NextGen Pit Stop at the Daytona 500: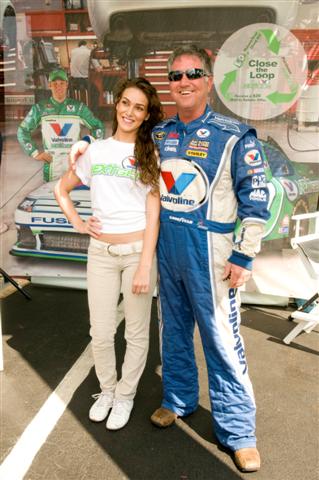 Fans get a chance to dress like the pros at the Valvoline NextGen Pit Stop during the Daytona 500.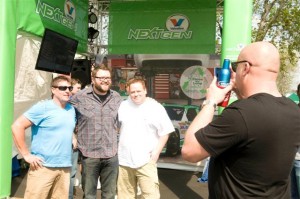 Rutledge Wood from Top Gear (USA) shows fans how they can Close the Loop and get a $20 gift card from Valvoline by returning their used oil to be recycled into NextGen motor oil.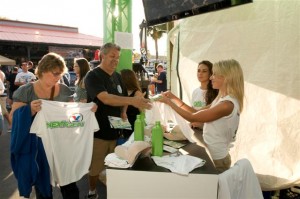 Fans enjoy complimentary gear and learn how they can Close the Loop at the Valvoline "NextGen Pit Stop" during the Daytona 500.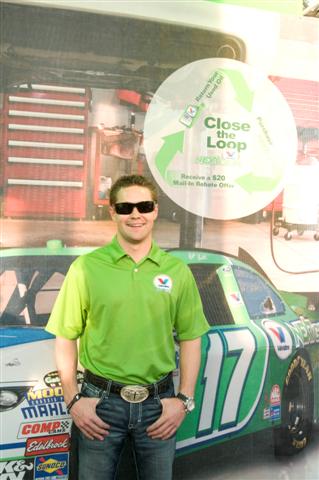 Ricky Stenhouse Jr., visits the Valvoline NextGen Pit Stop to share his excitement about his team's decision to run Valvoline NextGen technology in all of their Sprint Cup and Nationwide cars this season.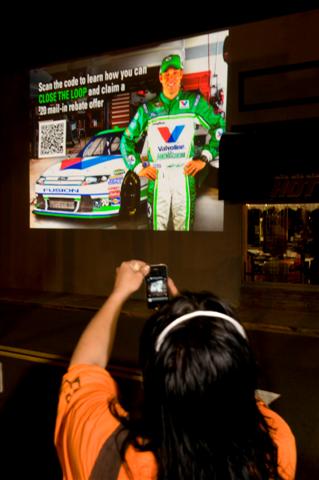 Race fans take in the pop-up Valvoline NextGen projection billboards all around town during the Daytona 500.
Congrats again to our friends at Valvoline and kudos  to Roush Fenway Racing for earning their 300th NASCAR victory!
Last night's Daytona 500 likely did more to further interest in the sport of NASCAR than any race that came before. This race had it all – early controversy, chippy driving, a pyrotechnic explosion of jet fuel, a two hour delay that featured miraculous track repair work, an explosion of social media interest and if all that wasn't enough, a little bit of free, overtime NASCAR.
What a spectacle. What a way to recruit new fans to the sport. Pushing the race to a prime time platform was a stroke of genius. During the red flag, the anticipation that built up for those last 40 laps was palatable.
I really do see this as the moment when NASCAR crossed over to the mainstream sports consciousness. Listening to sports talk radio this morning, I heard Jim Rome say, "Damnit, we're talkin' NASCAR whether you like it or not."
This isn't to say that NASCAR didn't have a massive following before last night. Of course it did. But on a night when there was no basketball, no football, no baseball, no other major sport competing for eyeballs, the wild, unpredictable race in Daytona won over new NASCAR fans in droves.
Fox's rain-delayed broadcast of the Daytona 500 brought in 14.2 million viewers. The network finished ahead on Monday night, drawing in viewers away from regular programming on NBC, CBS, and ABC.
After Juan Pablo Montoya crashed into jet dryer containing 200 gallons of jet fuel, the race was delayed for a full two hours as NASCAR cleanup crews used Tide detergent and a bunch of other stuff to fix the damaged track. During this red flag pause, drivers started getting out of their cars and hanging out.
One driver, Brad Keselowski, started tweeting like crazy. He actually took a photo of the Montoya crash from his car while driving on the track. He tweeted the photo, became a topic of conversation, and used the red flag delay to generate over 100,000 new followers on Twitter. Keselowski ended up crashing out after the restart, but he sure did a lot to promote himself and the sport while other NASCAR drivers were standing around waiting to get back into the action.
Jeff Burton, our driver in the Daytona 500 Blogger Challenge ran well the whole night. He led for 24 laps and finished in fifth place. We'll have some JB autographed merchandise to give away soon, so make sure you keep an eye on that for your chance to win.
Matt Kenseth beat out Dale Earnhardt Jr and fellow Roush Fenway teammate Greg Biffle to win his second Daytona 500. The race ended with a green and white checked flag and two extra overtime laps. It was a fitting end to a crazy night of racing.
Congrats to Kenseth, Roush Fenway, Valvoline and The Smoking Jacket, who had Kenseth in the Daytona 500 Blogger Challenge. Make sure to tune in to Fox next week as the NASCAR season rolls on at the Phoenix International Raceway.