Posts tagged
NFL Shop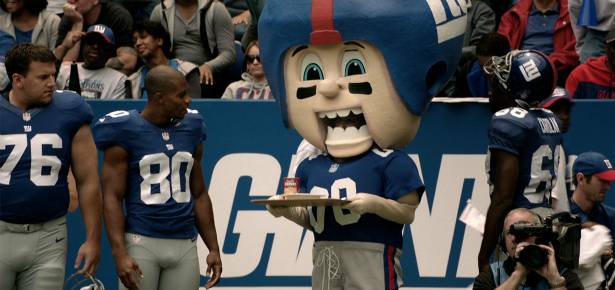 The title of this post is a mouthful, but that's what you can expect when you mack a big bite of Campbell's Chunky Soup. Campbell's has introduced three new flavors that can tackle any man-sized hunger. Flavors like Chipotle Chicken and Corn Chowder, Kickin' Buffalo-Style Chicken and Jammin' Jerk Chicken with Rice & Beans pack way more of an appetite-satisfying gut-punch than a bowl of chicken noodle or tomato soup. This stuff is a three-minute meal in can. They're pull-top too, so you don't even need a can opener. You can break off the top, grab a bowl and start the microwave before the game gets back from a TV timeout.
Campbell's is kicking off a new "Mama's Boy" campaign to start the NFL season. Football fans will be familiar with the Campbell's Mama's Boy campaign, which was first introduced in 1997. But you won't see Mama McNabb in these spots. The new face of the campaign is Giants wide receiver and Salsa dancing enthusiast Victor Cruz. Here's the first TV spot:
To help promote the launch of the new Chunky Soup varieties and the return of the Campbell's Chunky Soup Mama's Boy campaign, we're giving away a $100 gift card to NFLShop.com. That's right, you can score $100 to put towards a jersey, some t-shirts, a team track jacket (my preference), caps, pajamas and all kinds of other gear. The stuff on NFLShop.com isn't cheap, so if you want to support your team and save some cash, send us an email below and tell us why you're proud to be a mama's boy. We'll pick a winner next Thursday, September 20.
Good luck!