Posts tagged
Guinness St. Patrick's Day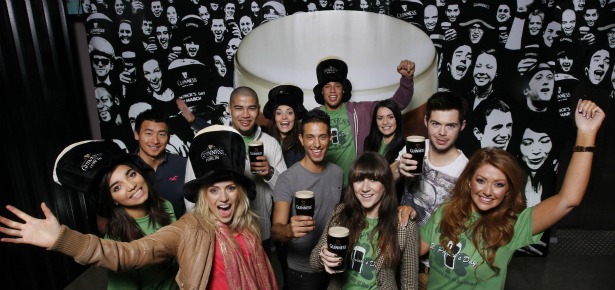 It's never too early to start thinking about your St. Patty's Day plans. Those four leaf clovers, green outfits, parades, pints and pubs aren't going to enjoy themselves. You need to start mapping out what your March 17 festivities are going to look like now.
This year, instead of sipping on some god-awful American light beer loaded with green food coloring, why not take part in a time-honored St. Patrick's Day tradition and responsibly celebrate with some tasty Guinness?
According to National Geographic, Guinness sales go through the roof on March 17:
On any given day 5.5 million pints of Guinness, the famous Irish stout brand, are consumed around the world. But on St. Patrick's Day, that number more than doubles to 13 million pints, said Beth Davies Ryan, global corporate-relations director of Guinness.
The folks at Guinness are well aware that St. Patty's Day and Guinness are the perfect party combination. That's why this year Guinness is recruiting people from all over the world to sign a pledge to responsibly enjoy their tasty brew on March 17. Their goal is to set a Guinness World Records title for "The Largest St. Patrick's Day Celebration" ever.
MANjr is partnering up with Guinness to get the word out on this pledge. Our blog is the representative for the state of California, so we're asking you, dear reader, to help support the cause and sign the pledge for on Guinness.com.
When you visit the site, click "Join the Party" and you'll be directed to a form that asks for your first name, country, zip code and an optional code. Just fill out the form and enter "MANJ" into the optional code field so they can track all the MANjr pledges that come in. You don't have to be form California to sign the pledge, but help us represent our fine state in this noble cause! You could also win a trip to Dublin!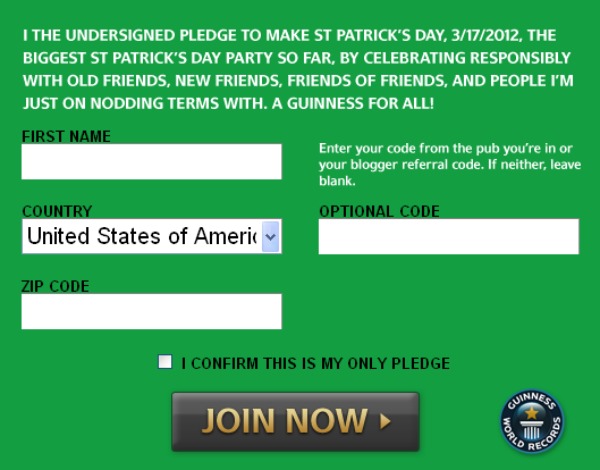 We get $1 for every pledge we bring in (up to $1,000), and if we dominate this pledge stuff, we can earn a trip to Dublin to attend a party at St. James Gate in September.
So help us out people! The competition is fierce, the cause is just and we need your support. Don't forget to include "MANJ" in the optional code.
Thanks for your support and have a safe and happy St. Patrick's Day!