Posts tagged
AeroShot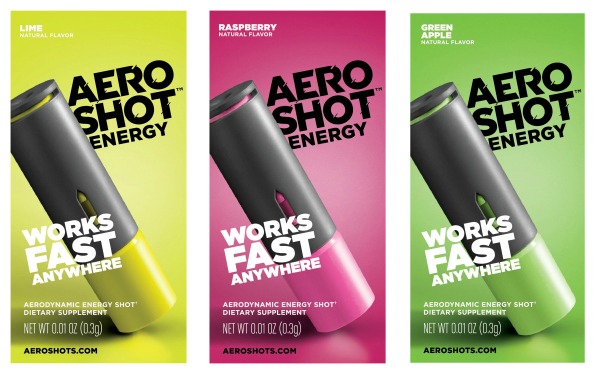 People love energy products. Coffee, teas, sodas, energy drinks, shots of mystery energy liquid – you name it. If it puts pep in your step, people are going to try it. In the hustle and bustle of everyday life, uncontrollable yawning isn't an option. Whether it's work, play, family, friends, sports, day life, nightlife, whatever you do to occupy your time, you usually want to be alert when you're doing it. That's why people look for assistance in the energy department. It's easy to understand. We've all been there.
Well now there's a new product on the market that delivers energy in a new and innovative way. AeroShot Energy is forging a whole new category in energy consumption. AeroShot launched this year and is currently expanding its reach in the Northeast. The product will be available nationwide by 2013.
So what is an AeroShot? It's a lipstick-sized device that delivers an air-based boost of energy – 100mg of caffeine plus B vitamins. The dry-powder particles that the AeroShot delivers are small enough to travel through the air but not large enough to get into the lungs. It's a zero calorie, liquid-free delivery system that dissolves on your tongue and starts working right away.
It's basically high-tech, weaponized caffeine. The delivery technology was devised by Dr. David Edwards, a biomedical engineer and Harvard professor. Dr. Edwards wanted to productize this new technology, which can have far reaching applications in the consumption of food, nutrients and medication.
100mg of caffeine is the equivalent of one large cup of coffee, but the delivery system means that the caffeine can be absorbed in your tongue faster than any liquid. Pure caffeine tastes bitter. Red Bull smells toxic. 5-Hour Energy shots taste like medicine. AeroShot uses natural ingredients to produce three distinct flavors: Raspberry (which is sweet), Lime (which is tart) and Green Apple (which is sweet-tart). Each AeroShot contains caffeine, B vitamins, these natural flavors, and that's it. No hidden ingredients, questionable stuff or nasty masking agents. Just insta-energy that can be absorbed immediately.
We're partnering up with AeroShot to giveaway a gift pack to one lucky reader. To enter, just send us an email below telling us why you need more energy. We'll pick a winner at random next Monday.
Good luck!