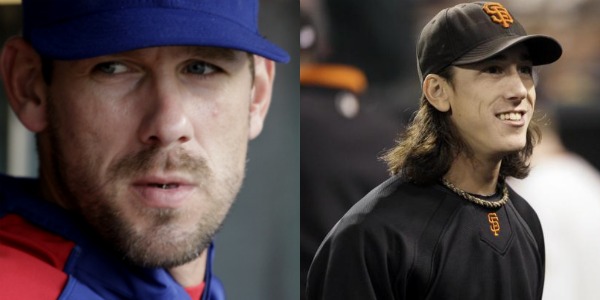 This year's World Series was initially hyped up to be a rematch of the Yankees-Phillies championship series from last year, but the Rangers and the Giants had different ideas. Texas and San Francisco start the battle this Wednesday. Here's a look at the complete 2010 World Series schedule:
Game 1 TEX @ SF Wed, Oct. 27 at 7:30 PM
Game 2 TEX @ SF Thu, Oct. 28 at 7:30 PM
Game 3 SF @ TEX Sat, Oct. 30 at 6:30 PM
Game 4 SF @ TEX Sun, Oct. 31 at 8:00 PM
Game 5 SF @ TEX Mon, Nov. 1 at 7:30 PM
Game 6 TEX @ SF Wed, Nov. 3 at 7:30 PM
Game 7 TEX @ SF Thu, Nov. 4 at 7:30 PM
Cliff Lee and Tim Lincecum are scheduled to duel it out in Game 1. Lee has been lights out lately, and he's never lost a game in the postseason. In eight career playoff starts, Lee's gone 7-0 with a 1.26 ERA.  Lincecum has never pitched against the Rangers. He finished 16-10 with a 3.43 ERA this season. Lincecum struggled big time in August (0-5 with an ERA of 7.82), but the long-haired righty finished the season strong in September and October (5-1 with a 1.94 ERA). Should be a good battle.
Fox and TBS both reported ratings increases for the League Championship Series this year. Those year-over-year TV ratings bumps should take a hit once the series gets underway.
The scheduling for Game 4 will be interesting. The World Series will be up against a Sunday night football game that features the Pittsburgh Steelers traveling to New Orleans to take on the defending Super Bowl champs. I'm no psychic, but no matter how the 2010 World Series schedule shakes out, more people will tune-in to see a quality NFL matchup over a pivotal postseason baseball game, that's for damn sure.
Degree Men launched a series of webisodes where athletes challenge survival specialist and all-around badass Bear Grylls to a series of sporty outdoorsy-type challenges. The program is called Chain of Adventure, and the first episode can be seen below. It features hockey legend Mark Messier and NY Jets QB Mark Sanchez. Sanchez challenges Grylls to toss a perfect pass from a raft with a grappling hook. Take a look:
The next episode features a challenge from NBA star Kevin Durant. Mark Messier will continue to assist Grylls as other athletes like Tony Hawk issue challenges for Grylls to knock out in the wild. You can watch all the videos at DegreeMen.com.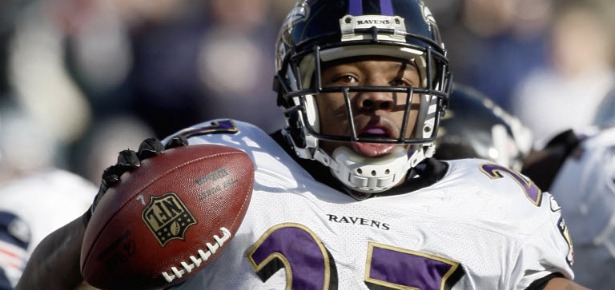 Pittsburgh -3 At Miami

PICK: Steelers -3

San Francisco -3 At Carolina

PICK: Niners -3

At Atlanta -3.5 Cincinnati

PICK: Falcons -3.5

At Tampa Bay -3 St. Louis

PICK: Bucs -3

At Kansas City -9.5 Jacksonville

PICK: Chiefs -9.5

At Seattle -6.5 Arizona

PICK: Seahawks -6.5

At Tennessee -3 Philadelphia

PICK: Eagles +3

At San Diego -3 New England

PICK: Pats +3

At Chicago -3 Washington

PICK: Skins +3

At Denver -8.5 Oakland

PICK: Broncos -8.5

At New Orleans -13 Cleveland

PICK: Cleveland +13

At Green Bay -2.5 Minnesota

PICK: Packers -2.5

At Baltimore -13 Buffalo

PICK: Ravens -13

At Dallas -3 NY Giants

PICK: Giants +3
2010/10/ray-rice-ravens.jpg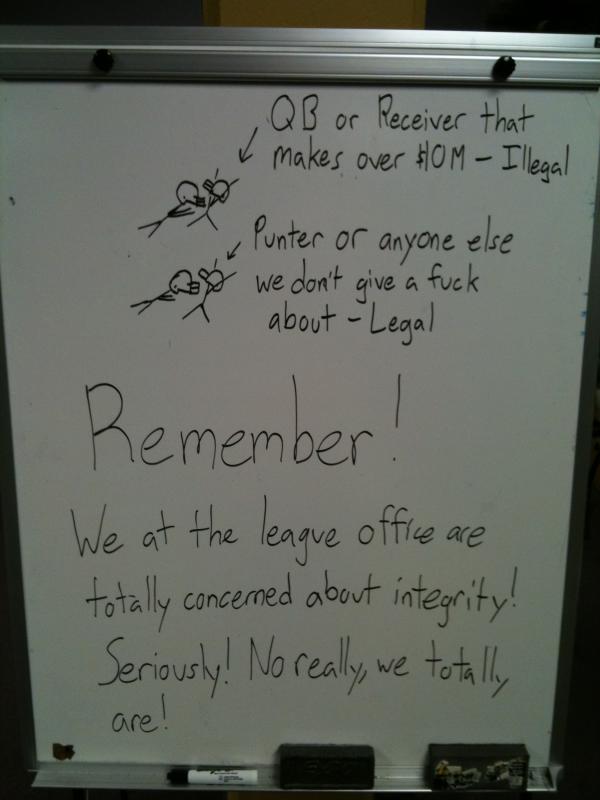 Vikings punter Chris Kluwe posted this photo on his Twitter account yesterday. It's a diagram that breaks down the NFL's stance on illegal hits. The diagram was a response to a safety video that the NFL circulated to help give some clarity to this hot topics issue that's been making the rounds all week.
Image via Twitpic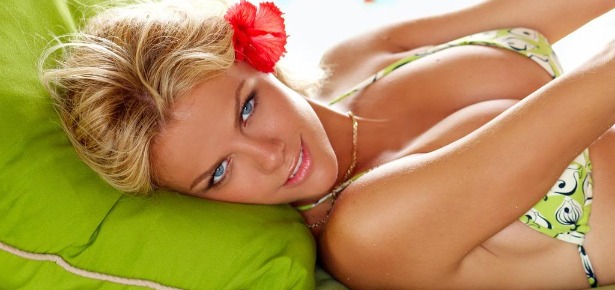 MANjr created this list of the top 25 bikini babes of all time based on a scientific scale that considered the following factors: bangin' body, bikini skills, cuteness of face and overall hotness. If you disagree with these picks, let us know where our scientific method went wrong. We probably won't make any adjustments, but we'll try to recognize any glaring omissions.
25. Jessica Alba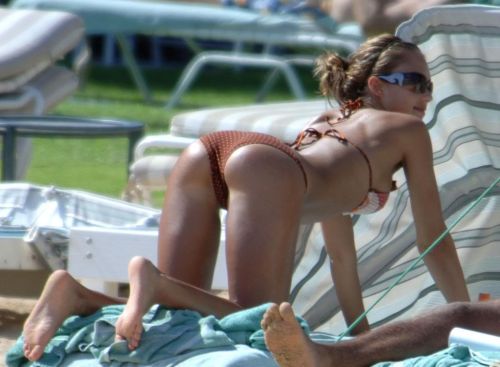 She's always going to make the list, even if she doesn't want to be considered sexy anymore. Sorry Jessica, you have no say in this.
24. Stacy Keibler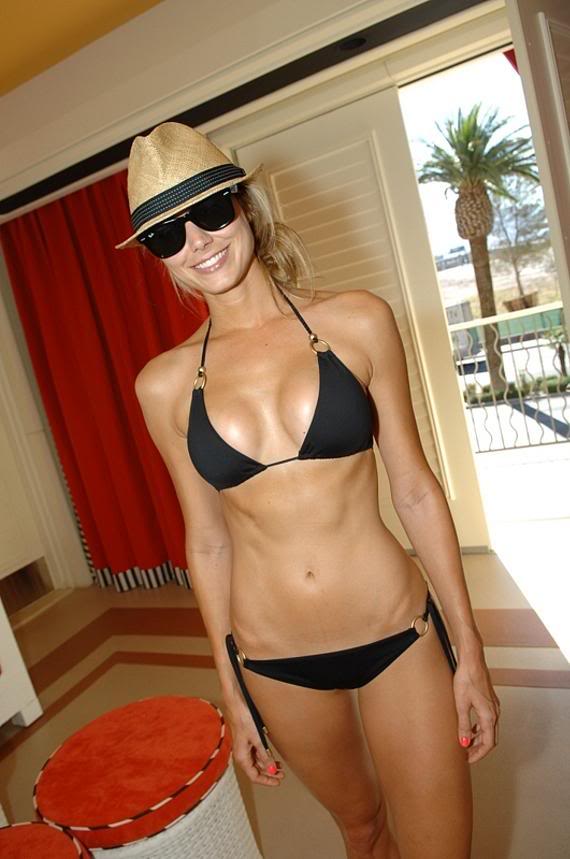 Stacy's got the body to pull off any bikini in any situation. Kieblers was a WWE Diva, Baltimore Ravens cheerleader and a serious dancer (she started training when she was three), so she knows how to put those extra-long legs to good use.
23. Kelly Brook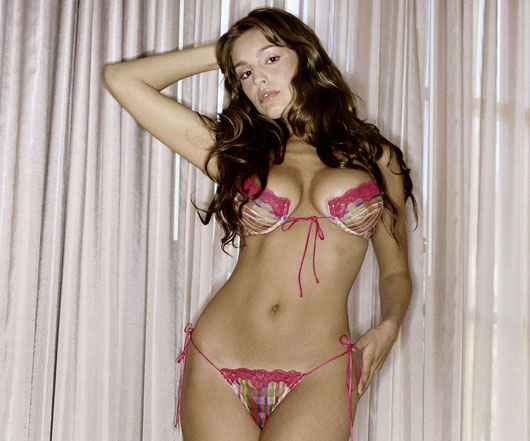 Kelly Brook is no stranger to bikini work. The buxom Brit began modeling at the age of 16, and she's appeared in TV, films and top sexy lists ever since. Brook, who won a babe of the summer award this year, even has her own line of swimwear and lingerie going, so you know she belongs on this list.
22. Tyra Banks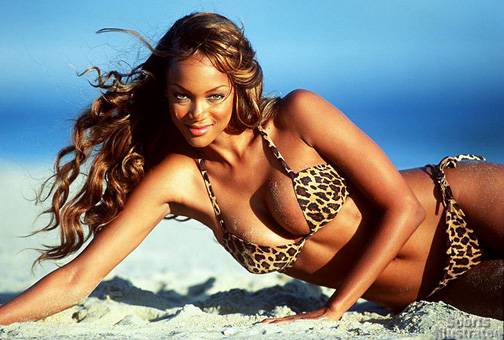 It's hard to remember a time when Tyra Banks wasn't super annoying. But think back, way back. Think back to guest appearances on the Fresh Prince of Bel Air and all those SI Swimsuit shoots. Remember? Yep, Tyra was hot. She wasn't constantly calling herself fat and she didn't have her own talk show. I miss that fly 90s chick who knew how to work a bikini and keep her mouth shut.
21. Shakara Ledard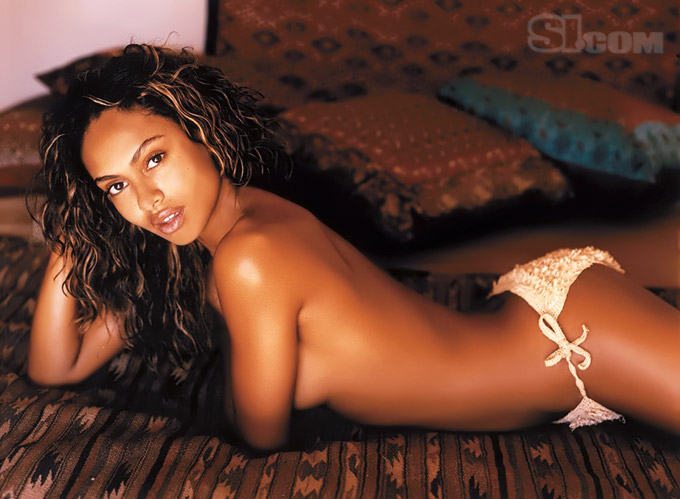 A relative newcomer to the swimsuit scene, Shakara Ledard has made a big enough splash to hang with the all time greats. This beauty from the Bahamas has appeared in multiple films and music videos for usher, Babyface and Justin Timberlake.
20. Niki Taylor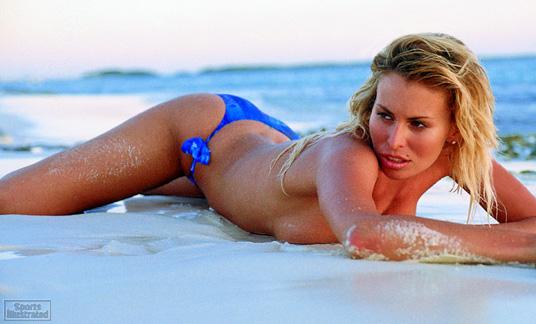 Dude, remember how hot Niki Taylor was? This foxy chick from Florida started modeling when she was 13. She was a cover girl for a solid decade or so during which she married an Arena Football League linebacker and had twins. Taylor's only 35 years old, and you know this blonde-haired, hazel-eyed head-turner's still got it.
19. Stephanie Seymour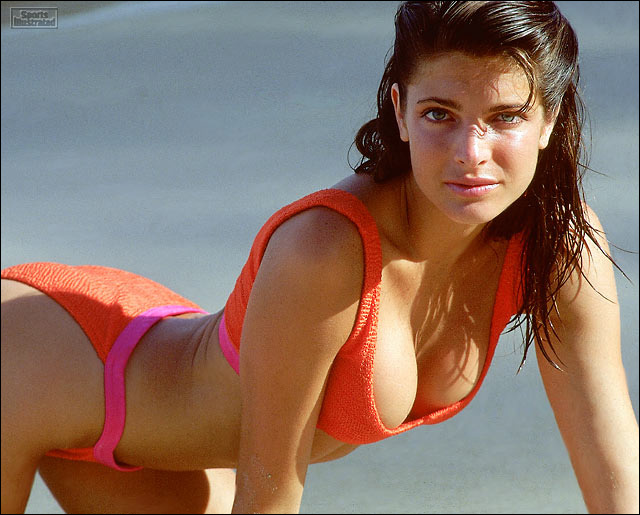 Stephanie Seymour was on top of her game in the 90s. The San Diego-native appeared in numerous Sports Illustrated Swimsuit Issues. She helped establish Victoria's Secret mail catalogs as prized postal possessions, and she posed in Playboy in 1991 and 1993. Sadly, this still wasn't enough to help Seymour survive her wedding to Axel Rose in the November Rain video. Everybody needs somebody, and we all need more Stephanie Seymour.
18. Elle Macpherson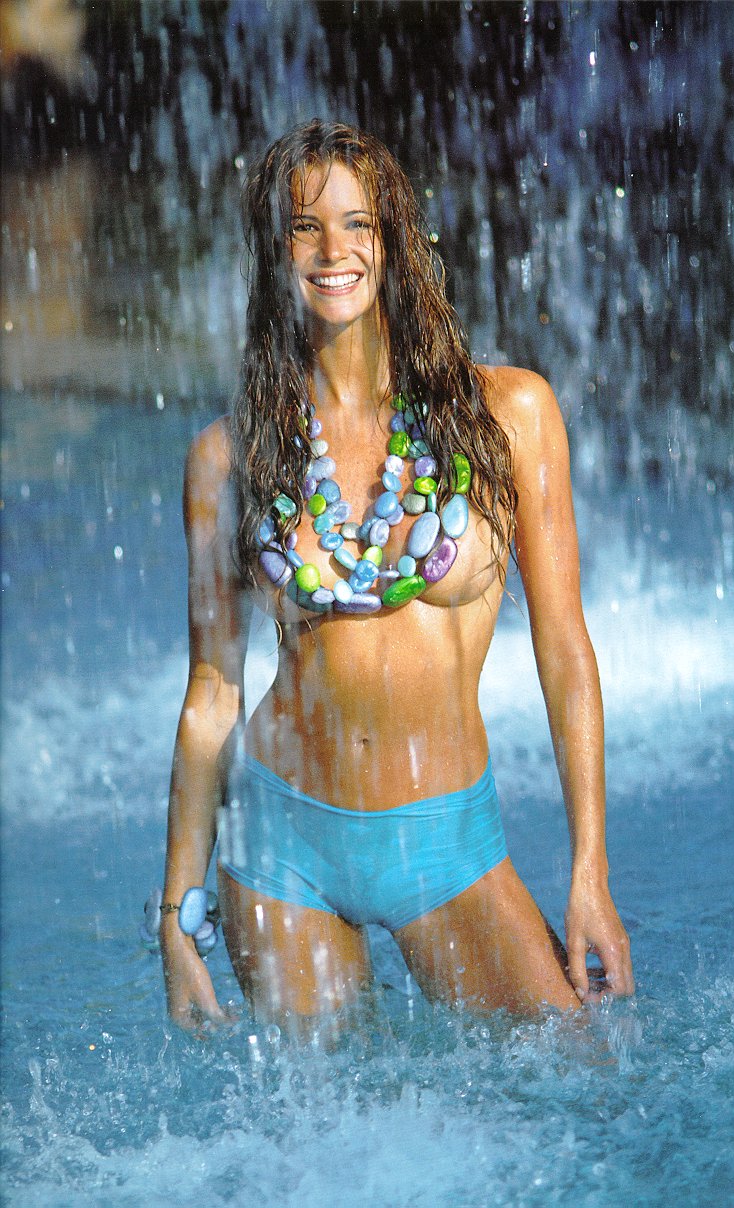 Long legged Aussie beauty Elle MacPherson has been out of the spotlight for awhile, but her gorgeous bikini body still lives on, even at age 47. Total package bikini beauty like that doesn't fade fast. If you ever find yourself wondering if there's a Hugh Grant movie out there from the 90s that features a hilarious slow-motion nude running scene with Elle Macpherson, the answer is yes. It's called Sirens.
17. Selita Ebanks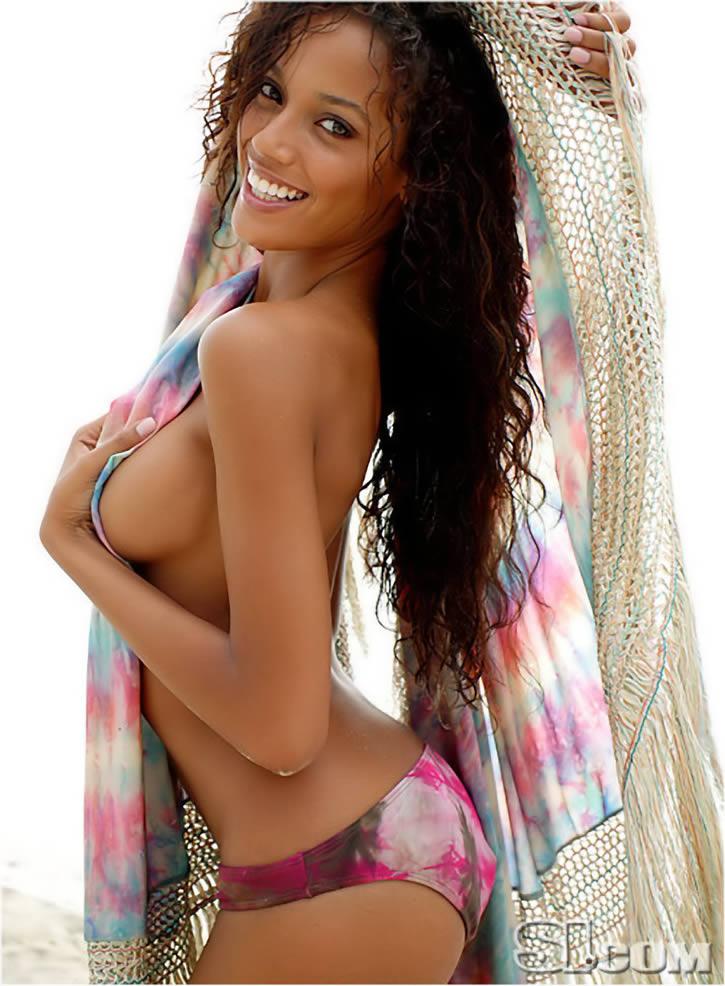 Cayman Islands native Selita Ebanks was discovered at a Six Flags when she was 17. What kinda crazy job would that be? Hey, before you ride the Ninja, I just wanted to say your gorgeous and I work for a modeling agency. I think I want that job. Ebanks was once engaged to Nick Cannon. As Maria Carey gets more chubby and/or pregnant with each passing day, Cannon can always reminisce about his old Victoria's Secret fiancé and wonder what might have been.
16. Rachel Hunter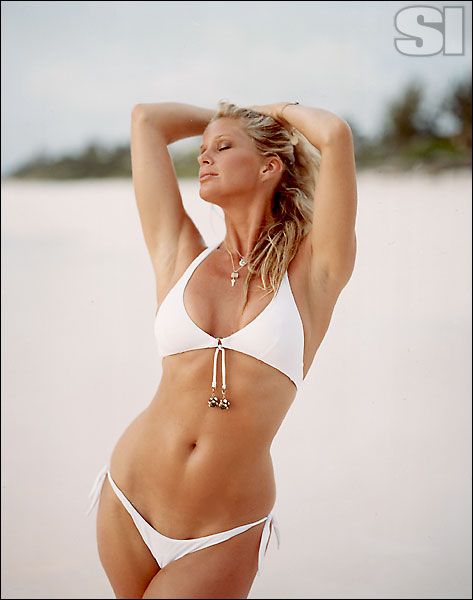 Rachel Hunter had it going on long before Fountains of Wayne reminded the world just how bangin' she is in that Stacy's Mom video. And when you look that good for that long, people get over the fact that you married Rod Stewart. I ain't mad atcha Rachel. Not now and not ever.
15. Jessica Burciaga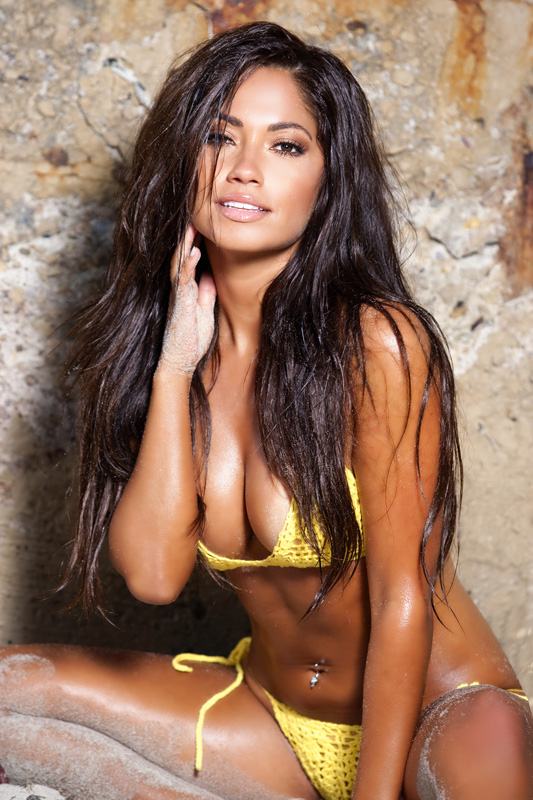 SI Swimsuit gal she is not, but that doesn't mean that Jessica doesn't belong on this list. Her frequent Twitter profile pic updates and tales of 1000s of bikinis in her closet seal the deal. Miss February 2009 has a unique gorgeousness to her. Jessica's father is Mexican her mother is French, Irish and German. When you have the chance, please thank Jessica's parents for creating one amazingly stunning bikini babe.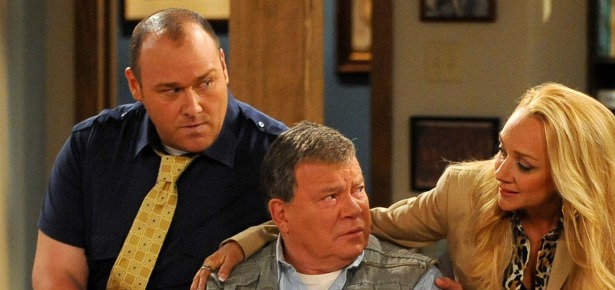 Canadian-born actor Will Sasso is a funny, funny dude. He stood out as one of the most talented cast members on MADtv for five solid seasons. Sasso's knack for spot-on impressions and wacky physical comedy made him a fan favorite. Sasso has been acting since 1991, and in addition to his MADtv work, he's also appeared in numerous films and sitcoms over the years.
Sasso's newest effort, $#*! My Dad Says, is a CBS comedy that's based on Justin Halpert's ultra-entertaining Twitter feed, @shitmydadsays. Justin's Twitter profile  explains it all: "I'm 29. I live with my 74-year-old dad. He is awesome. I just write down shit that he says." Justin's profile has over 1.7 million followers and has lead to a blog, a book and now this new sitcom starring William Shatner, Sasso and MADtv vet Nicole Sullivan.
I had a chance to speak with Sasso and we discussed his new show, working with Shatner, reuniting with Sullivan, Katherine Heigl, Jason Priestly and a bunch of other fun topics like his favorite Canadians of all time.
CS: So tell me about your role on the new show Shat My Dad Says or Shit … what do you call it anyway?
WS: It's called Bleep My Dad Says, if you seen the way it's written it's got $#*! My Dad Says and we're producing that bleep, so yeah it's going really well (laughs) what do you want to know?
CS: Is Justin Halpert involved in the day to day writing of the show or not so much?
WS: Yeah he's one of the executive producers and he's written – I think him and his writing partner Patrick have written I think 3 of the first 8 episodes. Justin is also one of our bosses so he's very involved in every single script, he's one of the executive producers along with his writing partner Patrick Schumaker and of course Max Mutchnick and David Kohan are the executive producers who pre-dated Will and Grace so it's all four of those guys.
CS: That's cool. So what do you think of the whole Twitter-inspired TV / TV-imitating-web-imitating-life situation?
WS: I think it's really interesting. For years writers have based their sitcoms and 1 hour dramas – all sorts of stuff on TV actually – on their lives. This is the first time where an audience can actually go back and track it.
CS: Yeah (Laughs).
WS: What has happened and what a writer cares to put in and leave out. I mean you can actually check in with us, if you're been following the Twitter feed you can see how accurate Ed's barbs are to Justin's real father Sam's barbs and that sort of thing. So I think that really makes it interesting, it really makes it an interesting way to conceive and execute a television show. Sam is still a wealth of material obviously for his son Justin. So yeah that's definitely coming through in the show and I think it's interesting from an audience standpoint of what you're able to do, you're able to actually go back and see it.
CS: So are you happy to be working with Nicole Sullivan again?
WS: Yeah. Oh yeah, of course yeah I mean that's kind of a dream come true there because we're pals and we've work together on MadTV starting over a decade ago so yeah that's kind of … you know it's familiar in a really great way and it's just unbelievable. We really do know each other's rhythms and what the other may do at this point or that point and it's a lot of fun, it's a real treat. I kind of can't believe it sometimes, I kind of pinch myself that I get to do that.
CS: That's cool. So is William Shatner totally nuts?
WS: You mean totally nuts?
CS: Yeah.
WS: Not totally nuts.
CS: Just a little bit off? (laughs)
WS: Barely actually. You know, it's funny, I mean here's a guy that's been in the business for over 50 years and you'd expect that someone like that would either be maybe not at all interested in the day to day happenings of a show – and 50 years is a very long time obviously, he's been doing it longer than most of the people in the show have been alive, so you'd expect that, but Bill is a real actor through and through. It's interesting for a guy like that, but he's literally about every scene and every line and every word and making sure it's good and making sure that relationships play and are three-dimensional and that it's really funny. He was already one of my heroes, but now it's like he might be my overall showbiz hero. When I'm his age I want to be doing that.
CS: Okay so you do a lot of awesome impressions; you've got Steven Segal, Tony Soprano, Randy Newman, Kenny Rodgers, De Niro, even Shatner. I recently saw this Kevin Pollack standup set where he talks about meeting the people he impersonates. Do you have any funny stories about meeting the people you've made fun of in the past? Or specifically Shatner, I guess, because you guys are working together now.
WS: You know it's funny, Bill has never seen my impression of him.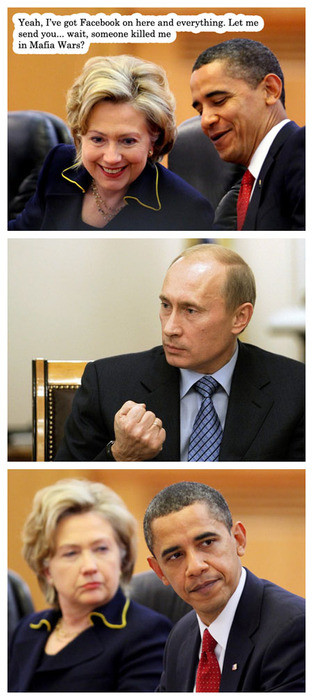 Via: Imgur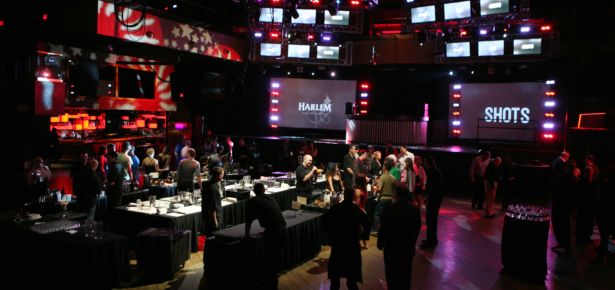 Earlier this month, the MANjr team attended a SHOT Showcase for HARLEM Kruiden Liqueur at the Palms in Las Vegas. Named after Haarlem, a town just outside of Amsterdam, the Dutch liqueur is produced by the Nolet Family, the fine people that make Ketel One Vodka. Haarlem is the town where Carl Nolet Jr.'s grandmother was born. HARLEM is the first product that Nolet has introduced since 1983.

HARLEM is basically a more nuanced, Jager-like liqueur that's full of subtle herbal and citrus tones. It's a bit darker and stiffer than Jagermeister (HARLEM is 80 proof, Jager is 70 proof), and it has a fuller, more complex-tasting edge to it. The actual ingredients in HARLEM are a secret, so the blend of aromas and flavors is rather difficult to describe. Kruiden is the term the Dutch use to describe the herbs used to give HARLEM it's bold and earthy flavor. Meant to be served as an ice cold shot, HARLEM has this orangey root beer bite that kicks the back of your throat and coats your palate with a balanced combo of bitter and sweetness.
The SHOT Showcase, which took place at the Rain Nightclub inside the Palms Casino & Resort in Vegas, was a coming out party for the liqueur. The culmination of a national contest, the Showcase featured bartenders throughout the US who won The HARLEM® Make Your Best Shot Competition. Judged by Tasting Panel Magazine, the competition invited bartenders to create their own custom shots using HARLEM as the main ingredient. The results were quite impressive.
Local bartenders from Chicago, LA, Miami, Vegas, New York, San Francisco and Orange County showed off their winning 2 oz. concoctions to rave reviews. Every bartender brought a unique spin to the liqueur.
Some bartenders played on the sweetness of the shot. Mike Miller and Adam Garvanian from Chicago created two shots, The Red Light and Harlem Night, that accentuated the after-dinner desert quality of the liqueur. The Red Light featured 1 oz. of HARLEM with ¾ oz. Effen Black Cherry Vodka, ¼ oz. Vanilla Flavored Alcoholic Whipped Cream with a cherry on top. The Harlem Night combined HARLEM with equal parts Bailey's Irish Cream, chocolate liquor and a dash of Goldschlager. This shot was served in a glass rimmed with cinnamon sugar.
Richie Petronzi, a Miami bartender from the Burger N Beer Joint decided to throw bacon in the mix. His Harlem Nights shot included an oz. of ample smoke bacon fat washed HARLEM, ½ oz. fresh pressed apple juice, ¼ oz. fresh lemon juice and ¼ oz. grade-A maple syrup. This hearty shot was served with fresh tarragon and a slice of honey smoked bacon.
Phoenix-based Andrew Record from Hacienda del Sol decided to play up the zesty citrus quality of the liqueur. His HARLEM Renaissance shot included lemon cello, rosemary-infused simple syrup, fresh lemon juice, soda water and a thin orange zest garnish.
Another Phoenix winner, Gail Riley from My Ole Man's, played on the liqueur's fruity flavors. Her shot, Harlem Rage, combined vanilla vodka, raspberry vodka, pineapple juice and cranberry juice with the Dutch liqueur.
My favorite shot came from LA bartender Justin Long from First and Hope and STK. Long's Harlem Express combined 1 oz. of HARLEM with ¾ oz. chilled espresso, ¼ oz. vanilla syrup and ¼ oz. cream. Served in a mini-Guinness-pint shotglass, Long's HARLEM Express was a creamy, fluffy coffee treat with a kick.
From sweet to fruity to bacon to coffee, each bartender's take on HARLEM was worthy of being showcased. Each shot enhanced a different undertone or highlighted a distinct flavor. HARLEM shots are going to be a staple at the Rain Nightclub from now on. The club announced the opening of the new HARLEM Kruiden Liqueur VIP room this week. Visitors to Rain can enjoy shots of HARLEM in this lavishly furnished VIP room that's decorated with Kristall chandeliers, massive horizontal mirrors, black carpet, and bold red paint. Framed by bright LED lights, the new VIP room will be easy to spot, even inside the 25,000-sq. ft. of club Rain. The HARLEM Kruiden Liqueur VIP room at Rain will serve the brand's signature drink, The Slamsterdam, along with a variety of other cocktails made exclusively for HARLEM.
All-in-all it was a great Vegas trip. We met a bunch of cool people from Manolith, Complex Magazine, Thirsty in LA, Bourbon Blog, Imbiber and Liquor Snob, and we got to sample some tasty shots and experience Sin City in style. A big thanks to all the bartenders who participated in the Showcase. Everyone enjoyed the good times.

This week, MANjr is giving away three DVD copies of the film Leaves of Grass. Written and directed by Tim Blake Nelson, Leaves of Grass is a film is about drugs, murder and brotherly love. It stars Edward Norton, Keri Russel, Richard Dreyfuss and Susan Sarandon. The story centers around two identical twins, both played by Ed Norton. One brother is an Ivy League professor who returns to his hometown in Oklahoma to help his other brother, a weed-growing genius, get out of a jam with a local drug lord. The film features plenty of laughs, action and Norton-on-Norton banter. Here's a trailer for the movie:
Here's what you need to do to get your DVD copy:
Follow us on Twitter (@MANjrcom)
Leave us a comment telling us why Ed Norton is awesome
Winners will be chosen at random
Giveaway ends next Monday, October 25th