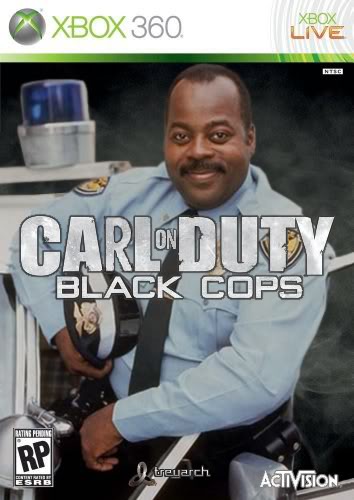 Via Imgur
http://i.imgur.com/FJLYw.jpg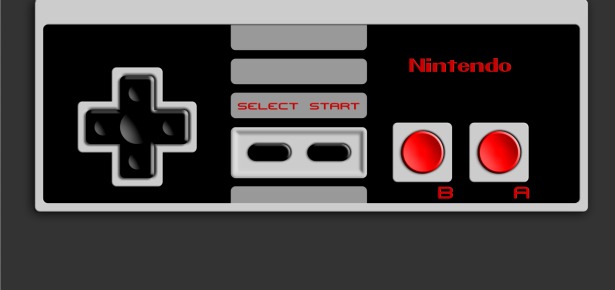 The Nintendo Entertainment System first launched in Japan in 1983. By 1985, the NES made its way to North America, Australia and Europe. There were 798 video game titles produced for the greatest selling video game console in history, but only 11 classic NES games could make this all time list.
11. Super Mario Bros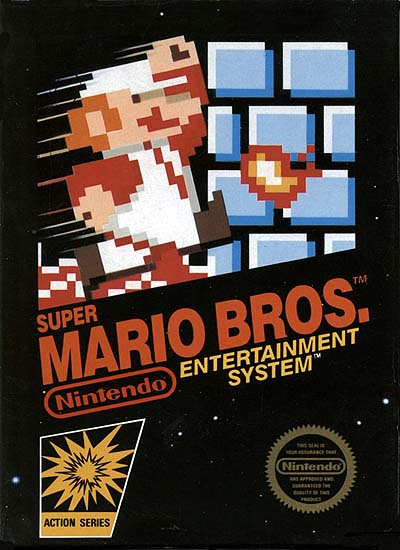 What can you say about the bros that hasn't already been said? These iconic Italian-Americans introduced an entire generation to a mushroom-filled world of turtle-shelled wonderment. The first Super Mario Bros. game was a revolution in home entertainment. If you ever owned or knew someone who owned an NES, you put some serious hours into that game. The sequel was a bit silly, a little too easy and featured way too many vegetables for my taste. But you still got to love the slot machine extra life action. That was incredible. Super Mario 3 is widely considered one of the top NES games of all time, and with good reason. Flying ships, frog suits, warp whistles and raccoon tails? It doesn't get much better than that. We lumped all the Mario action into one entry, but each game could hold its own on this list.
10. Ninja Gaiden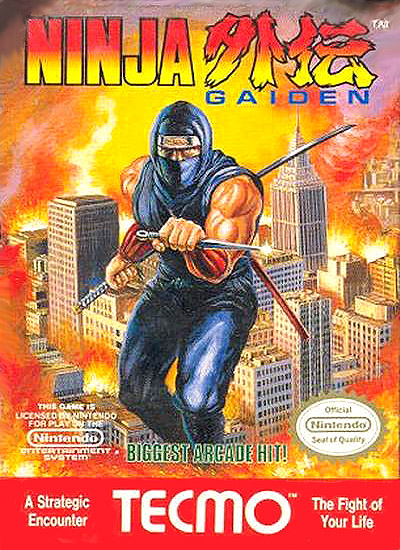 What a sick intro this game had. It was challenging as hell too. It's not easy being Ryu Hayabusa and being tasked with the job of taking the Dragon sword of the Hayabusa family to the American archaeologist Walter Smith. This game had eye-catching cinematic flair and a strong sense for the dramatic. Plus, you got to flip-jump all around town while taking people out with your mad ninja skills. Classic.
9. Blades of Steel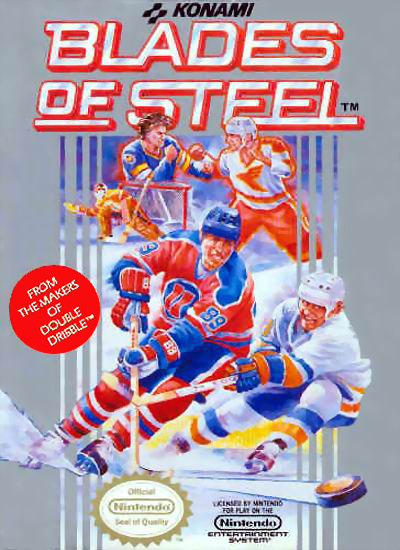 If you're an American, and you like hockey, chances are Blades of Steel had something to do with it. This game had it all: the shiny metallic intro, the face-offs, the explosive crowd noise and squelching broom sounds of the skates. And who can forget the fights? This game would be nothing without the brawls. You were just one play on the ice away from throwing off your gloves and mixing it up with your brightly colored opponent.
8. NARC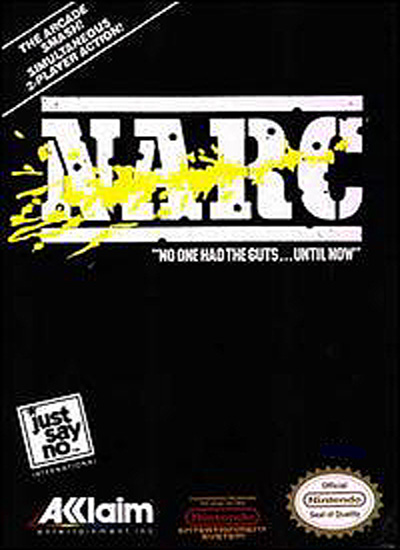 The year was 1989. Drugs were everywhere and kids were being told to Just Say No. Empty slogans could only do so much, though. There had to be a more effective way to hammer the message home. Enter NARC. This ultra-violent video game gave kids the chance to wear motorcycle helmets, ride around in a Porsche and shoot the shit out of homeless people and drugpin-types. Sure, busts and evidence seizures were encouraged, but mowing down junkies with a machine gun worked just as well. When you beat the game, you got paid in gold and received instructions to contact your local DEA recruiter. More importantly, you learned that the best way to solve the nation's drug problem was to hit the streets and machine gun anything that moved.
7. The Legend of Zelda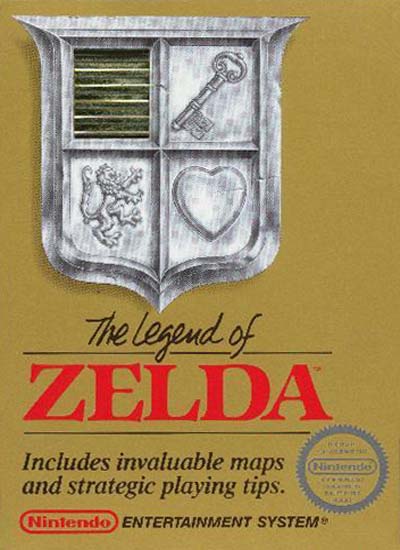 Some NES-lovers might think this game should be ranked higher, but it is what it is. Don't get me wrong, it was cool trying to collect a bunch of random stuff like swords, shields, rubies, candles, keys, rings and whatever the hell the triforce thing was. But I don't know, it got a little old after awhile. This game just doesn't have the same staying power as other classics on the list. But if you sound anything like the guy in this video, you probably can't get enough of those Leevers, Tektikes and Octorocs:
6. Top Gun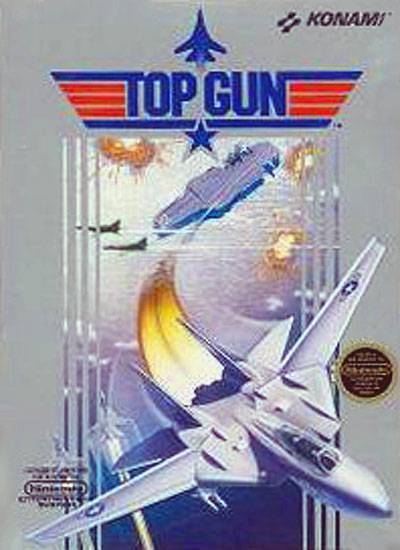 Remaking Top Gun the movie is a terrible, terrible idea, but playing Top Gun on NES is always a good call. Sure, you never had enough missiles and landing on the aircraft carrier was never really that fun, but you know what? War's not supposed to be fun, pilot. Check your altitude and speed when you come at me with that shit. And keep your eye on that radar while you're at it. Goose is dead and you need to refuel that bird and complete your mission, son. So put on your aviators, grab that Kenny Loggins cassette and go take down some MiGs. Beach volleyball with the boys can wait.
5. Tecmo Bowl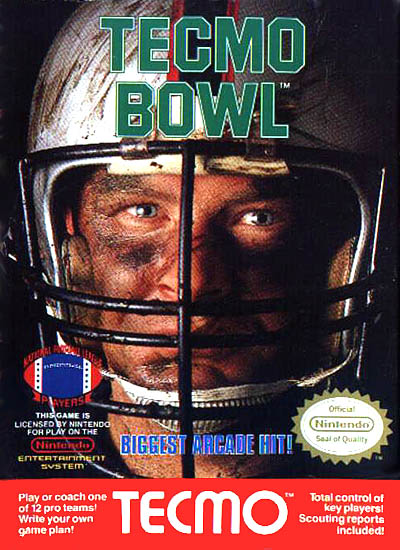 Long before Madden, there was the elegant simplicity of Tecmo Bowl. Two teams, four plays and one sick high-five sequence after you scored a touchdown. The game had Joe Montana, Walter Payton, Bo Jackson, Jerry Rice, Ronnie Lott and Lawrence Taylor. It had the music, the crowds, all that on-screen flashing and a guy who seemed to say "face down" before every play. Madden's great and all, but if you haven't played Tecmo in awhile, you're missing out on a fun time.
4. Super Dodgeball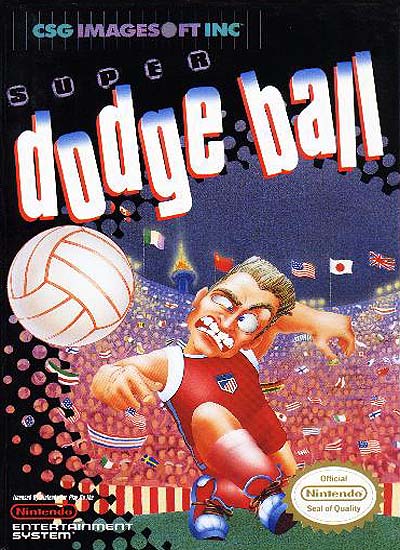 Damn right, top 5. This game doesn't get enough credit for being absolutely awesome. I mean it had all these Cold War undertones, hilarious cultural stereotypes, secret moves and some intense gameplay. You could battle your buddies in head-to-head action, take the US squad through a series of international World Cup matches to get to the evil Soviet team or opt for a simple game of free-for-all bean ball for some good ole fashion ball-to-the-face fun at the park. Quick tip: when you're setting your lineup, just remember that Randy is one of the more underrated stars of the US team. Roll with Sam, Mike and Randy and you can crush anyone.
3. Mike Tyson's Punch-Out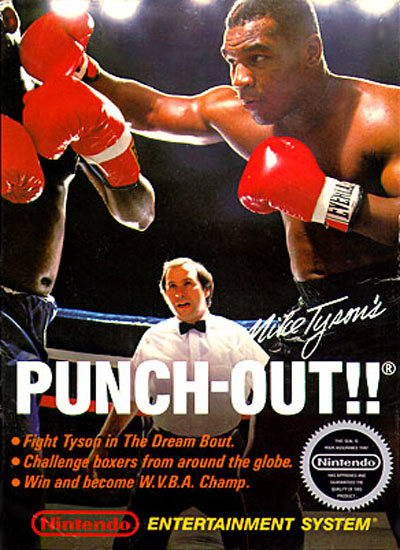 This game still holds up today. You got Little Mac taking on a bunch of freaks from around the world leading up to an impossible death match against a 21-year old boxer from Catskill, NY named Mike Tyson. Seriously, that Tyson guy was tough to beat. Glass Joe, Von Kaiser, Piston Honda, Don Flamenco, King Hippo, Great Tiger, Bald Bull, Soda Popinski, Mr. Sandman and Super Macho Man were all chumps compared to the unbeatable Iron Mike. But when you did take Mike down, man did it feel good.
2. Double Dragon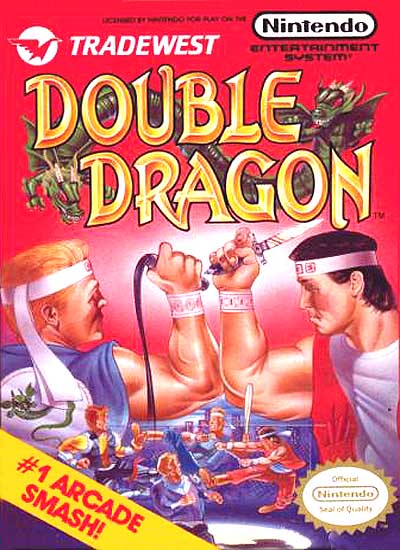 This game taught me that it's okay to throw barrels at people, provided they disrespect your woman on the streets. Oh, and it's cool to punch girls as long as they're packing a whip. It doesn't matter how old you were in 1988, when you heard that sweet, sweet Double Dragon music, you knew shit was about to go down. That 8-bit "Ba-nana-nana-na, Da nana-nana-na" tune still makes me want to grab a silver bat and beat the snot out of that invisible guy who hangs out by the fence. You know who I'm talking 'bout.
1. Contra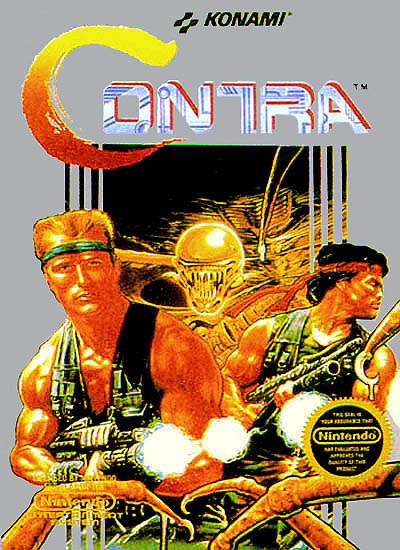 Contra taught me everything I needed to know about modern warfare. I learned about machine guns, lasers, circular fireball weapons and of course, the spread gun, which is arguably the most sophisticated piece of military technology that came out of the Iran-Contra affair. It really doesn't matter if you're wiping out Sandinistas or aliens, though. With up-up, down-down, left-right, left-right, B, A on your side, you always got 30 lives to get the job done, son.
11 Honorable Mentions:
Teenage Mutant Nina Turtles
Paperboy
Excitebike
Shadowgate
River City Ransom
Metal Gear
Bionic Commando
Castlevania 2
Metroid
Mega Man 2
Marble Madness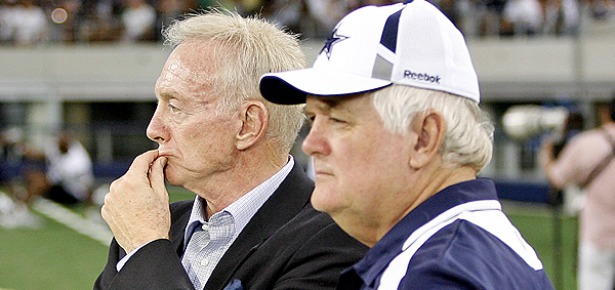 That's not a question. That's a statement. Something stinks in Dallas, and the stank has been festering for well over a decade.
The spotlight is fixed upon Wade Phillips. Not a broad spot, somewhat capturing the folks standing next to him, but a pin-spot, right on the head coach's face. Man, he looks miserable. The Cowboys went to 1-7 last night vs. Green Bay, and in a manner so embarrassing, it left owner Jerry Jones stating that there would be "consequences" for the Cowboys poor play. Consequences? Like what? Being released to play for a contender? And by contender I mean a squad who might actually contend to win a single game.
As I pound the keys on the board, Phillips is still in as captain, by the time I'm done, I suspect an official announcement may be made that he's not–all major news sources are stating that he has been canned, and Jason Garrett will serve as interim head coach.

Let's jump back to training camp–this 2010 season, the season in which most analysts crowned the Cowboys the Champions of the NFC, destined to play the Super Bowl in their home stadium. Oh, if only they functioned half as well as that stadium. Training camp. Rookie first-rounder Dez Bryant shows up, walkin' like a man–like a veteran, dismissing rookie hazing and refusing to play grab-ass and pad-carry for veteran Roy Williams. Backlash. Why? Because that's what you do in the NFL. You adhere to the system in place. The status quo. The antiquated, hasn't worked in 15 years, system that is in place. And Bryant's reasoning? He was drafted to help the team win games, not carry pads.
It is a sad state of affairs when a rookie wide receiver comes into camp more focused to task than a "should know better" veteran such as Roy Williams–as overrated as Williams may certainly be.
Rewind a little further to the off-season. Jerry Jones, drunk in a bar, mouthing about Bill Parcells, Tim Tebow not being worth a third-round draft pick and Tony Romo being "The Miracle." I was a little confused about "miracle"–trying to determine if Jerry used the word miracle meaning that someone who seems more interested in golf is somehow considered a prolific NFL quarterback. Or it was a "miracle" that he wasn't drawn and quartered after fumbling "the snap" on that hold those few years ago.
What's wrong with the Dallas Cowboys? Why, Jerry Jones is what's wrong with the Dallas Cowboys.
Sure, Wade Phillips would have never won a Super Bowl as a head coach in Dallas–I say would have, because I'm pretty sure he's gone. I don't even think he'll ever get to a Super Bowl as a head coach, regardless of where he is. In all fairness, I think he seems like a stellar guy–a genuinely wonderful human being, but as far as coach–never gonna happen. Yet, it is still Jerry Jones who has stuck by Phillips, even when it was obvious that this season was off to a dangerous start after two weeks. Jerry is complaining about the level of play, yet he's the one who symbolically waved the white flag weeks ago. He's the one who said that the franchise would stay the course.
I admire Jerry Jones's passion for his beloved Cowboys. I love that he spares no expense to offer every opportunity to the guys wearing the stars on their hats. His stadium is without a doubt the finest sporting arena to be found in this great nation–perhaps the world. Even still. Bottom line. Jerry Jones has mismanaged his own franchise for years. Even through the glorious 90s, he couldn't offer what was necessary to sustain dominance, because it somehow meant that he possessed less control. I'm not saying Jones has gone Al Davis, but the line he's been dancing on over the past decade isn't promising for the future of the organization.
The talent on this 2010 roster, and this team is 1-7? Cripes, the Browns are 3-5 with wins over New Orleans and New England. How does this happen? It happens when an owner is so certain that he knows the game better than everyone else that talent trumps heart, and potential trumps performance. At present, Jones is "analyzing" performance to make necessary changes…perhaps a glance into the mirror would assist in gathering analytical data. It trickles down, Mr. Jones.
Seems it's official. Phillips is out, Garrett is in.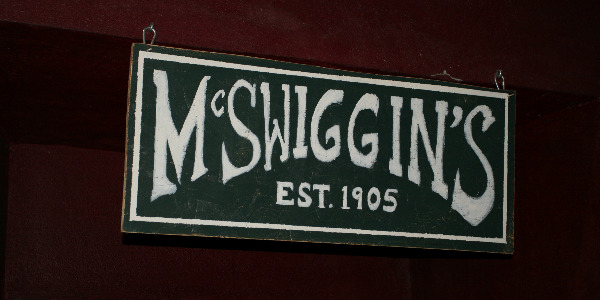 Last July, we told you about a fun play at the Dragonfly in Hollywood called Drunk Talk. The play takes place in a bar called McSwiggins, and the theater is set up so that the audience feels like they're sitting in an actual bar watching everything unfold. The viewers become a part of the action. Actors interact with audience tables. Everyone in the place raises their glasses for a toast whenever the name of the bar is mentioned. There's even a group shot that gets passed out to everyone in attendance. It's a clever concept, a good story and plenty of laughs all around.
Starting November 7, Drunk Talk is back. Tickets are cheap – $15 at Brown Paper Tickets. If you want to have some weekend fun, don't go see a lame movie.  Make your way to Hollywood and enjoy the McSwiggins experience.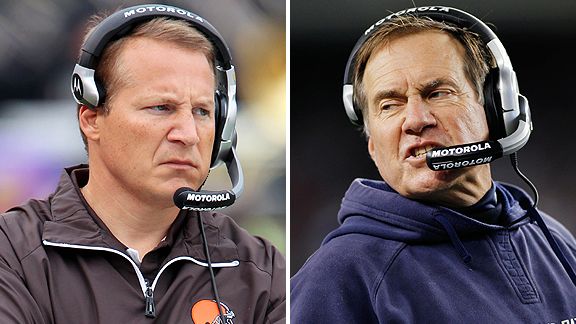 Chicago -3 At Buffalo (Toronto)

PICK: Bills +3

New England -4 At Cleveland

PICK: Pats -4

San Diego -3 At Houston

PICK: Chargers -3

NY Giants -7 At Seattle

PICK: Giants -7

New Orleans -6.5 At Carolina

PICK: Saints -6.5

At Oakland -1 Kansas City

PICK: Chiefs -1

At Minnesota -8 Arizona

PICK: Vikings -8

At Philadelphia -3 Indianapolis

PICK: Colts +3

At Atlanta -8.5 Tampa Bay

PICK: Bucs +8.5

At Green Bay -7.5 Dallas

PICK: Packers -7.5

NY Jets -4 At Detroit

PICK: Jets -4

Pittsburgh -5 At Cincinnati

PICK: Steelers -5

At Baltimore -5.5 Miami

PICK: Dolphins +5.5

Last week: 9-4

Season: 57-54-5