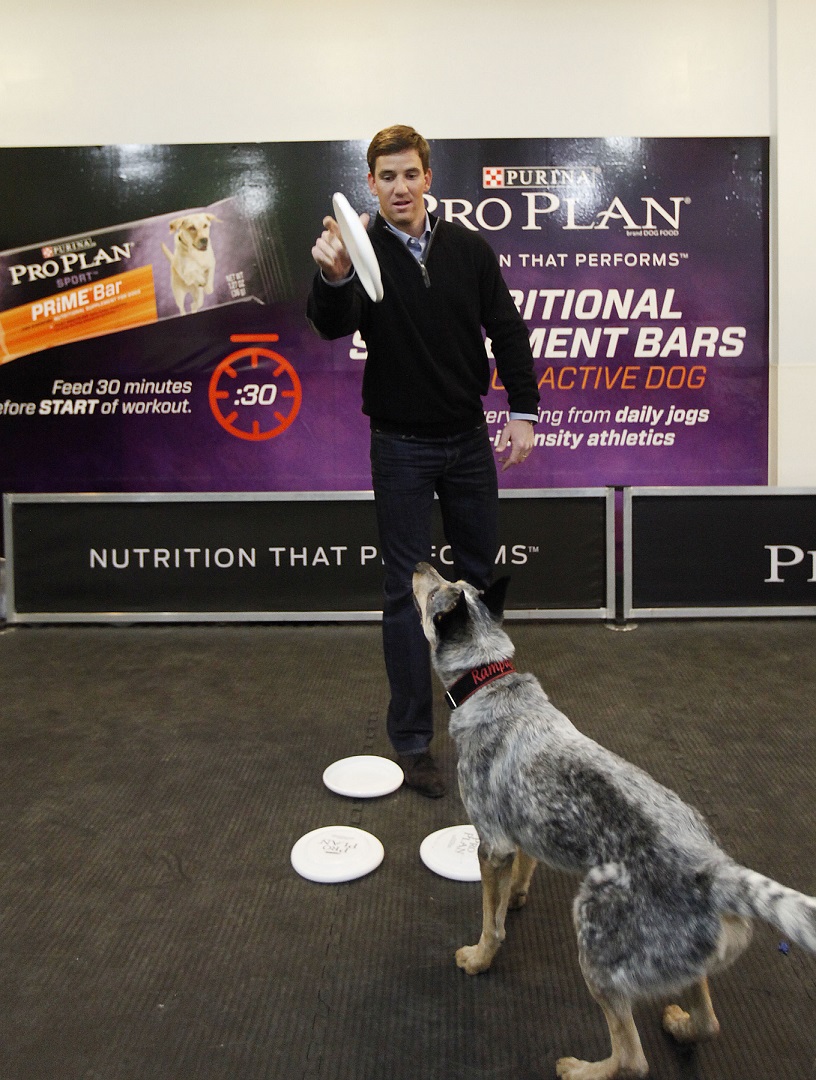 Two-time professional football champion Eli Manning and several athletic dogs demonstrated that our four legged friends are naturally incredible athletes at the "Purina® Pro Plan® MANning vs. DOG Challenge" leading up to the Big Game. This made-for-media competition featured Manning and other human athletes pitted against highly athletic dogs in a variety of physical challenges, including flying disc, weave pole races and high-speed man vs. dog races.
Manning was joined by Dr. Brian Zanghi, Nestle Purina® Canine Sports Nutrition Researcher, and one of the key developers of the Purina® Pro Plan® SPORT PRiME and ReFUEL nutritional supplement bars. Dr. Zanghi discussed the science behind proper canine nutrition, and how the PRiME and ReFUEL nutritional supplement bars can be used to help active canines fuel, perform, and recover safely.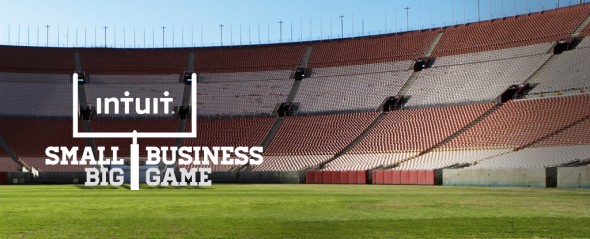 Intuit Inc. is now in Phase III of their Small Business Big Game program, sponsored by Intuit QuickBooks. These four small businesses are all who remain in the competition to receive their very own 30-second television advertisement that will air during football's biggest game on Feb. 2. The ultimate winner will be determined by a worldwide online vote between:
"What a wide-ranging and deserving group!" said Brad Smith, Intuit president and chief executive officer. "Tens of thousands of small businesses entered this contest, and these finalists demonstrate the breadth of entrepreneurship across the United States. Although the field is down to just four, this effort shined a light on the contributions and importance of all small business to our economy."
Check out Barely Lab's ad!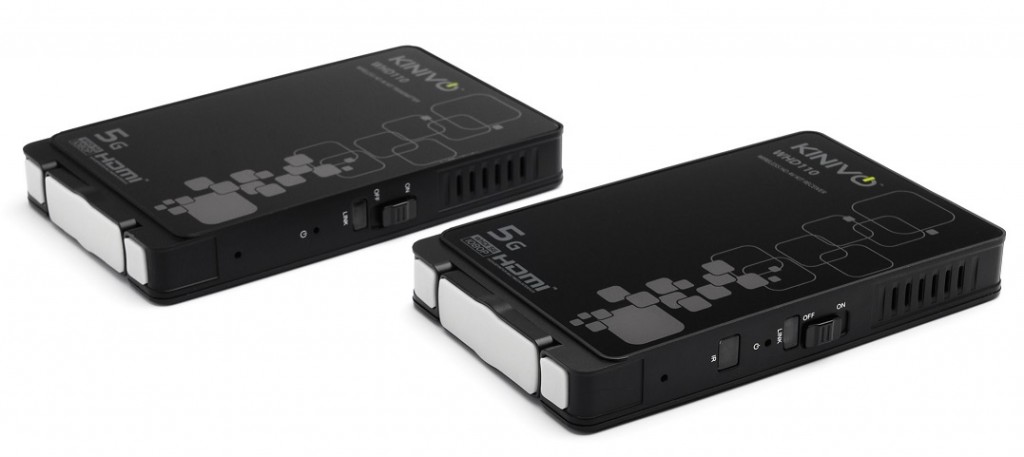 I think it is safe to say that we are all looking to try and save a few bucks here and there. We are looking to cut costs, but not strip ourselves of certain things. One thing that I was looking to do in 2014 was to see if I could cut my cable TV subscription. I hear more and more that a lot of people are doing it. Not that I am conforming into peer pressure, but when it comes to saving money I will take a look at all the options.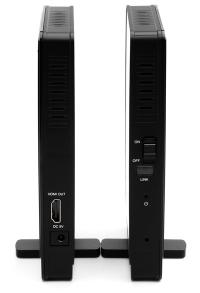 There are some devices out there that just work for their programs that are just for their operating system. Then there are those trying to be a knockoff version and the quality is very poor. What I wanted was quality TV, but not paying an arm and a leg for it.
I found out about the Kinivo HDMI kit and wanted to see what they could offer. Kinivo is a producer of quality mobile device accessories. Recently they introduced the new WHD110 wireless HDMI extender kit, created for home audio and video to wirelessly stream content to your television in high definition. Kinivo's WHD110 extends the wireless HDMI signal with a simple and convenient set-up process, eliminating cable clutter and streamlining your home's entertainment system with this all-in-one solution.
The HDMI extender kit streams video and audio content up to 65 feet in open space or up to 40 feet indoors, depending on wall density, for a wireless connection between televisions, audio systems, laptops, gaming consoles, cable boxes, monitors and more. Kinivo's WHD110 brings content from the small screen to the big screen and provides a simple way to wirelessly connect the Internet to your television.
Requiring no complicated set-up, users simply connect Kinivo's compact transmitter to the output device and attach the receiver to the TV's HDMI input to wirelessly stream audio and video over your home's entertainment system. Kinivo's WHD110 also brings the power of the internet to your living room with the ability to stream online content to your television screen.
It is perfect for cutting the monthly cable bill. You can wirelessly connect their television screen to a laptop or desktop and directly stream video instantly.
"The WHD110 updates your home's entertainment system by providing advanced features with hardly any set-up required," says Kinivo VP of Operations Neeraj Srivastava. "Completely customize your home's entertainment system with wireless streaming and connect with your favorite devices in an entirely new way."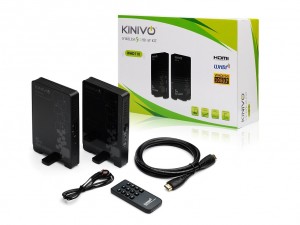 And that I did. I was very happy with Kinivo's kit. It has a wireless frequency of 5 GhZ. It streams media in 1080p resolution and supports 3D. It has a 40 feet indoor range as well as 65 feet in open spaces. It comes with removable stands for transmitter and a receiver. It supports the following video formats for TV: 1080p, 1080i, 720p, 576p, 480p; PC: up to 1920×1080. For audio you can use either PCM, DTS and DOLBY DIGITAL.
There are a ton of devices that it is compatiable with such as HDTVs, HD projectors, monitors, Blu-ray, DVD players, HD satellite and cable set top box, DVR systems, AV Receivers, Computers (Windows/Mac), HD output capable tablets and smartphones, Playstation 4, Xbox One, Wii U, Playstation 3, and Xbox 360.
So if you are looking to ditch the high cost of cable and stream TV and much more from your devices make you check out the Kinivo HDMI kit. For more info check Kinivo's website.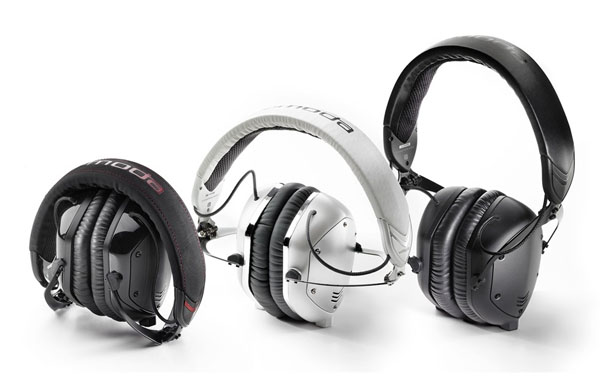 The V-Moda Crossfade M-100 delivers a bass-heavy sound with a design that is pleasing to the eye. Just like the M-100's predecessors it has the diamond shaped metal ear cup plates that can be customized to your liking. The M-100's are tough too! The Kevlar cable is tangle-free and when you travel you can put your headphones in its exoskeleton carrying case.
Going with the traveling theme the M-100s can transform into an almost ball like state. The ear cups collapse and don't take up too much space. There is also a 1 button microphone cable, a shareplay cable, and V-Corks. What is a V-Cork you might ask? Well the V-Corks can plug up one of the inputs when you are not trying to share music or if you were linking up two sources at the same time.
V-Moda headphones have a crystal clear sound to them. These babies produce a very powerful bass output. The design of the M-100s with the 50mm dual diaphragm driver and with a frequency response of 5 – 30 kHz, place the emphasis on the bass sound.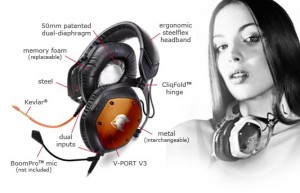 Besides the M-100's having a powerful bass system the sound is very detailed and crisp. There are some headphones the require batteries for enhanced sound. V-Moda says no to batteries or artificial processing. The M-100 is powerful and has a clear sound without the two extra digital-to-analog conversions that are needed to be battery-powered. Those other headphones can sometimes pollute the purity of your music. Also the Crossfade have minimal sound leakage so you can immerse yourself in your music without others being able to hear your playlist.
Another thing I look at for headphones is how comfortable are they. Well the M-100 has plush memory foam cups which makes for an enjoyable wear around the ears. No matter if I am at the gym, editing a podcast, or working around the house I could wear these for hours.
The Boom Pro microphone instantly transforms the M-100 into the ideal headset for gamers, podcasters and broadcast professionals. You can even get laser engraving customization service with logos, artwork, text, numbers and multiple plate colors.
For more info on the V-Moda M-100 check out their website!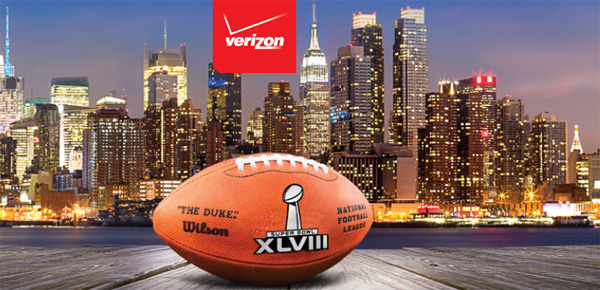 This week Verizon is getting you involved in Super Bowl Week with #WhosGonnaWin.  Fans have enjoyed watching NFL teams light up scoreboards all season long, but during Super Bowl week, fans will be the ones lighting up the Empire State Building as part of Verizon's WhosGonnaWin program, the first-ever social media-driven light show on the world's most iconic building, in partnership with Empire State Realty Trust.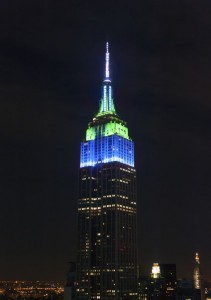 The five-night series, curated by the Empire State Building's world-renowned lighting designer Marc Brickman, will showcase the colors of the two Super Bowl XLVIII teams, the Denver Broncos and the Seattle Seahawks, based on fans' tweets to the question #WhosGonnaWin.  Flipping the switch nightly will be current NFL stars Drew Brees and Matt Forte, along with NFL Hall of Famers Barry Sanders, Curtis Martin and Marshall Faulk, who will be flipping the switch on Tuesday to start the show.
Each day leading up to the Super Bowl, Verizon will pose a game-related question on Twitter to fans using the custom hashtag #WhosGonnaWin.  The Twitter conversations surrounding the questions will be tracked throughout the day, and Verizon will turn the fans' predictions into a spectacular nightly light show.  The show will begin at 6 p.m. each evening, and open with a ceremony of lights celebrating the colors of all 32 NFL teams. The opening ceremony will end in Verizon's iconic red.
At 6:55 p.m., the results show, an orchestrated visual concert set to music provided by NFL Films will begin.  The show will be comprised of real-time data from the day's conversation which will be translated into a stunning sequence, with the colors of the winning team ebbing and flowing depending on the votes throughout the day. The colors of the team which was the most prominent in the conversation during the day will dominate the skyline for the rest of the evening.  The entire results show will be live-streamed at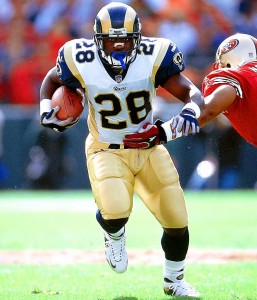 WhosGonnaWin.com and on NFL Mobile.
Today I spoke with Pro Football Hall of Fame running back Marshall Faulk on which team will dominate defensively. On paper everyone is thinking that the Seahawks have the defensive edge.
When I asked Marshall who he thought would win the Super Bowl he gave told me it is anyone's game.
"I think it can go either way. I don't have a favorite. Usually you can look at the numbers or watch how they play common opponents. It is so tough to tell. I keep telling people that only because Peyton (Manning) is a friend of mine that I just want to see him win another Super Bowl.
Outside of that I really don't know. I am not going to lie." – Marshall Faulk
Follow Marshall Faulk at @marshallfaulk and go to WhosGonnaWin.com to make your voice heard!
Look out next week for my entire interview with Marshall. We discuss his playing days, Super Bowl and MVP titles and more.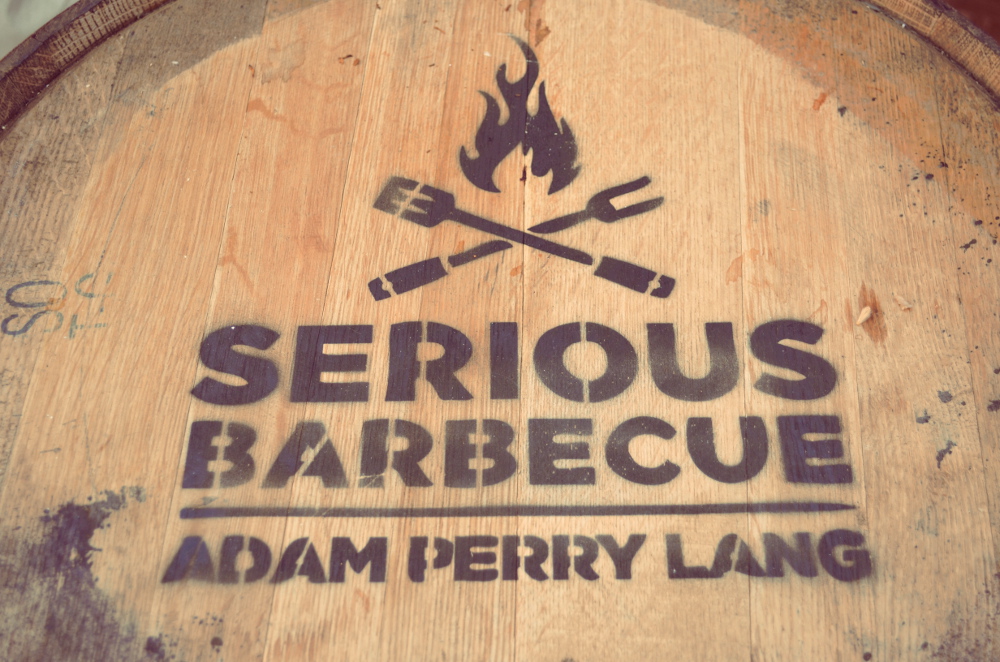 Combining his incredible barbecue skills with delicious George Dickel Tennessee whisky, Chef Adam Perry Lang demonstrates how to make a great sauce with George Dickel No. 12.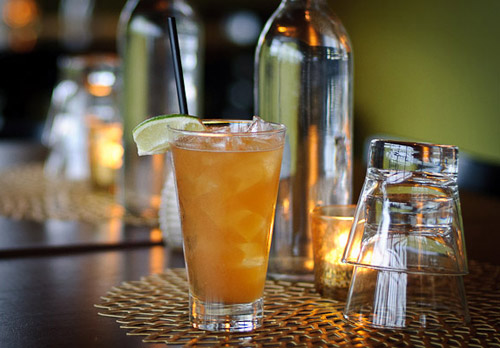 There are a lot of firsts surrounding the big game this year – the first time it's being played in NJ, the first potential game in the snow and the largest age gap between quarterbacks in history. While you're probably used to watching the game with a beer in your hand, why don't you ditch the beer and drink whiskey or rum in honor of the most watched football matchup of the year?
Below are some delicious food and drink recipes that incorporate three epic whiskeys – Crown Royal, Bulleit, and George Dickel. Also below are the new Captain Morgan Rum-inspired recipes developed by celebrity chef Hugh Acheson.
Whether you're watching the actual game, halftime show or commercials, these recipes are the ticket to a good party.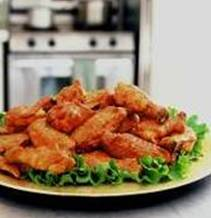 Crown Royal Wings
Ingredients:
⅓ cup Crown Royal Canadian Whisky
⅓ cup honey, SueBee
¼ cup soy sauce, Kikkoman
2 tablespoons Thai chili sauce
1 packet (0.75-ounce) stir-fry seasoning, Sun Bird
2 teaspoons crushed garlic, Gourmet Garden
4 pounds chicken wing drumettes
3 scallions (green onions), finely chopped (optional)
¼ cup chopped peanuts, Planters® (optional)
Preparation: In a large bowl, combine whisky, honey, soy sauce, chili sauce, stir-fry seasoning, and garlic. Add drumettes, tossing to coat. Cover with plastic wrap and marinate in refrigerator for at least 3 hours, preferably overnight.
Set up grill for direct cooking over medium-high heat. Oil grate when ready to start cooking. Let drumettes stand at room temperature for 30 minutes. Place on hot, oiled grill. Cook for 12 to 18 minutes or until cooked through, turning occasionally. Transfer chicken to a platter. Sprinkle with chopped scallions and peanuts (optional).
Why it's great for the big game: Looking to kick your appetizers up a notch? These Crown Royal-wings are a guaranteed hit at the party with a mouthwatering whisky-infused sauce.
Captain Morgan Original Spiced Rum Glazed Wings, Garlic Buttermilk Dressing, & Scallions
Ingredients:
3 pounds chicken wings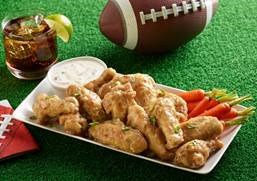 1 cup Captain Morgan® Original Spiced Rum
½ cup sherry vinegar
1 tablespoon sea salt
1 tablespoon peanut oil
½ teaspoon chili flake
1 teaspoon corn starch
1 tablespoon warm water
3 tablespoons butter, cold
1 cup mayonnaise
½ cup buttermilk
1 lemon
½ shallot, peeled and minced
1 garlic clove, peeled and minced
2 tablespoons carrot fronds, finely chopped
3 tablespoon scallions, sliced very thin on a strong angle
1 bunch of baby carrots
Preparation: Preheat the oven to 425°F. Heat a large cast-iron skillet in the oven for 5 to 10 minutes.
Rinse and pat the wings dry with paper towels, then separate the wings from the drumsticks and discard the tips. In a large mixing bowl, dress the wings with the sea salt and peanut oil. Add them to the cast-iron pan in 1 layer to assure even cooking and roast the wings for 20 minutes. Turn each wing and continue roasting for an additional 15 – 20 minutes.
For the glaze, add the Captain Morgan® Original Spiced Rum to a small saucepot and reduce over medium heat, about 10 minutes or until the liquid is reduce by half. In a small bowl, combine the cornstarch with the warm water and set it aside. Add the sherry vinegar and the chili flake to the rum and continue to cook for 5 minutes. Reduce the heat to low. Add the cornstarch slurry and stir the glaze until it becomes thick. Remove the glaze from the heat and add the cold butter, 1 tablespoon at a time, stirring until it is completely incorporated. Set the glaze aside for later use.
For the dressing, in a small mixing bowl, combine the mayo, buttermilk, and the zest and juice from 1 lemon. Mix together with a whisk until smooth and incorporated. Next add the shallot, garlic, carrot fronds and 1 tablespoon of the sliced scallions. Mix until combined and reserve.
To finish the wings, turn the oven to broil and crisp each side of the wing for about 1 to 2 minutes per side. Take them out of the oven and place them onto a plate lined with a paper towel to drain off any rendered fat. Place the wings in a mixing bowl and add the reserved glaze. Toss the wings in the glaze to thoroughly coat each one.
To plate, sprinkle the wings with the remaining scallions and serve them with a bowl of the dressing and the carrots.
Why it's great for the big game: Everyone loves variety, so add a little Captain Morgan to this wing recipe and spice up your football viewing party.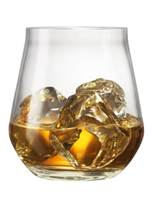 Crown Royal XO (on the rocks)
Ingredients:
1.5 oz. Crown Royal XO
Preparation: Pour Crown Royal XO over an ice-filled rocks glass.
Why it's great for the big game: The newest addition to the Crown Royal family, this extraordinary whiskey is finished in cognac casks and handcrafted for smoothness. Raise a glass to an extraordinary play with XO on the rocks.
BLT (Bulleit, Lemon Tonic)
Ingredients:
1.3 oz Bulleit® Bourbon
2 lemon wedges
3 oz. tonic
Preparation: Build in a highball glass, serve over ice
Why it's great for the big game: Bite the Bulleit with the BLT – with just three ingredients anyone can make this cocktail with no chance of botching.
Dickel Ward No. 8
Ingredients:
1.3 oz. George Dickel No. 8
.5 oz. orange juice
.5 oz. fresh squeezed lemon juice
.25 oz.  grenadine
Preparation: Build in glass and serve in a rocks glass.
Why it's great for the big game: A perfect balance of flavors, the Dickel Ward can make the halftime show even more enjoyable.
Gridiron Grog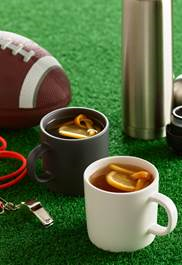 Ingredients:
1 oz. Captain Morgan® Original Spiced Rum
1 oz. Bulleit® Bourbon
1 oz. Olorosso Sherry
1 oz. Clove and Vanilla Syrup (recipe follows)
7 oz. hot ounce water
2 strips of orange zest
2 Meyer lemon rounds, 1/8 inch thick, seeds removed
Preparation: Rinse a small thermos with warm water and then dump out the water. Into the thermos pour the Captain Morgan Original Spiced Rum, Bulleit Bourbon, Sherry, and Clove and Vanilla Syrup. Stir to combine. Top with hot water. Gently stir. Cap until ready to serve.
Pour the Grog into two small 6 to 8 ounce mugs and garnish each with a strip of orange zest and a round of meyer lemon that is gently squeezed over the top to release a little acid. Drink.
Clove and Vanilla Syrup
2 tablespoons whole cloves
1 ¼ cup water
½ Vanilla bean, scrapped of its seeds
1 cup sugar
Preparation: In a small saucepot, bring the water, cloves, vanilla bean and seeds to a boil. Reduce the heat to a simmer for about 10 minutes and then add the sugar and stir to dissolve. Remove from the heat and allow the vanilla and cloves to steep in the syrup for about five minutes before straining.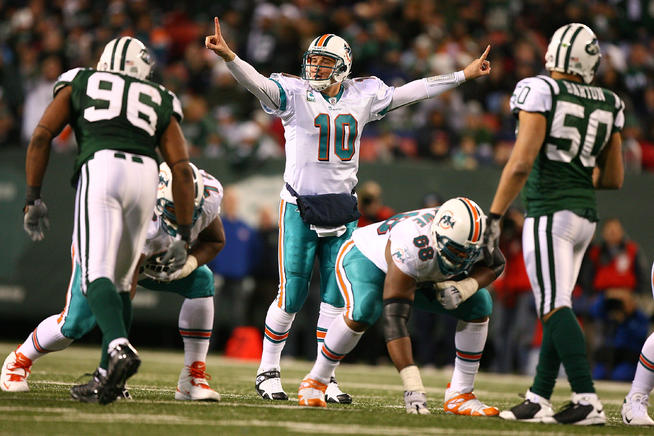 Chad Pennington played in the NFL for eleven years. He was selected by the New York Jets in the first round in the 2000 NFL Draft. He played for the Jets then played for the Miami Dolphins. Chad won the NFL Comeback Player of the Year Award twice. He is the NFL's all-time leader in career completion percentage. He is currently a color analyst for NFL telecasts on FOX.
Besides having a great career in the NFL, Chad and his wife, Robin started up the 1st and 10 Foundation. That organization was created to build stronger communities by funding programs to help improve quality of life. They are also busy with their three sons, who love to play outdoors just like their dad.
Chad and I were able to talk about his time in the NFL, winning the NFL Comeback Player of the Year Award, and his foundation.
Art Eddy: Let's first talk about your career in the NFL. You played for the Jets and the Dolphins. Both teams are in the AFC East. Do you feel that staying in that division helped your transition to the Dolphins?
Chad Pennington: I certainly had familiarity with division and with the teams that we would be playing to try and win a division crown. I also had familiarity with Bill Parcells and Dan Henning and some of the other people that were in place in Miami when I made the transition from New York to Miami.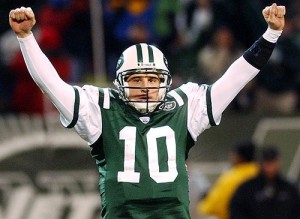 AE: When would you say that you felt comfortable at your position after you were drafted?
CP: I think my third year was when the light bulb really went on. As a rookie you are just surviving on your college instincts. Your second year you are trying to figure out how to be a professional. By your third year you truly start to make progress as a professional. You start to contribute to your team in a positive way.
Even if you have some successful times in your first and second year, that third you I think that is when everybody starts to feel like okay I belong. This is where I am and what I need to do to have a long career.
AE: You won the NFL Comeback Player of the Year award twice, becoming the only player since the awards inception to do so. What did winning that award twice personally mean to you?
CP: First it meant that both organizations that I played for when I did win those awards meant that I had great support. I had a great support system when I was trying to rehab from an injury. I had great teammates that supported me. When I came back from the injury we were able to do some special things on the field.
On a personal level it feels good that someone recognizes your hard work. It is very hard to come back from an injury. People don't realize how much energy and time is spent just to get back on the field much less trying to play the way you are capable of playing. Playing after an injury is very, very difficult. It is a really exhausting process. To be able to win that award really meant a lot to me.
AE: Name one change the NFL has made since you entered the league that you like and one that you wish that they never had changed?
CP: I think that the game has gotten better from an entertainment standpoint. There are so many things that fans can get involved with the game and have real lifetime experiences with football. From a fan's perspective it is really exciting.
I think with the safety of the game at some point in time we have to realize that this is a gladiator sport. It is a dangerous game. You can't take away all the dangerous risks. That is like saying that there are no car wrecks in NASCAR. It is just going to happen.
I think the league is taking the appropriate steps to make it a safer game. We just have to be very careful that we are not taking away the integrity of the game as far as how this game is supposed to be played. As players we need to know that going in. We know what those risks are. To act like that we are not aware of concussions or that we are not aware of some of the things that go on is wrong as well. We got to make sure that we stay on that fine line and make it as safe as possible, but also realize that there is a risk in playing the game of football.
AE: You have played in the playoffs in your career. How much is the stress level heightened come playoff time?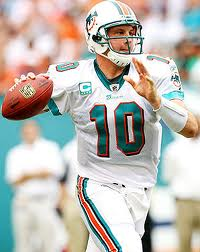 CP: The excitement is certainly at a different level. The pace of game. The energy. The intensity of the two teams playing is at a different level. The winner goes on and the loser goes home. There is a finality to your season with that playoff game. It is the one time in the year that everyone is playing like there is no tomorrow.
I think that is why fans gravitate towards the playoffs as well as the players. At the end of the day when you take away all the frills of the NFL, the entertainment value, and all those types of things as a player that is truly what you are playing for. It is to win the Lombardi Trophy and be called world champion.
AE: Tell me a bit about your foundation and what type of events you guys do annually?
CP: The 1st and 10 Foundation was started with my wife, Robin and me in 2003. Our ultimate goal was to improve the quality of life in the areas we contribute. Those areas would be East Tennessee, Southern West Virginia, and the Tri-State area. We were able to establish a grant program in 2006. Since that inception we have been able to grant more than 1 million dollars to those geographical areas because of our donors and supporters.
The neat thing about our foundation is that all administrative calls are taken care of. Every donated dollar goes back into what we are trying to support. Our foundation is your foundation. That is what we always say. If you gave a dollar to the foundation we take a lot of pride to make sure that your hard earned dollar is put back to where it is supposed to be.
We got a lot of different initiatives. We have holiday parties, ticket programs, and some different things. Now that we have moved to Lexington, Kentucky we are looking at some other initiatives and programs that we really want to dive into. It has been something that we really have enjoyed these past ten years.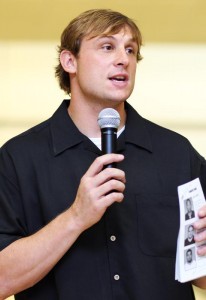 AE: What motivated you to start up the 1st and 10 Foundation?
CP: The first thing was when Robin's father battled leukemia for ten months. We saw a need for patient family services with leukemia and cancer patients. It was not only for patient, him or herself going through a terrible experience, but the family is in shock. The family is trying to deal with the disease and support their loved one without having much knowledge or information. So that patient family service part is very important.
We felt like in the rural areas of East Tennessee and Southern West Virginia there are not big cities to access malls, movies, and other things to do. The community center is a source of life in these smaller areas and towns. We try to support community based programs and organizations to help many people as we can. The great thing about the community center is that affects all ages. That is what we were trying to do for the past decade.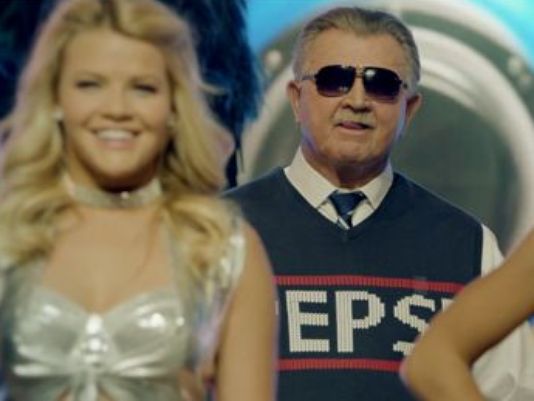 Deion Sanders, Terry Bradshaw, Shannon Sharpe, and Mike Ditka ask "What if the GRAMMYs had a Halftime Show? Tune in to THE 56TH GRAMMYs on January 26, 2014 to find out! #Pepsi #Halftime It might look like this.
Speaking of the GRAMMYS, the 56th GRAMMY® Best New Artist Program, brought to you by Pepsi, celebrates this year's nominated artists and explores the fan inside each of these celebrity musicians.
Pepsi is partnering with The Recording Academy® to produce the 56th GRAMMY Awards® "Best New Artist" program, which is a discovery vehicle promoting the artists nominated for this annual award category.
Within the GRAMMYs Best New Artist program video series, Pepsi and the GRAMMYs are unveiling a behind-the-scenes in-depth look at this year's nominees, featuring breakout stars who received GRAMMY nominations, including: James Blake, Kendrick Lamar, Macklemore & Ryan Lewis, Kacey Musgraves and Ed Sheeran.
The videos will give fans a sneak peek into their daily lives, their creative process and the evolution of their careers while sharing their excitement surrounding the Best New Artist nomination and describing their anticipation for Music's Biggest Night®.
James Blake finds inspiration in the sounds of the street and chronicles his transition from a fan at the back of a club listening to a DJ to becoming the wax spinner himself.
Ed Sheeran admired the GRAMMYs from afar in the UK, but he never thought he'd be able to attain such heights. Here he talks about the pace of his creative production as he currently enjoys some downtime.
Rapper Kendrick Lamar used to dream about just one person listening to his mixtape, and here he is with a GRAMMY nom. His relentless work ethic ensures that he stays at the top of his game.
Country singer Kacey Musgraves found out she was GRAMMY nominated while she was on stage performing a show. Surrounding herself with people she enjoys being around is how she maintains her sense of family and self.
The 56th Annual GRAMMY® Awards airs Sunday, Jan. 26 on CBS – 8pm EST/7pm CST
Be a part of the conversation on Twitter with #BNA, #BestNewArtist and #GRAMMYs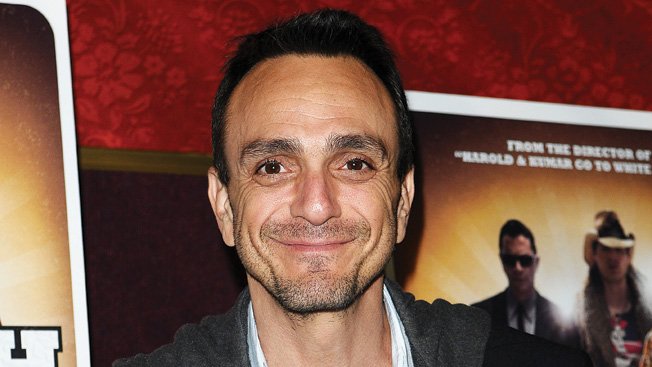 Hank Azaria didn't know if he wanted children. So he wanted to ask his good friends who were parents what their take was on fatherhood.  He started filming this as a documentary to find out how others navigate through the journey of parenthood.
On the series he spoke with Bryan Cranston. Jim Gaffigan, and Kevin Bacon about their views on fatherhood. He would ask about the good times as well as the bad times. Lo and behold while filming this series he and his wife found out that they were going to have a baby.
Now from what started as a fun project became a quick prep course into fatherhood. Naturally Hank called the series "Fatherhood." It is hosted at Mom.me and AOL and you get to see famous dads like Mike Nichols, Mike Meyers, Richard Hatch, Phil Rosenthal, Willie Garson, Tim Robbins, and Rainn Wilson talk about being a father. Plus Azaria gets expert advice from Dr. Elliot and Dr. Alyssa Berlin, Jill Spivack, Michele Borba and more.
I had the great opportunity to chat with Hank about his film series, fatherhood, and yes of course "The Simpsons."
Art Eddy: You started off looking to do a documentary series with your friends showcasing them on being a dad. During that process you and your wife get the good news of expecting a child. Of course it was a no brainer to shift the focus a bit to your journey into fatherhood, but did you ever think of not going with that angle for the web series?
Hank Azaria: It changed so much over the course of a few years. It started out like you said just asking dads why did you do this. It seemed insane to me. Then getting pregnant. It shifted to oh I am going to be a father please help me because I am terrified.
I didn't want it to be an overshare. I didn't want it to be some reality series about my family. I had real questions that I wondered if other dads did. Real fears that I wondered if other dads had. It doesn't seem that men talk about this too much. Because I produce this I can control it in the editing room so that I am not oversharing in front of America basically.
AE: Did you find some of the answers about fatherhood from your friends shocking?
HA: I'll tell you one thing a guy said that was a little shocking. I jokingly asked who do you love more, your kids or your wife. He said oh are you kidding? It is my kids. They are my flesh and blood. My wife is someone that I met in a bar. (Both laugh.) That person shall remain nameless. He didn't say that on camera. He wasn't that stupid to say that on camera.
AE: How soon was it from when you started shooting to when you guys found out you were pregnant?
HA: Six to nine months. Somewhere in there.
AE: Was it a total surprise for you guys?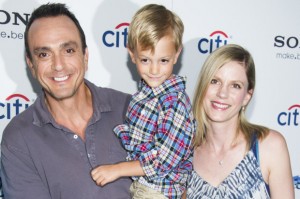 HA: Total. In fact we were shooting some stuff. We had a dog. Our dear old dog Annie that was 16 years old and was starting to die. We were shooting that since that was what was going on. I don't know if you ever had an old pet that you were taking care of, but she was blind, deaf, and senile. I was hand feeding her. I was like I am taking care of a child. The day that the dog died we found out we were pregnant. It was the same day.
If my son was born a girl I wanted to name her Annie much to my mother's chagrin. She was like you can't name your child after your dog.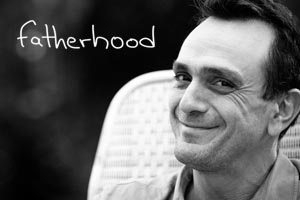 AE: I agree with your take on how the terrible twos are not that bad, but when kids turn three they turn into what I call velociraptors. What is your best defense for when the tantrums start?
HA: With tantrums I don't know about you, but I found them very daunting. I didn't want to flip out. I didn't want to make a mistake. I also wanted to keep up my own sanity. One of the main things is that you can't give in. You can't give them what they are wanting. If you do then the lesson they learn there is that if you flip out you can get what you want. You don't want them doing that.
You also don't want to respond to a tantrum with a tantrum. You don't want to be emotional in the face of a tantrum. You want to pick your battles. You can do certain things to head off tantrums if you know they are coming. Transitioning a kid is a big deal. Instead of just saying okay we got to go you tell them we are leaving in five minutes. Finish up what you are doing because in two minutes we got to get out of here.
Think about it. You wouldn't like it if you were told that. You were doing something and I said hey let's go. It takes a lot of practice. That's why I like to get advice from experts and other dads. It is good to get help on things like that.
AE: You have said the Kevin Bacon has given you a ton of great parenting advice. I know we saw some of that advice in your series, but what is some of his advice that still stands out to you?
HA: He was really wise. Bryan Cranston was. Tim Robbins. Bacon, before I had a kid, he said the phases will drive you crazy. The phases of childhood. Whether you love them or hate them, they will pass. They don't say that in the books. Including the tantrum phase. They stop with the tantrums after a while.
You are better off handling them well than not well. Even if you don't handle them well they are going to pass. Even when my son was two. He was like a cherub. He was completely angelic. The second he turned three he became maniacal. Love it or hate it, it is not going to last. When you look at it that way it helps appreciate the good times and know that the bad times are not going to last forever.
AE: What can we except from the upcoming episodes in your series?
HA: We get into things like different generations like how we were raised and how we raise our kids. There is a definite difference how my dad approached it and how I approach it with my son. Being a kid with your kid. Being a friend to your child as opposed to being a parent to your child, like a disciplinarian. These are all topics that personally interested me that I found challenging.
Getting your kid to go to sleep. There is an entire episode on that. Birds and the bees. My son at an early age asked us where he came from. It was a ridiculous conversation. Not only was it dads sharing how they handled the conversation, but the insane way people's fathers approached with them. There was a whole lot to say on the sex conversation.
AE: For the voices you create for shows like "The Simpsons" where do they come from? How do you develop a voice?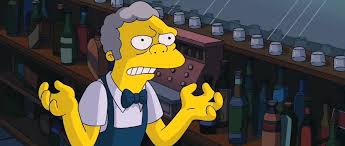 HA: They are voices I have heard. Either they are voices of celebrities that I like to imitate, family members, friends, or store owners. Wherever. Anything I heard I mimic it. Sometimes I am mimicking it exactly. Sometimes it is just my version of it. I am a mimic at heart. It starts there for me.
AE: Out of all the characters which one do you feel the most closest to?
HA:  (In his great voice work as Moe from "The Simpsons") I feel closest to Moe the bartender. I used to be a bartender. (Back to normal voice) I feel that if it wasn't for "The Simpsons" that I would still be a bartender. Moe is from Queens. I feel the closest to Moe. I feel Moe is like if I didn't have success in showbiz my life would be closest to Moe. My actual personality.
Click here for each episode.
Preg & Nant | Ep. 1 | Fatherhood
Standoffs and Tantrums | Ep. 2 | Fatherhood