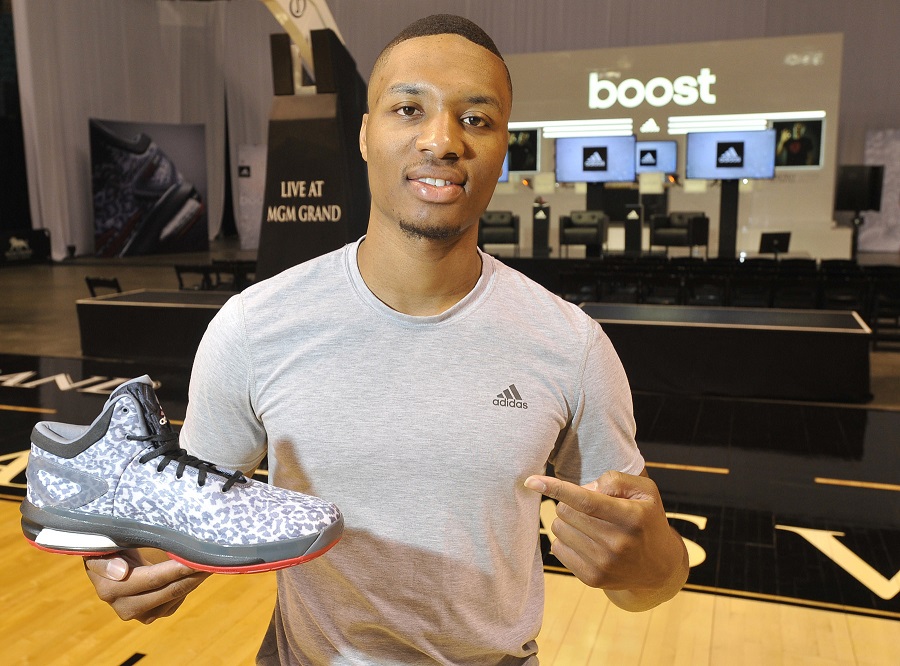 Today launched a new video campaign starring Damian Lillard of the Portland Trail Blazers to celebrate the arrival of the Crazylight Boost basketball shoe. Crazylight Boost is the first basketball shoe to feature adidas' ground-breaking Boost cushioning technology. The industry-first innovation returns more energy than any other cushioning in the game.
Damian Lillard shows us he would be great at anything in life by portraying a popcorn-slinging, movie theater employee serving customers before show time. In a dramatized portrayal of the world without Boost, Lillard is interviewed by Turner Sports sideline reporter Rachel Nichols after completing an intense session of serving concessions.
This NBA season, Damian will wear a special edition print colorway of the Crazylight Boost that will be available September 1 for $140 at adidas.com.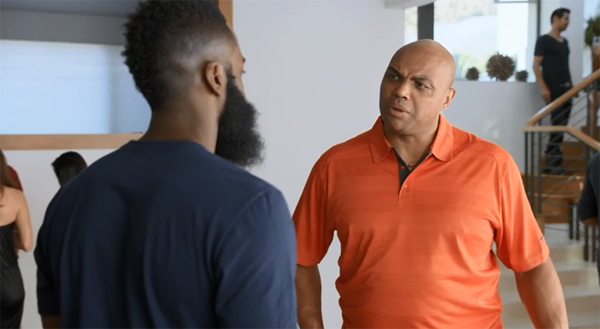 James Harden is seeking a fresh start. His new Foot Locker gear is a good start, but he turns to Charles Barkley and Scottie Pippen for some further advice. #Approved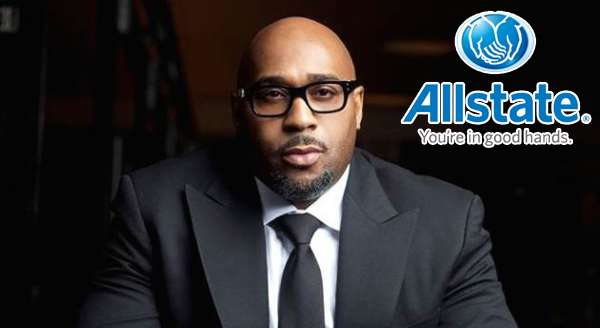 Gerry Garvin is an acclaimed chef, cookbook author and TV host. He is known for his television series, "Turn Up the Heat with G. Garvin", which ran for seven seasons on TV One. Next he started another show called "G. Garvin: The Road Tour", which premiered in 2007. Garvin also appeared in many cooking specials. He is also known for cooking everyday meals while keeping it simple with a Southern twist.
This summer, Allstate and Chef Garvin are teaming up for the second year of the "Give It Up For Good" campaign, and are celebrating the remarkable stories and acts of good within local communities. Launched in 2013, the national campaign shines a spotlight on the heartwarming stories of good – giving back to the community, unexpected good deeds, and unsung local heroes – taking place every day. In addition, the "Give It Up For Good" campaign encourages everyone to find simple ways to do good and then share those stories to inspire even more good. For more info click here to go to Allstate's website.
I had the pleasure of talking with Gerry about his work with Allstate, how he got into cooking, and what it was like to cook dinner for Halle Berry.
Art Eddy: Let's first talk about your work with Allstate for the "Give It Up For Good" campaign. Tell me a bit about that promotion?
Gerry Garvin: It is something we both wanted to do. We are both very passionate about it. We are spotlighting remarkable stories and remarkable people, who are doing really good things in their local communities. As you know as a writer a lot of the news you hear is always negative. There are some good people doing some good work in their community. We want to reach out to them and show them that they are appreciated.
AE: How can people help?
GG: When you find someone doing something good in their community have them go to Allstate's website and go to their "Give it up for Good" section and just share the story. We want people to know what other people are doing and use the hashtag give it up for good. Just share, share, share, and share. That is what it is all about.
AE: What got you into cooking? Was there a person or an event that triggered your passion for cooking?
GG: I have been cooking for over half my life. It literally started just from being in the kitchen with my mom. Being from a single parent household we were learning how to cook because that was what we were supposed to do. The rules were simple. Do your homework, clean the house, and start dinner.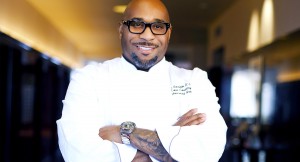 I found that it was the easiest job next to mowing the lawn. As a teenager I learned my way around the kitchen. When I turned 17 I thought it could actually be something serious so that is what I did.
AE: You have cooked meals for some very notable people such as former President Bill Clinton as well as Halle Berry. Do you have any fun stories from those experiences?
GG: The first call I got didn't come from the White House. It came from someplace that was the lead security of some sort. When I first got the call to do a dinner for President Clinton he was still in office. I just hung up the phone. I thought it wasn't real. I thought it was a joke. Then I get a call from the guy who set it all up and asked why I hung up on the staff at the White House. I was like I think I did. So that was a funny story, but I ended up doing a really great dinner for the president.
Then you know sitting in the kitchen with Halle Berry and having a glass of wine and making dinner for her is pretty exciting also.
AE: You have been on many TV shows here and there. Take me back to the first time you started your career on TV. What thoughts raced through your mind at that time?
GG: I have always done live TV and special guest spots, but the TV show, "Turn Up the Heat" the very first show I remember going is anyone going to ask me if I know what I am doing because no one ever did.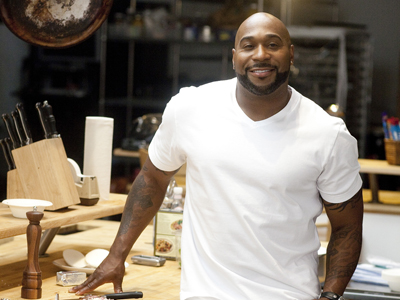 I signed the contract. I never stood in front of a teleprompter before. I never did anything like that before besides being funny.
I spent some time trying to prefect the business part of television. The rest of it I said that I am going to have some fun. My very first guest was Hill Harper. I called up Hill. I told him that he was on the show tomorrow. I asked him what he was going to wear, what he did or didn't want to talk about, was he going to stand on my left or my right, and so forth. I thought I would be human about it. It was a really interesting experience.
AE: Which other famous chef or celeb would you like to cook with or have them cook for you?
GG: There are a couple of people that I really like. I don't know if I would ever get the opportunity to work with them, but Thomas Keller is one of the brilliant minds behind the culinary world. Sidney Poitier. He just represents the human species really well. That is a man that I am impressed with that I would love to cook for.
AE: What is the process like for creating new dishes? Is there a lot of trial and error?
GG: There is a lot of trial and error when you are younger. As you get older and you understand the culinary science of food it gets easier. When I think about a dish I imagine what that dish could be like. I do a lot of thinking before I go into the kitchen. So I spend a lot less time testing and failing, but rather testing and developing. So for me I draw inspiration from whether it is a flower or a fruit or a dish that I saw that can be enhanced. For me it is getting in and really developing the dish.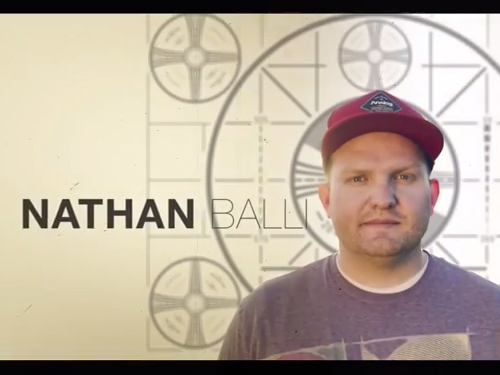 Open Call is a first-of-its-kind project for content creators of all genres – including music, art, style and action sports. Balli's project "Authenticity is Everything," earned the grand prize of a $250,000 production grant and mentorship with Robert Rodriguez, acclaimed filmmaker and founder of El Rey Network, and Roberto Orci, co-creator and executive producer of "Matador," a new original action series currently airing on Rodriguez's new English-language cable channel.
Hundreds of video submissions from across the country were received from March 12 to April 25 and were narrowed down to nine finalists, all of whom received $10,000 production grants to create content for Mountain Dew. The finalists presented their work at an exclusive screening event where Balli's submission was chosen by panelists including Simon Lowden, chief marketing officer, PepsiCo Americas Beverages, Barry Rosen, creative director, Direct Focus, and Steve Berra, co-founder and co-owner of The Berrics.
"I am so grateful to have been selected as the first ever, Green Label Studios: Open Call winner," said Balli. "To be recognized by such a prestigious panel of judges and to get the opportunity to be mentored by Robert Rodriguez and Roberto Orci is a dream come true – this whole experience has fueled my passion for content creation and I can't wait to get back at it."
Balli will use his grant money to create content for Green-Label.com, a digital hub created by Mountain Dew and Complex Media, and the brand will continue to maintain relationships with each of the finalists for potential Mountain Dew and Green-Label.com content in the future.  The hub covers the voices and stories of today's youth culture, providing an outlet for young people to showcase their creativity.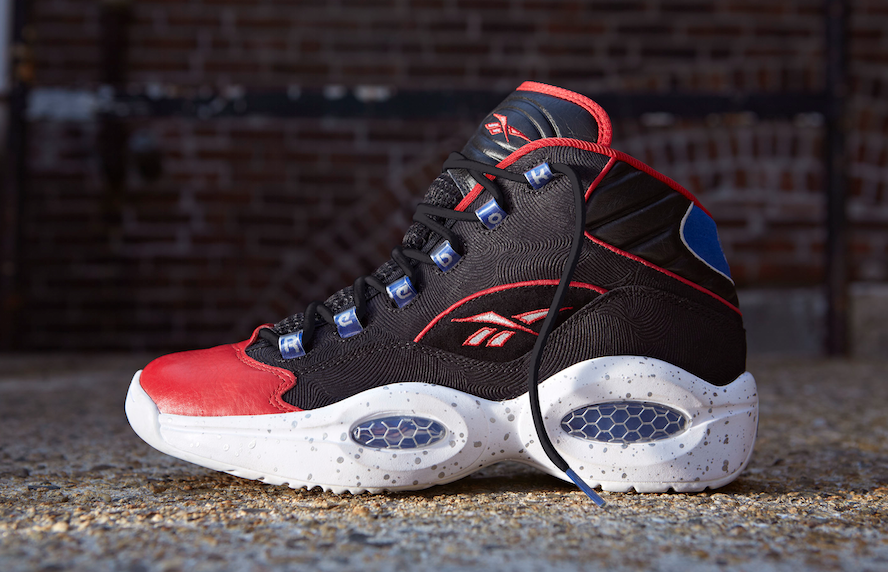 Paying homage to the anti-gravity icon Allen Iverson, the Question Mid is about standing out and stepping up your game.
It's a 90's legend reinvented to make history all over again. On Friday, August 15th, the Adult sizing will be available for $124.99 at retailers including Finish Line, Champs, Jimmy Jazz, Eastbay, Footaction, Shiekh and Reebok.com.
The Kids sizing will be available for $94.99 at retailers including Champs, Jimmy Jazz, Kids Foot Locker, Eastbay and DTLR.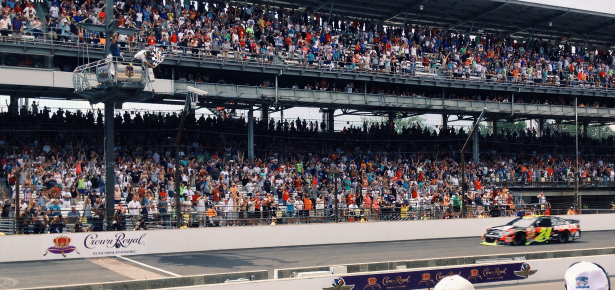 I'll admit that I'm a city boy. Being born in Massachusetts and living in Los Angeles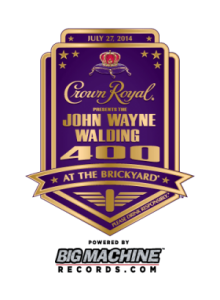 will do that to you. I'd go so far as to call myself a Yankee but I'm a Red Sox fan and can't stomach it. In the northeast you root for professional team sports. You speak quickly and directly and regularly offend others. Distance is measured in minutes, time is currency and watching NASCAR and listening to country music is something that other people do. I do not say things like "y'all", "race day" or "we have to get to the start line before they wave the green flag".
At least I didn't before this week.
Indianapolis isn't exactly Arkansas but when NASCAR comes to town you'd never know it. Biscuits, gravy and twang for breakfast, smoked meat and greens for lunch. Country music and freedom rock ride the breeze and shirtless men with denim cutoffs are everywhere you look. Had she been there I would have had to restrain my beautiful wife from applying sunscreen to strangers.
I'm not joking.
Yet when the news came down that MANjr founder Chris Stout was unable to attend his 3rd consecutive Crown Royal 400 I leapt at the chance. If you're even a casual follower of the lifestyle blogosphere you know that this annual event is one of the biggest invites of the year. Cryptic messages and hashtags bounce around twitter for months prior to the race. A #ReignOn here, a #teampurplecup there. Pictures and videos from trackside bubble up from some unlikely sources as dozens of bloggers descend upon the Indy Motor Speedway with fully credentialed hot passes hanging from their necks.
The purpose of this trip is to highlight Crown Royal's sponsorship of the Brickyard 400. More importantly, Crown Royal's "Your Hero's Name Here" contest and winners. Every year Crown Royal holds a nationwide search for an everyday hero in someone's life. They then name the Brickyard 400 after this person and help them tell their story to the world. This year's winner was a man named John Wayne Walding. His story is one that deserves to be told.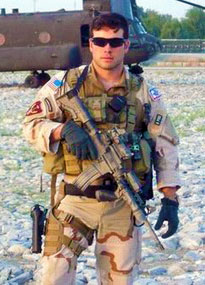 John was a Green Beret. He fought in Iraq and then returned to combat duty in Afghanistan for another campaign. His medal chest holds a Silver Star, a Bronze Star and a Purple Heart. Should be enough, right? Not quite. While being a total bad ass in Shok Valley, Afghanistan, John took a snipers bullet to his leg with such force that it severed his leg below the knee.
Damn.
John proceeded to tie his severed leg to his thigh and return fire for over 4 hours before he and his unit were extracted.
You got that right. Instead of laying on the ground and clutching at the space where his leg once was John tied his leg to his thigh and continued firing at the enemy for over 4 hours.
John's heroism doesn't stop there. Upon rescue and rehabilitation, John took his prosthetic leg and graduated from Special Forces Sniper School. He hand cycled the Boston Marathon in under two hours.
Did I mention he was born on the 4th of July?
John proceeded to start a rifle manufacturing company in Texas that hires wounded veterans and become an advocate for veterans with PTSD.
After seeing this man in action I came away impressed by more than a list of his achievements. John is a funny and generous man. His charisma and authenticity was on full display and he carried the day with grace and humility. A fine and worthy choice by Crown Royal as a hero among us.
The Race? As in the annual scavenger hunt and race I had been invited to attend? Well #TeamHailey was pretty stacked. We won the first challenge on the strength of Z Smith's extensive NASCAR knowledge and finished second in the next thanks to DJ Foothill and Victor Macias leading us on a half mile jog back to the cart. So much for sitting behind a keyboard in safety, this years Capture the Crown was full contact. Don't buy it? Ask Katherine Fotinos about her run in with a moving golf cart. By the time we were eliminated I was grateful for the rest.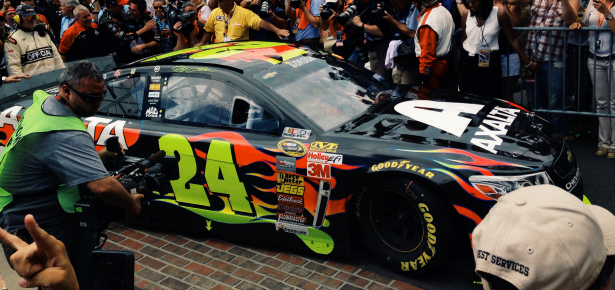 Ohhh… that race. Right. Well now that I'm this big time NASCAR reporter I can tell you that Jeff Gordon won for the fifth time at the Brickyard, overtaking Hendrick Motorsports teammate Kasey Kahne on a restart with 17 laps to go. The visibly pumped Gordon later said that winning the race was "as good as it gets". He lingered over the traditional kiss of the brick finish line with his family and seemed to relish the moment. The day itself was blessed by weather as violent thunderstorms spared the region. The sun even poked it's head out for a spell.
A successful trip to say the least. Good times, great people and all the Crown Royal I could drink.
Responsibly of course.
Got a hero of your own to nominate? Keep your eye on MANjr for information on next years "Your Hero's Name Here" contest.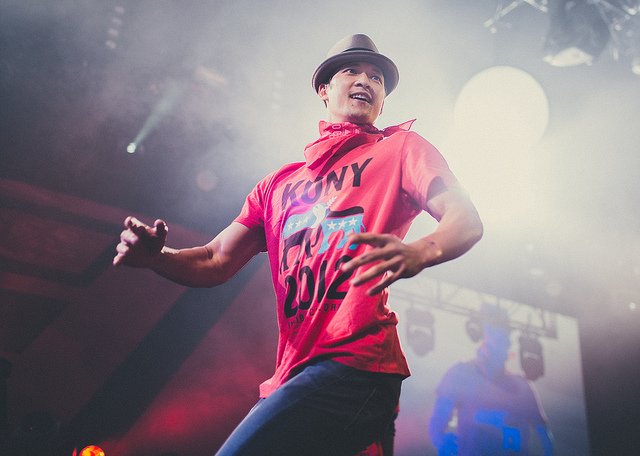 Noted dancer, actor and choreographer Harry Shum, Jr. (Glee, Step Up 2) has always had a vision to explore the similarities in dance and sport, ever since he saw a TV special that aired in 1958 called "Gene Kelly: Dancing – A Man's Game." Gene Kelly created this Christmas special where he interpreted the moves of some of the top athletes of his time – including baseball star Mickey Mantle and boxer Sugar Ray Robinson – to choreograph dance routines, while also teaching the athletes to dance as well.
To continue this ongoing conversation in a visual format and update it for audiences today, Harry Shum, Jr. teamed up with long time collaborator and filmmaker Cole Walliser to work with leading contemporary dancers and premier Red Bull athletes in a new video series entitled "Parallels." The series of videos draws parallels between disparate dance forms and extreme/action sports, utilizing slow motion to accurately pinpoint the striking similarities between both genres, both in movement and approach.
In one video, ballerina Kylie Lewellan's measured leaps and jetes are juxtaposed with freestyle motocross biker Alexey Kolesnikov as he meticulously executes cliffhanger and Superman moves in mid-air.  In a second video, tricker Remi Bakkar's acrobatic dance moves and BMX bikers Andrea Lacondeguy, Syzmon Godziek and Thomas Genon's aerial tricks are analyzed in the context of their constant battle with the force of gravity to execute their precise maneuvers.  In the third video, the themes of rhythm and balance are explored through the similar kinds of moves that B-Boy Kid David and skateboarder Johnny Johannes can execute.  "Parallels" ultimately identifies and expounds upon the various themes of control, rhythm, grace, timing, strength and balance that are omnipresent in movement whether one is a dancer or an athlete, creating undeniable parallels between both of those worlds.
"I think all movement is interconnected and the only thing that separates it is the intention behind it," said Harry Shum, Jr.  "The goal for a dancer or an athlete is to reach the highest level of athleticism that their bodies are capable of in their respective disciplines.  Ballet dancer Mikhail Baryshnikov proved to be one of the greats where no one can deny his incredible athletic abilities, and the artistry behind athletes like Michael Jordan can be clearly seen when you take the ball out of the equation.  I hope this sparks a conversation to explore the question, 'Is dance a sport and is sport an art form?'"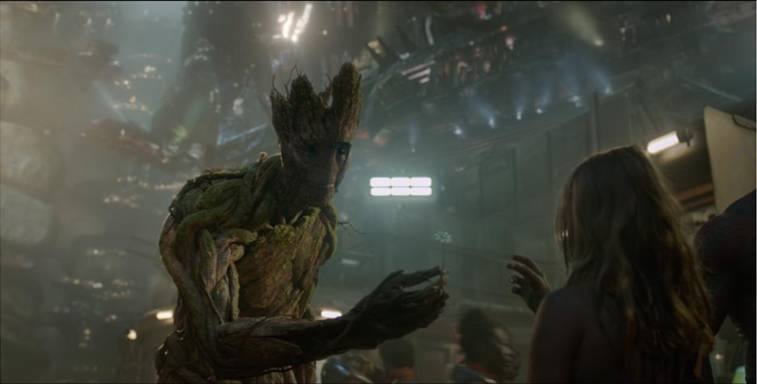 I can't wait to see Marvel's new film "Guardians of the Galaxy." The cast is fantastic and the special effects are out of this world. Another cool feature from the film is Vin Diesel, who voices the character Groot in this summer's highly anticipated, epic adventure Marvel's GUARDIAN'S OF THE GALAXY, dubbed his lines from the film in Spanish, Portuguese, Mandarin Chinese, French and Russian. The dubbing, intended to uniquely customize the movie going experience for international audiences, took place recently in Los Angeles during post-production in collaboration with key marketing teams around the globe.
Here are the different versions of Groot! Enjoy
Brazilian Portuguese
French
Russian
Spanish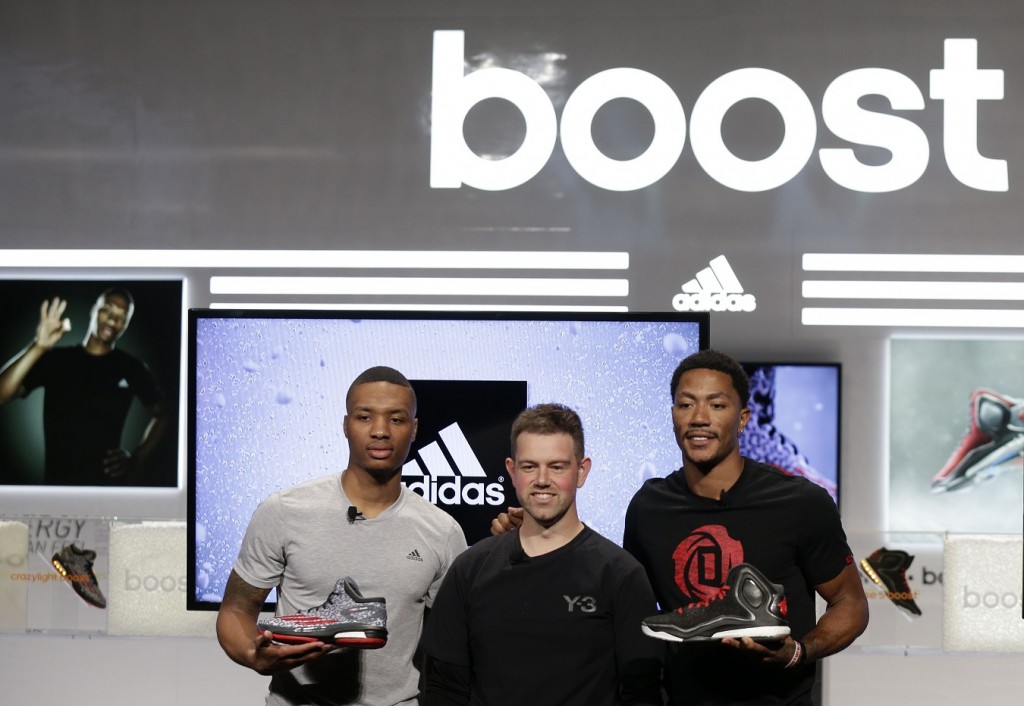 On Sunday, adidas held an exclusive unveiling of the D Rose 5 Boost and Crazylight Boost basketball shoes at the MGM Grand Garden Arena in Las Vegas.  Damian Lillard and Derrick Rose joined former NBA player and event emcee Greg Anthony to officially introduce adidas' ground-breaking Boost technology to basketball. The industry-first innovation brings game-changing energy return, comfort and responsiveness to players when they need them most.
Following the unveil, media in attendance had the chance to test out the new kicks and hoop with adidas athletes including Joakim Noah, Jrue Holiday, Jeff Teague, Tim Hardaway Jr, Arron Afflalo and new adidas partner, rookie Marcus Smart.

It's July, it's Indianapolis, it must be Capture the Crown time again!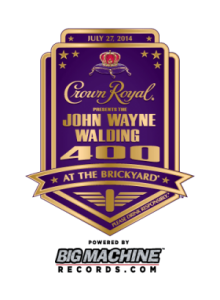 Follow our exploits as we traipse around Indianapolis for the Crown Royal Presents the John Wayne Walding 400 at the Brickyard Powered by BigMachineRecords.com.
Say that all in one breath.
Lot of words. Let's break it down. Brickyard 400, huge NASCAR race. John Wayne Walding, American hero. Crown Royal? Awesome drinking whisky. BigMachine Records.com? Sure why not, they paid for it.
I'll be looking to reclaim the throne for MANjr founder and 2012 winner Chris Stout. What is this throne we speak of? The annual hub of all social media? The scavenger hunt to end all scavenger hunts? Check @manjrcom, #JWW400 and #ReignOn all weekend for some super VIP access to the race and the weekend's festivities. Big prizes for winners the last few years and we'll need that MANjr reader karma to pull it off again.
Wait? John Wayne? That John Wayne? No. Ten times better. John Wayne Walding is man who's heroic actions on and off the battlefield remind us all of what kind of man we can all aspire to be. Sip on a few of Stouty's original "Five Toes Texas Cooler" during the race and raise your glass to an American Hero, Mr. John Wayne Walding.