Art Eddy III
This user hasn't shared any biographical information
Jabber/GTalk: Art Eddy III
Posts by Art Eddy III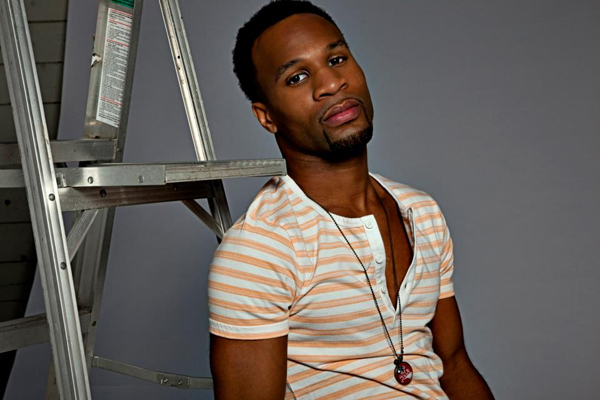 Johnny Ray Gill can be seen in the new series "Rectify" that will be on the Sundance Channel starting up on Monday, April 22nd. Gill plays Kerwin Whitman who is friends with the main character Daniel played by Aden Young. "Rectify"  is a legal drama that tells the story of Daniel, who was falsely imprisoned for 19 years and is released due to new DNA evidence. The series at times follows Daniel thinking back about his time in jail and the viewers are introduced to one of his friends and fellow inmate, Kerwin Whitman.
Gill also has been seen in great shows like "True Blood", "Bones", and "Harry's Law". Gill also has produced a short film called "Pas de Restes". Gill wrote, starred in, directed and executive produced the film.
Johnny Ray Gill was able to sit down and chat with me about "Rectify", his short film, and what he has learned from his experience in the film industry.
Art Eddy: Tell me about the plot of the show "Rectify" and your role as the character Kerwin Whitman.
Johnny Ray Gill: "Rectify" is on Sundance and it is a totally original show. It reminds me of a play in the theater but on camera because of the nuance of the way the story is told and shot. It follows the main character Daniel, who is played by Aden Young. Daniel has been in prison for about 17 years on death row and now because of DNA evidence he is released.
The story is about his first few days out of prison and how he acclimates himself to the town and society. Kerwin Whitman is who I play and I would say that he is Daniel's spiritual best friend. Kerwin was in a cell that was right next to him on death row.
AE: The show sounds very original and to me I feel like there is nothing on television like it right now. You must be excited to be part of show like this am I right?
JRG: Oh definitely. This show takes a hard and real look about what it is like to be on death row. We take a look at what it does to people's families, the victim's family, and what happens when a person is released.
It is also a relevant topic. Right now if you watch CNN or MSNBC you see that with things like DNA evidence people are getting released from prison. There have been a few stories just recently that people who were incarcerated and now were just released based on new evidence that showed that they are innocent. I am very proud to be on a show that is brave enough to dive deep into something of that nature.
AE: I love to see the passion you have for this role and wanting viewers to see a true representation of a person on death row. What type of research did you do for this role?
JRG:  Well in terms of research I have never been on death row and never been in prison. When I auditioned for the part I had a sense memory because one of my cousins is actually in jail for 25 years. It happened when I was in high school. He was part of killing someone through gang violence.
I feel that I was able to explore his spirit for the audition. African Americans and Latinos are hugely incarcerated inside a penitentiary complex. There is so much information to tap into. I wanted Kerwin to be almost an example of what not to do. To show how tragic it is to find yourself in these circumstances rightly or wrongly.
We film with real prison guards and they put real handcuffs and real chains on me. When I hear the clanging of the chains as I was walking into a cell that is the size of a bathroom I felt like I was representing my ancestors. I thought about the middle passage and slavery.
The beautiful thing about Kerwin for me is that even though he committed something very tragic on the outside in the real world, he is trying to find his manhood and atone for the things he did wrong. Reading Shakespeare, Malcom X, Dr. Martin Luther King Jr. I was able to go into my well so to speak and pull out the emotions of a tragic person trying to be a better man. I did as much research as I can to give the character the most authenticity for the show. To me these characters are not given the weight that they deserve and just become stereotypes and I didn't want to do that with Kerwin.
AE: Just hearing that alone wants me to check out the show. You have been very busy aside from shooting "Rectify." You also have another project called "Pas de Restes" in which you wrote, starred in, directed, and executive produced. Tell me about this short film.
JRG: It is a short film that is on the festival circuit right now that I shot last January. It has already been accepted to the Black Hills Film Festival and the Cape Fear Independent Festival. This film was a labor of love. Obviously there is a film industry here in Los Angeles, but there is not a film community. So there is a lot of beg, borrowing, stealing, and cheating to get the movie made.
"Pas de Restes" is about a family that goes out to eat at a popular restaurant. After ordering a bunch of food, like we all do, they are kindly prodded to finish their meal to ensure that no food is wasted. It is a dark comedy and it is doing pretty well so far. I hope that the festival circuit will continue to be kind to it.
AE: Sound like an interesting plot. I hope the film does well for you. Out of acting, writing, and directing do you prefer one over the others?
JRG: I will say I don't like producing. Producing sucks. (Both laugh) I don't mean like hey here is $10 million go out and make a film. I mean the day to day having to be your own secretary. Having to schedule everything here and there. That sucks.
Seriously though for acting, directing, and producing I always like to classify them as different suits. One is a pinstripe, one is a slim fit, and one is baggy and you have to put them on at different times. For me I definitely love acting, but the writing and directing aspect for me just comes from wanting to see new and fresh stories being told.
I want to show new perspectives that are not seen in films today. I would to follow the footsteps of Tom Hanks or Will Smith where you can pick the projects that you want to do, but also look at a story and say this needs to be told and go out and be able to tell that story. To me that is how you get great projects out there like "Game of Thrones" and "Boardwalk Empire". I want to be one of those individuals who stars and produces a show like "Boardwalk Empire".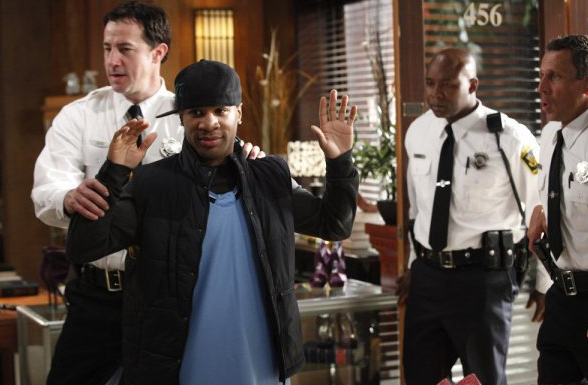 AE: You have also appeared in the shows "True Blood", "Bones", and "Harry's Law".  What did you learn as an actor from being on these notable shows?
JRG: I have been blessed to be on great shows like "True Blood." With all those shows including "Rectify" you get to see how a great show is really done. People are moving at a frenetic pace and they have to do an episode in eight days usually. These shows are telling fantastic stories and you have to be totally prepared and ready to match these actors when we are filming the show.
The times that I was not acting I would be watching others or the cinematography to learn more about the industry. I would see what they thought was important to put into that scene and I can take what I learned from those shows and put them into my projects.
As an actor when you work with someone like Kathy Bates, you study her. She is an Oscar winner. She knows her craft and there are so many things that you can learn from someone like her. I have been very blessed to have been in those shows and I take that experience and use that for the future.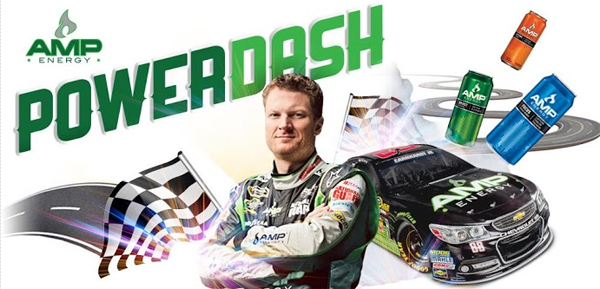 "AMP Energy PowerDash", is a brand new free mobile racing game from Dale Earnhardt Jr. and AMP Energy. The rules of PowerDash are simple: the longer you keep your No. 88 Chevy SS race car on the track without crashing, the faster you drive and more points you earn, which in turn unlocks upgrades for your car, as well as AMP Energy coupons.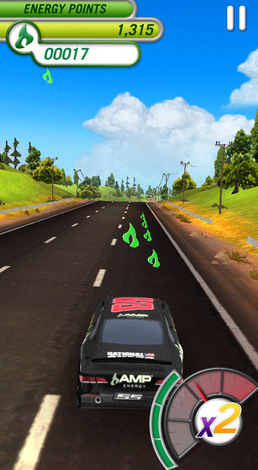 Playing PowerDash not only gives fans a chance to earn a spot on the virtual leaderboards, but is key to potentially winning a variety of unique real-world prizes and experiences. Weekly prizes include a variety of Dale Jr./AMP Energy memorabilia, including autographed hats, firesuits, scale-model die cast cars, and much more. The top-performing player with the highest score wins an all-expenses-paid VIP racing experience with Dale Jr., and everyone who downloads PowerDash and plays the game has a chance to win a 2013 Chevy Camaro SS Convertible.
PowerDash also leverages image recognition and geo-location technology. Consumers can visit 7-Eleven stores around the country to scan cans of AMP Energy to unlock exclusive offers and tips for maintaining the right level of energy with AMP Energy products.
The game is fun to play and you can get it for your iPhone or Android device. For more info check out there Facebook page.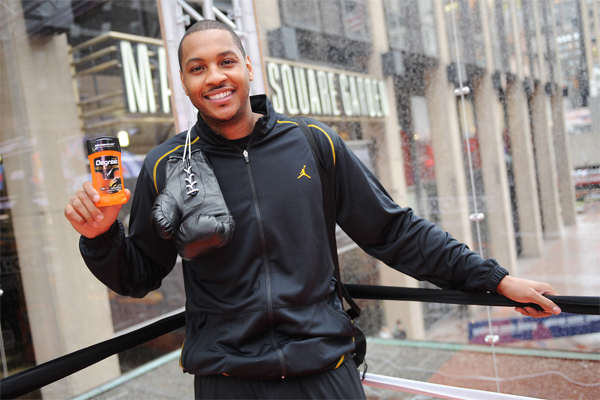 Carmelo Anthony has always been a dual threat on the basketball court, a leading scorer and a fierce defensive threat, but now he's showing the world how he can DO:MORE off the court with his love for boxing. Last night Anthony helped Degree Men launch its new DO:MORE campaign with an afternoon workout event with some of New York's top amateur boxers in a pop-up boxing ring atop the Madison Square Garden marquee. From above the Madison Square Garden marquee, Carmelo helped inspire guys everywhere to DO:MORE in their own lives by hopping in the ring for a brief workout with his boxing trainer.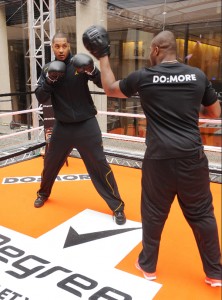 Complacency is not an option – especially for America's elite athletes. As you may have already seen or heard, basketball superstars Carmelo Anthony & Kevin Durant are teaming up with Degree Men deodorant to help launch a new campaign encouraging men to go beyond their comfort zone and test their limits – they're challenging guys to DO:MORE. With national TV advertising featuring Anthony & Durant airing this month during the NCAA tournament, the guys – who are known and recognized around the world for basketball – are showcasing their individual passions off the court with the support from Degree Men, in hopes to inspire guys everywhere to DO:MORE in their own lives.
With the support of Degree Men with MOTIONSENSE, Anthony has the confidence and protection needed to take his game to the next level and DO:MORE whether he's running 94-feet up and down the basketball court or going 12-rounds in the boxing ring.

Logan Miller started out as a child actor on a few shows like "I'm in the Band" and he voiced the character Nova from the animated series "Ultimate Spider-Man." Now Miller can be seen portraying a sex crazed maniac in an independent film called "Plus One" that premiered at SXSW this year. Before the party of the century for a group of college freshman, a small meteor hits earth and instead of any physical damage, the meteor causes molecular damage and every person develops a duplicate of themselves. It's up to 'Teddy' to band everyone together and save his friends from the potential threat of the duplicates.
Miller was also on NBC's "Grimm," Adult Swim's "Children's Hospital" opposite Rob Corddry, Michael Cera and Megan Mullaly, and more. I was able to talk with Logan about his current projects, SXSW, and his career.
Art Eddy: You were at South by Southwest promoting the film you are in "Plus One." Tell me a bit about the film and your role.
Logan Miller: The film concept is one that you have not heard before. It is a very crazy sci-fi thriller mixed with a teenage party movie. This small, small meteor comes to Earth and is very insignificant and it doesn't affect anyone physically. It has this electric current that creates a tremor in the time space continuum. This causes everyone to have duplicates of themselves, but it is not just duplicates. It is you but you in an hour from that past. So everything you duplicate does you already have done. Add that with a sex crazed party movie and you have a great time at the movie theater.
AE: How did you get involved into this film?
LM: I auditioned my ass of for it. I started with some tapes and then I flew all the way to New York. I then flew to London to test for it and then went back to L.A. to test for it. I was definitely committed to do this project. It had been something that I had never done before and it was a branch out of my previous work. I think this is as fresh as you can get. I really wanted to grab a hold of this role immediately and it worked out to my benefit. I think we have something here in the film that we can be proud of.
AE: Wow that audition process you did alone should be made into a movie.
LM: (Laughs) Right. Once I flew to London I told myself if I didn't get this role I would be very upset.
AE: So you were showcasing the film at this year's South by Southwest festival? Did you get a chance to meet some cool actors or musicians?
LM: Well I was very busy promoting the film so I didn't have a chance to meet some of the people I wanted to that were there at the fest. It was great and I had a blast. I am actually from Texas so I knew a lot of the cool places to take people when I had down time. The vibe of the fest is great. I love the collection of Indie film makers and great music melded together. It is really a fun, fun town to lose yourself in and I really enjoyed my time there.
AE: Do you have any other projects that you are currently working on?
LM: I have another movie called "Deep Powder" that just got accepted to the Tribeca Film Festival. I also have this movie called "Night Moves" that Kelly Reichardt directed that also stars Peter Sarsgaard, Dakota Fanning, and Jesse Eisenberg. That movie is actually coming out in the summer. I am trying to finance my own short film. It is called "Risen." You can check it out on my indiegogo website.
AE: You also voice the character Nova in the "Ultimate Spider-Man" animated series. For you what are some differences between live acting and voice acting?
LM: Voice acting I wouldn't say is ten times easier, but I will because it is. It is so much fun. We do the show like an old radio show where we all get together and voice the show. We have such a blast doing the show. You just show up and read your lines and you can be as comfortable as can be and you don't have to get any makeup on for voice over work. It is great.
AE: Are you a fan of comic books? Did you know a lot about the character of Nova before the series?
LM: Of course. Well I didn't know too much about Nova, but I read up on him. I know he is part of the Guardians of the Galaxy. I am glad that film is coming along and maybe I can play him in the film. It would be an awesome role to play.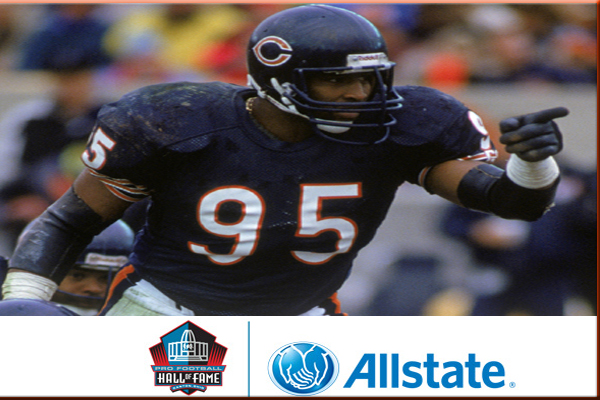 Richard Dent, former NFL defensive end and Atlanta football legend, will be honored in his hometown community as part of a special program called "Hometown Hall of Famers" presented by the Pro Football Hall of Fame and Allstate."
Dent will be recognized by representatives of the Pro Football Hall of Fame, Allstate Insurance Company and the Atlanta community during a special ceremony at Crim Open Campus High School. The event will take place Wednesday, March 27.
The four-time Pro Bowl honoree was named Super Bowl MVP for his dominating performance against the New England Patriots in the Bears' decisive 46-10 victory in Super Bowl XX. Dent was inducted into the Pro Football Hall of Fame in 2011.
Art Eddy: You are being honored in Atlanta for the "Hometown Hall of Famers" program presented by the Pro Football Hall of Fame and Allstate this week. How did it feel when you heard the news about this great honor?
Richard Dent: It is a great honor. When members of the Pro Football Hall of Fame and Allstate come together to help people like myself go back into the community and say thanks to your neighborhood and places where you grew up it is a great feeling.
There is going to be a bunch of kids from the Atlanta school systems there and the message will be that you should strive to find yourself. For me I didn't play sports in high school until my junior year. I was able to go to college on a scholarship and go play in the National Football League. If you play at a certain level you might be able to make it into the Hall of Fame. I never really thought about that, but did dream about going to the Super Bowl and winning it. Had a chance to see those things happen.
Now Allstate and the Hall of Fame have allowed me to get on the road and get into the communities and tell these stories. I am able to thank those who were able shape young men in the community like me.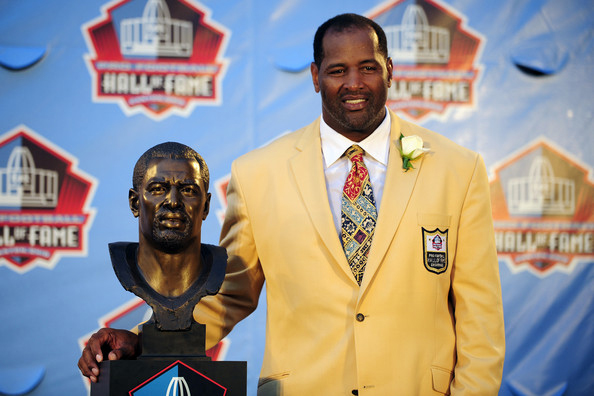 AE: Henry Adams, who is one of your former coaches, will present you with the historic plaque. Talk to me about your relationship with your former coach.
RD: He was the defensive coordinator and Coach William Lester, who was the head coach, would have probably introduced me into the Hall of Fame, but he has passed. I had a chance to thank him at the Georgia Hall of Fame. William Lester has had touched so many thousands of students that went to college.
Henry Adams was the head coach of the basketball team. He made me be the water boy for one year. Then I played my senior year and made All-State. I thought I had something there and didn't really think about football too much. William Lester help me stay at Mercy High School when my family moved out of the community. He would give me rides to and from school for two years.
It just goes to show you what people would do for you if you put a flag in the ground and work at a goal and find yourself. I wanted to be someone in my community and be looked up to. My family appreciated that. This is why I appreciate Allstate and the Pro Football Hall of Fame to come back and say thanks to some people. Plus if you can save some lives by what you say and they envision theirs lives on what they can be it is a good thing.
AE: You were part of the great 46 Chicago Bears defense with Mike Singletary, William Perry, Wilber Marshall and many others. What was it like to play with those guys?
RD: When I look back it was me, Dan Hampton, William Perry, Walter Payton, and Mike Singletary. I think we had probably seven to eight Hall of Famers on that team. When you have all those guys in life just like in football you can reach your goals. We should have been the first team in the NFL to win three Super Bowls in a row. In four years we only lost ten games.
If you look at all the dominant teams in the NFL from decade to decade it would be hard to find a team to match what we did in those four years. It just goes to show you how tough it is to accomplish what we did.
AE: In the 1985 season you guys were so close to going undefeated and match the record of the '72 Miami Dolphins. Ironically enough it was the Dolphins who were the only team to beat you that year. At that time did you guys care about that or just focused on winning the Super Bowl?
RD: When we lost the Championship game the year before to San Francisco we vowed to each other on the plane ride back that we were going to win everything hands down. We didn't say we were going to go undefeated. The first game of the year we were down 21 points at halftime. That was Tampa Bay.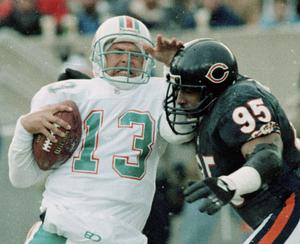 We had a conversation at halftime and we came back to win that game. In Week 13 we faced the Dolphins and we looked at the calendar and thought this was going to be the team to beat since everyone else was kind of mediocre. We lost that game got back home around 2:30 in the morning. We woke up about 12 the next day and went to the studio to record "The Super Bowl Shuffle."
We were like so what we lost. We will see those guys down the road. If they do their thing we will see them in the big game. We were looking for them. I am glad we didn't see them because Dan Marino is a good friend of mine. I would have hated to put on Dan what I wanted to do to him. If he showed up it wouldn't have been a nice day.
AE: Speaking of Super Bowl XX you guys beat up on the New England Patriots and you took home the MVP trophy. I am guessing 1985 was a great year for you.
RD: Yea it was a great year for me. That was my first award I received for a particular thing I did in a season. I led the league the year before and lead the league that year and I didn't get anything for it. So for me it was my first award. I was really honored to win that MVP award in the Super Bowl.
AE: After playing with the Bears, you played with the 49ers, Colts, and Eagles. You even won another Super Bowl ring with the 49ers. How was it for you to adjust to playing for those different teams?
RD: No it wasn't for me. God gave me the physical abilities to play football. You go out and give your best each week. Sometimes there are people who talk about their play and don't match it with their performance on the field. That was the tough part. You try to work with people and tell them that where there is a will there is a way.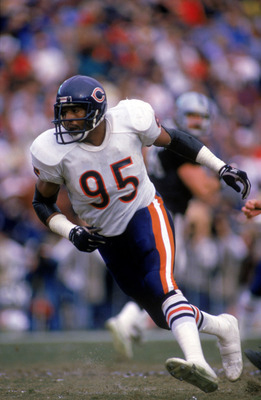 AE: You also were one of the all-time greats in the NFL for sacking quarterbacks. You at times made it look very easy. What was the secret to your success?
RD: Well I am a geek when it comes down to technology and tendencies and data. I would break a person down in about 15 minutes. The point is your ability can go to a certain extent.  Your talent can go anywhere you want it to go. You look and listen and you start to know what you need to do.
You might be able to take those tendencies from a player and know about 80 percent of what they are going to do. So I don't have to run crazy. For me when I start moving I am looking at 80 percent of what could take place and I'll fight for the other 20 percent. You start to have fun during the game because you most likely know what will happen. That gives you longevity. If you are out there bouncing around and running around at some point the game catches up with you.
Everybody can play, but what level can you play at? That is the key for me to be the best you can be.

On Tuesday night, elite actors including Michael K. Williams, Nate Parker and Felicia Pearson joined Bulleit Bourbon and director Jeymes Samuel for the NYC premiere of his groundbreaking short film, They Die by Dawn.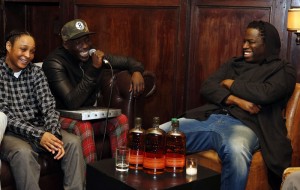 Held at Tribeca Cinemas, over 200 guests had the opportunity to screen the film. At the core of this project was Samuel's desire to bring an untold story to life with an all-star cast, including Giancarlo Esposito, Isaiah Washington, Michael K. Williams, Rosario Dawson and Jessie Williams.  Set in Langston, Okla., They Die by Dawn follows four African American outlaws blazing the western frontier to capture the group's collective bounty.
Bulleit Bourbon's partnership with Samuel in They Die by Dawn launches an on-going commitment by the brand to collaborate with emerging artists in film, art and music, who similar to its Founder Tom Bulleit, are passionate about making their visions a reality.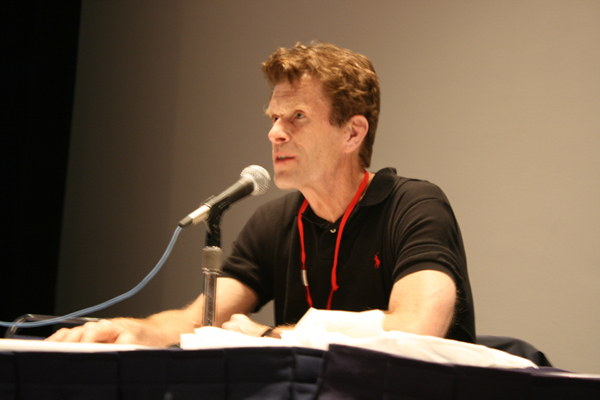 Kevin Conroy has a distinct voice. For fans of "Batman: The Animated Series," Conroy's voice will forever be the one associated with the Dark Knight. From films to video games Kevin has been working on Batman projects since 1992. Conroy, a student of the famous Juilliard School, was in the same class as Robin Williams and learned from the best teachers imaginable. Conroy has a love for theater and appreciated the lessons he learned on the stage and uses those lessons in his voice acting roles.
I had the great pleasure to chat with Kevin about how he found the voice of Batman, Comic-Cons, video games and working with Mark Hamill. I even learned a thing or two about Batman from Kevin.
Art Eddy: I have to say ever since I watched "Batman: The Animated Series" you will forever be the voice of Batman. Take me back to when you got the role on that show back in 1992 and how you found the voice for not only Batman, but Bruce Wayne as well?
Kevin Conroy: It was one of those very, very lucky moments that just happened. I started working in New York since I was 17 and went to Juilliard and did a lot of theater and did a lot of television after that. I have been supporting myself working as an actor for a long time. I found myself in L.A. doing a TV series.
I had a voice over agent. I had been doing commercial voice overs. He said that they were doing a new show over at Warner Brothers. They were looking for animation voices. I had no background in animation. I didn't even know that much about the Batman legend. I met Bruce Timm, Andrea Romano, and Paul Dini.
I told them that the only thing that I knew about Batman is from the '70s TV show with Adam West. They said no, no, no. That is not what we are doing. (Laughs) They were very heavy in the whole Dark Knight ethos. They told me the story of the Bob Kane legend.
It became to have this dark, noir feel to it. They said think of that and I said let me just use my imagination and let me get that into that kind of head. I went in a totally different direction than what I was going in there with. I was almost expecting a Dudley Do-Right voice like very cartoony. I ended up getting into this mysterious, kind of husky, and what I considered a dark sound. I saw them get really excited in the booth. They said that they loved the instinct and the direction that I was going in.
They reacted strongly so I knew it was really right on or I was way off. That was just a lucky hand and glove kind of thing. All my theater training and the background I had made me right for interpreting that character at that moment.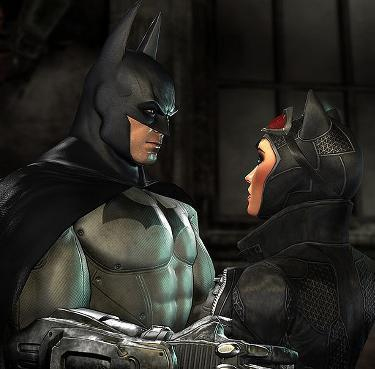 AE: To me I think you and Mark Hamill, who is the voice of The Joker, have the best chemistry with the banter you guys have as Batman and The Joker not only during that series, but in the "Arkham Asylum" and "Arkham City" video games. How is it to work with him?
KC: We work so well together. There again that was just the luck of casting. He is basically a theater actor and so am I. Theater actors a bit different. They like to play the game. Acting is like throwing a ball back and forth. You have to be generous. You have to throw the scene to the other guy and wait for him to throw it back to you. It is all reaction and reaction and like a child being really able to go with the flow. To be silly sometimes and to not necessarily do what you were planning on doing and let yourself be surprised.
Mark has all of that in spades. He has great imagination. He has great vocal range and he has the imagination of a child. So when you throw him the ball he just runs with it. We both that that instinct in us. So we get into the booth together and we go crazy. We have a lot of fun.
AE: Another video game that is due out soon is "Injustice: Gods Among Us" where you do the voice for Batman. Can you tell me a little bit about the game and what is the difference between voice acting for a video game as opposed to an animated series?
KC: You have no idea what you just asked. It is so different. It is like another planet. Acting in the episodes is like doing a play. There are six or eight of you in a booth together and you are interacting and feeding each other energy. Like I said before it is like playing ball. There is a give and take. There is just a lot of energy.
When you do a game you are alone in a booth for four hours at a time. You get an hour for lunch and then another four hour session and that's a day. That happens the next day and the next day and the day after that. A month later you go back and do another couple of sessions. I have done where it can go on for eight months where every month you are going in for a few days.
The experience is completely different than doing a show because you are alone. You got to be your own source of energy. You have to keep your character alive. Keep him real. Keep to Batman, but I don't have anyone to reference it to. They want four different readings for each line. Then they will want four or five takes of each reading. It is a different kind of talent. When you see the results like with "Arkham Asylum" it is just incredible. You think wow, it was really worth it.
AE: I heard there were rumors of DC using the "Flashpoint" storyline to make an animated film. Would you be playing the role of Batman?
KC: I can't talk about upcoming stuff. I'm sorry. They are giving me a really hard time because about a year ago I let it slip about something I was doing. I thought it was the reason that they sent me to Comic-Cons was to promote the product. I said why did you send me if you didn't want me to talk about the product.
They said don't say anything until we tell you to say it. We weren't ready for that release. I said I am giving you free publicity is that why am I there? They say you are there to be Batman to get the audience happy. So all I can tell you is that there are two big things that I am working on that are coming out.
AE: I can't wait for those. Earlier you said you did not know that much about Batman before you took up the role on the animated series, do you read any Batman comics now?
KC: Oh yea! I have been doing it for 22 years. I have immersed myself in it. Did you know that Bob Kane lived in the Bronx when he wrote Batman? He came up with the idea in Poe Park. He and the other creator of the Batman series were tossing ideas and that is where they came up with the idea.
AE: You went to Juilliard. What were some of the major things you will always remember learning in the years you were there? Did they have any courses on voice acting when you attended school there?
KC: No. I shouldn't say that now because I was there a long time ago so I don't know what they do now. Back then it was a really traditional European style acting program. There was dance classes, voice classes, acting classes, fencing and a French mask class. Robin Williams was in my class with me. Robin was a genius at doing mask work. He would create these characters that were just unbelievable. Everyone was very competitive. Then you see Robin and you would think I just give up. It was just an amazing place to be.
AE: You make many appearances at different Comic-Cons around the country. How much fun do you have at the conventions and do have a favorite all time story you would care to share?
KC: I have a blast at those panels. I really do. The amazing thing is some of the stuff that you are asked to sign. Like body parts if you know what I mean. The great thing about Comic-Con is that it a real cross section of the whole culture. It's the wackos and then it's the hard core super fans and the serious, serious egghead fans. You get everyone in there. You get intellectuals and you get whack jobs. It is so interesting, especially the big ones like San Diego and New York. It is fascinating. You get a real cross section of the culture. It is really interesting.
To listen to the entire interview and hear Kevin indulge me with saying a few lines as Batman click here.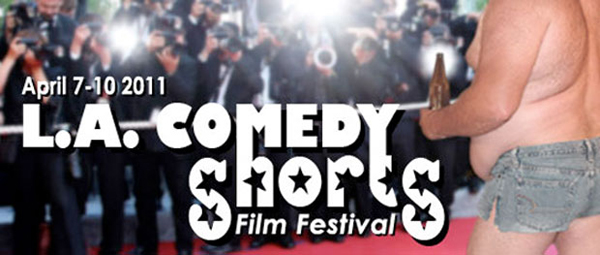 On April 4th, the L.A. Comedy Shorts Film Festival opens up to showcase and celebrate comedic short films. This festival now it its fifth year looks to have screenings, industry panels, red carpet events, and cash prizes awarded to directors of the winning comedic films. There is even the coveted "Commie Award" that is given out by the panel who they believe deserves recognition. Past winners of the "Commie Award" are Bobcat Goldthwait and Missi Pyle. This year, the award recipients will be Keegan-Michael Key and Jordan Peele of Comedy Central's "Key & Peele" show.
I was able to talk with Jeannie Roshar, who is the festival director, and actor Gary Anthony Williams, who is the artistic director. As soon as the conversation began I knew that these two were perfect to host and produce a festival that is centered on comedy. Williams and Roshar have a great chemistry and I would love to see them acting together in a comedic film.
They started this festival to bring all lovers of comedy to one spot and look out for the next artist or actor who should get a chance to be discovered. Winners of certain categories will be able to meet up with some of the biggest names in Hollywood such as managers and studio executives. With prizes like these I asked them about the number of entries they received for this year's fest. Gary said that there were a lot of funny short films. For those who might not know to be called a film short the length of the movie cannot exceed 30 minutes.
Some of the aspiring directors or actors might not have the high price camera equipment to shoot a great looking short film. When I asked Jeannie if they cared about the footage she said, "We care if it is funny. We have had films play that may have been shot on an iPhone. We have had films play that had probably had $70,000 to $80,000 budget. We are looking for comedy voices. Certain things have to be in place. People can forgive a bad picture better than they can forgive bad sound."
In regards to those aspiring actors and directors I asked Gary if he saw any one film or talent that stood out from the rest. Gary told me, "I can honestly say there are so many of them. Like we just watched the film where there is this little girl in it, who is as dynamite as anything you will ever see."
Jeannie followed up Gary by telling me, "We see some great stuff too from groups. They put out a ton of great content."
Talking with the two of them, it seems that not only will the L.A. Comedy Shorts Film Festival be funny as ever, but there is some excellent talent out there for directors to discover. For more information on the festival you can go to their website. If you want get a small taste of what you will experience at the festival, make sure you click here to listen to my interview with Jeannie Roshar and Gary Anthony Williams.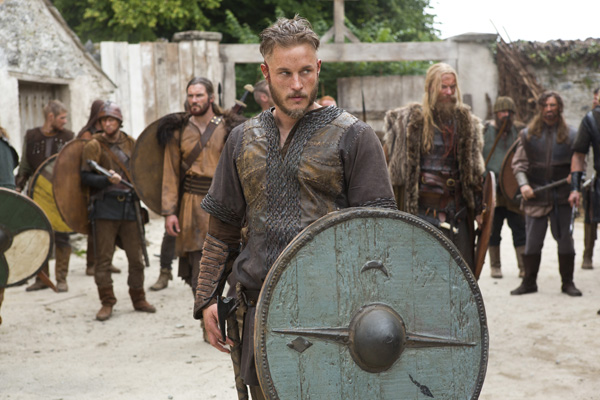 If you have not checked out the all new series on the History Channel, "Vikings" make sure you make it a point to do so. The series is set at the beginning of the Viking Age, marked by the Viking raid on Lindisfarne. This weeks episode, which is the Episode 3, is called "Dispossessed".
A monastery in Lindesfarne is about to get a firsthand look at how the Vikings operate. In and out in a flurry of violence and terror, Ragnar and his crew raid the monastery for everything it contains from treasure to monks who can be sold as slaves. Unable to ignore the riches this unsanctioned journey has returned, Earl Haraldson has no choice but to agree to let these warriors undertake a second trip out. The west has now been opened for the taking by Ragnar Lothbrok and the world of the Vikings will never be the same.
The show will air on this Sunday, March 17 at 10 p.m. on HISTORY. The show is directed by Johan Renck and written by Michael Hirst.
Here is a sneak peek of Sunday's episode.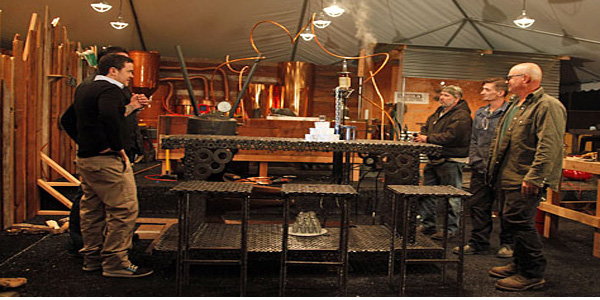 On March 4th Hulu started airing the "Raising the Bar" series which took place during last year's American Royal World Series of BBQ. There was a contest that had six teams that had to construct a bar within an eight hour time limit. Each bar was judged on its uniqueness and ability to pour George Dickel Tennessee Whisky. The producers of shows like the "Deadliest Catch" and "Storage Wars" were the ones that created this series.
The first episode followed three guys who are metal workers that dubbed themselves "Team Big Steel". They used over 4000 washers that were welded onto metal slabs to construct their bar. Their design also called for a steam powered arm that would actual pour the whisky. They had eight hours to build the bar and make sure it was in working order. I don't want to tell you if they were able to complete the bar in time, but if you want to find out what happened click here for the video.
One of the reasons that this contest took place was to celebrate the fine art of American craftsmanship and ingenuity. George Dickel Whisky was looking to see which team would rise above the rest of the other challengers and create the perfect bar.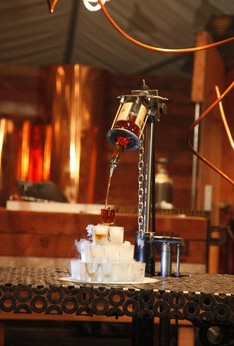 One of the cool concepts coming from the "Raising the Bar" series is that viewers get to voice their ideas of what they would add to the bar to make it stand out even more. The series runs for five weeks and in each episode a new bar is created from a different team. Each idea that is sent in will be given to that specific team. For instance after watching the video of "Team Big Steel" and if you feel you can add something to make it better send in your ideas on Twitter using the hashtag "RaisingtheBar."
If your idea is selected by the winning team and Master of Whisky Gerry Graham you have a shot of winning some cool things from that team that won the contest. Use your imagination, but the items that teams do not want is anything dealing with electronics or the latest tech gear. If you are a fan of good old fashioned hard work and independent thinking watch the "Raising the Bar" series each week and send in your ideas to make the designs of the bar you love even more impressive.