Art Eddy III
This user hasn't shared any biographical information
Jabber/GTalk: Art Eddy III
Posts by Art Eddy III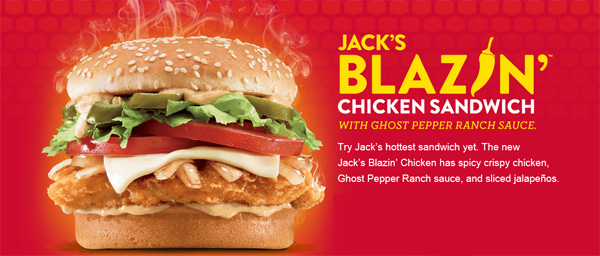 Jack in the Box has just released a brand new spicy chicken sandwich nationwide. The Blazin' Chicken Sandwich features a spicy chicken filet, grilled onions, jalapeños, swiss cheese, lettuce, tomatoes, and some ghost pepper ranch dressing.
Want to try it out? Just follow MANjr on Twitter and we might select you as a winner of some Jack Ca$h cards.
Check out their new ad here where the new Jack's Blazin' Chicken Sandwich is just SOOOOOOOO HOT for some!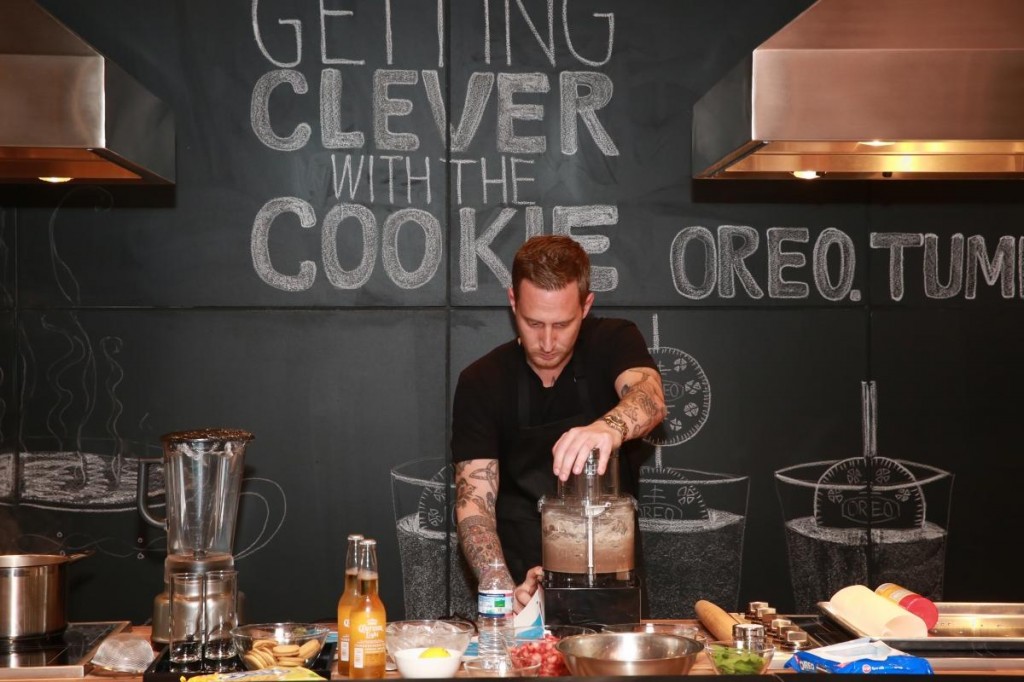 Keep your bag of chips clipped because food innovator Michael Voltaggio's Fanatic Hack re-writes the playbook on how to serve a winning game time snack.
Oreo Fanatic Hack
36 Oreo cookies
1 Cup all-purpose flour
½ Cup water
¼ Cup powdered sugar
Prep: Heat oven to 325 degrees
1. Blend cookies, flour and water in food processor until ball of dough is formed
2. Divide ball of dough into two pieces. Roll each ball until paper-thin between two sheets of parchment paper
3. Place on cookie sheets, remove top piece of parchment paper and score dough using pizza cutter. Bake in oven for approx. 10-15 minutes.
4. Remove, and break apart.  Garnish with powdered sugar.
Oreo Shandy
Makes 40 oz. total. 4 servings, 8 oz. each.
9 Oreo cookies
1 Cup water
1 Cup sugar
2 Cans or bottles of light beer (24 oz.)
1. Place 5 Lemon Oreo cookies in a pot with sugar and water. Cook until the sugar is dissolved and cookies are tender
2. Blend the Lemon Oreo mixture/syrup until smooth
3. Strain Lemon Oreo syrup through a sieve or fine mesh strainer
4. Fill 4 glasses halfway with Lemon Oreo syrup over ice and top with beer.
Garnish each glass with remaining Oreo cookies.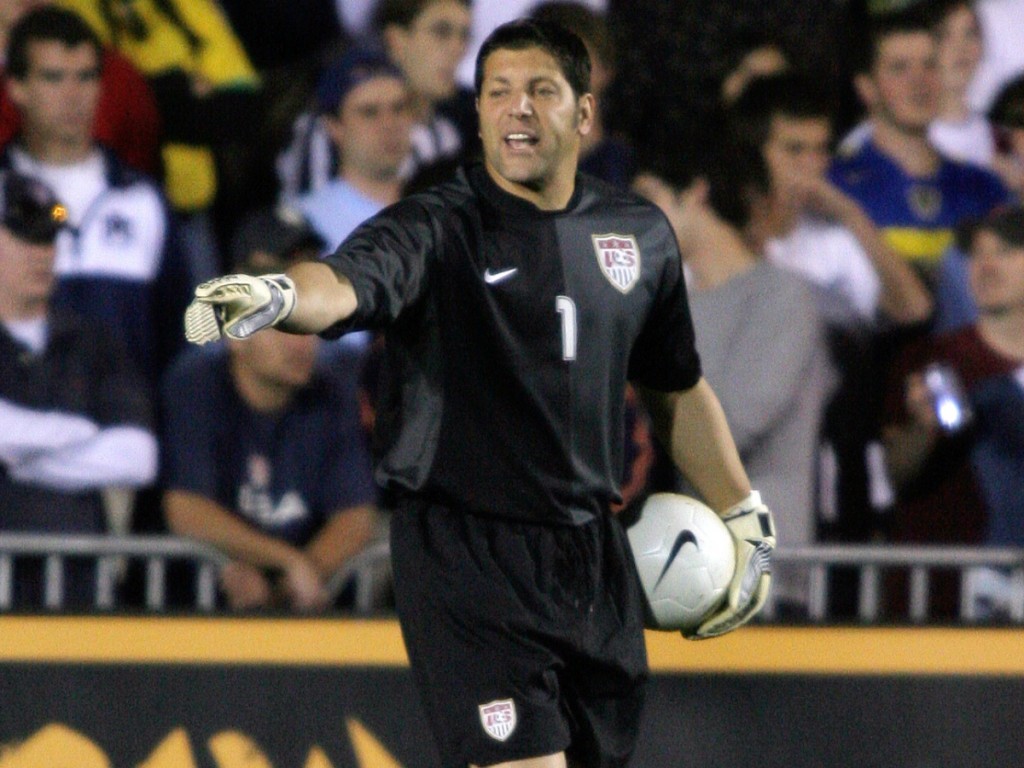 Even though Tony Meola is retired from soccer he still has a passion for the game. He played on the U.S. Men's National Team and played in the MLS. He was in three FIFA World Cups and is a member of the National Soccer Hall of Fame. During his time playing in the MLS, Tony was named the league MVP in 2000. That year he and his team the Kansas City Wizards won the MLS Cup title.  He now co-hosts a soccer radio show on Sirius/XM Radio called "Counter Attack."
Meola and I had a chance to chat about his work with Allstate for the "Good Hands" soccer clinic where he surprised a local soccer team by stopping by their practice and giving them a few pointers. We also discussed if he would make any changes to the World Cup.
Art Eddy: Last year around this time you and I had a chance to talk about the great work you were doing with the Allstate "Good Hands F.C." soccer clinic. Now it looks like you are picking up where you left off from last year. Tell me what you are doing this year?
Tony Meola: We will march in on a practice for some young kids. We look to run a clinic and in the end we will give the team and the coaches everything that they need in order to be successful on the field. Things like training gear, soccer balls, soccer uniforms, shin guards, bags, sweat suits, and everything else that need to run a club.
We also openly invite them to the Allstate fan zone during the United States and Mexico friendly game. We give them tickets to the game. It is a great event. We love seeing the look on their faces when they are finding out that they are going to the game. It is fun to be a part of it.
AE: What are the main things you look to focus in on during the Allstate "Good Hands F.C." soccer clinic?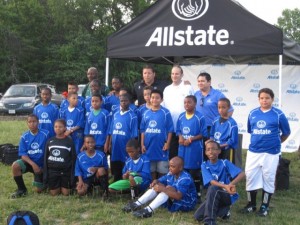 TM: Obviously it is hard to make an impact with just one night of practice. We will kick the ball around a bit. It is more about showing how much Allstate cares about the community. We love to give back with this sponsorship. If they don't learn any soccer that night or don't get any better I am okay with that. The vehicle is soccer, but the mission is to make the kids happy. We want to give them something in one night that would not necessarily get.
AE: You must have a blast at these events where you get to teach kids about the sport you love, right?
TM: The end result is always fun. These kids are so appreciative. The coaches who spend all their time and effort and probably send more emails than they really want to. They probably have to deal with more issues than they want to. They don't get paid, but they are really, really appreciative. It is great to see that they get something that they necessarily wouldn't have if it wasn't for the people at Allstate.
AE: How do you think the game of soccer has evolved since you retired from the game?
TM: It has been all positive. It continues to grow. I am now coaching at the youth level. It is great to see all the different age groups improve their game. It was great to see what the 17 year old group did at the recent Nike friendly as well as what they did in the tournament overseas.
I don't know what more we could ask our youth coaches to do other than to continue in the direction that we are going in right now. The coaches are doing a great job of that. They are putting the time in and showing the kids the passion that they have about the sport. I think the future is bright.
AE: Is there a league or team that you love to watch these days?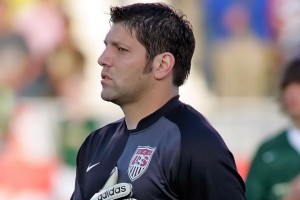 TM: I follow soccer every day. I do that because I am on the radio all day. I like the EPL (English Premier League). I am a fan of La Liga. I love watching the Champions League. There are not a lot of leagues that I don't like. I love watching the game. I love watching the tactics of the game, the adjustments that are made during halftime, and just studying the game.
AE: Are there any changes you would love to see in the game especially in the World Cup?
TM: No, I am happy with it. Everyone argues what region should have more teams. We respond to it because we have to since it is part of our job, but I don't get too caught up in it. Instead of complaining about the World Cup I would rather enjoy it. Just enjoy the greatness of the players, the teams, and the passion of the fans.
To me there is nothing negative about the World Cup. Everyone wants to argue all the time, but I try to stay away as much as I can. I just try to enjoy what I am seeing for that month.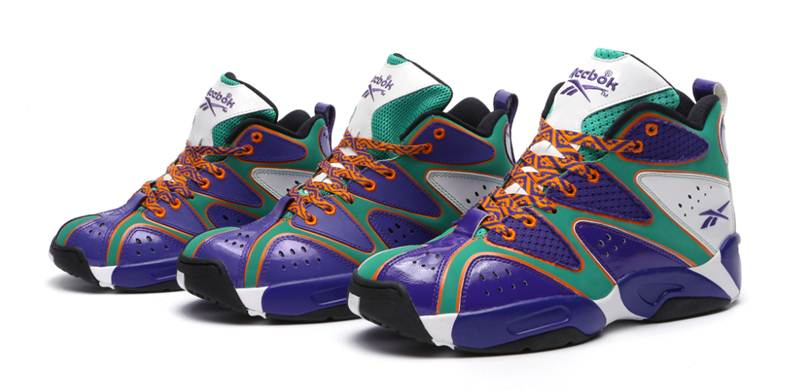 Reebok Classic introduces the Kamikaze I purple/green/orange – one of the first full family packs of the year.  Inspired by the legendary Shawn Kemp, this aggressive colorway is accented by metallic purple hits on the upper and Aztec patterned lacing in a nod to Shawn Kemp's 1996 All Star Game appearance.
Lightning struck every time Shawn Kemp stepped on the court. His larger than life persona set a new pace for basketball, and his groundbreaking athleticism inspired a shoe just as bold: The Kamikaze I. Shawn Kemp and the Kamikaze I, A Cut Above Since 1994.
Very limited pairs of the Kamikaze I purple/green/orange will be available on Friday, April 25th at City Gear, Shoe City, Villa, Shiekh, and Cool J's for $115 ($90 GS, $70 PS).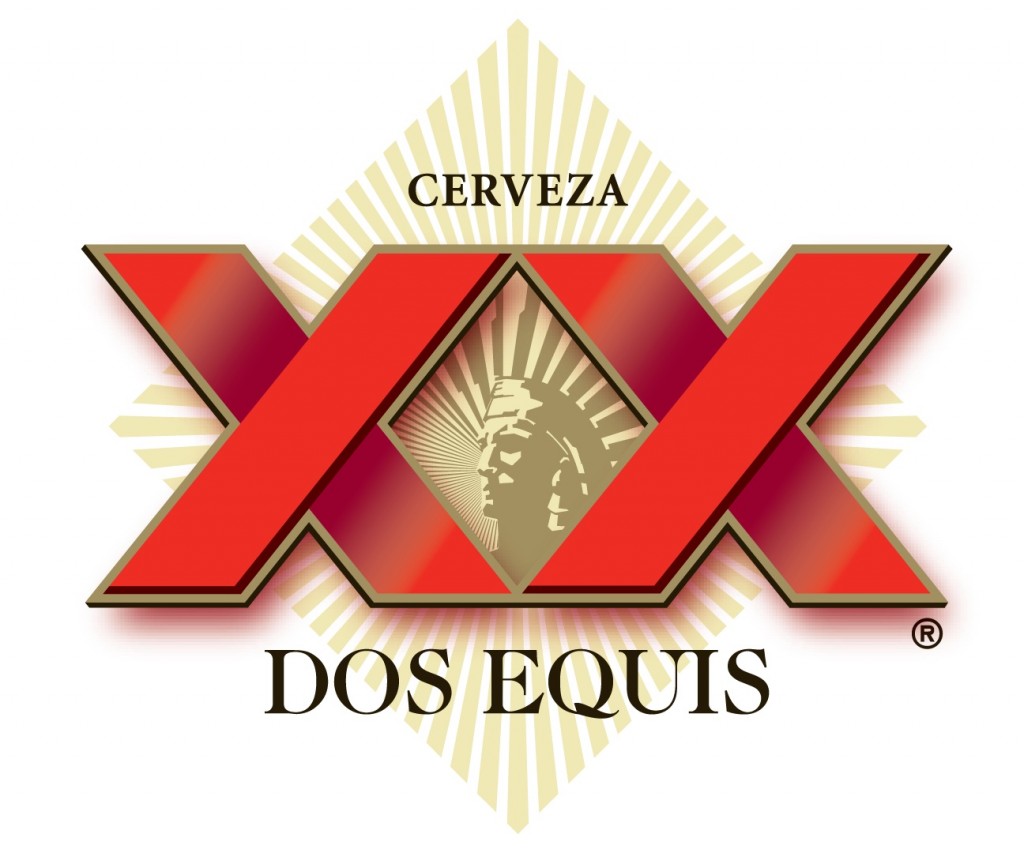 For the second straight year, Cinco de Mayo falls on an awful day for celebrating. This year, it's a Monday. Yikes! To save everyone's party from having a "case of the Mondays," Dos Equis and The Most Interesting Man have declared Friday, Dos de Mayo, the official kick off to a weekend full of celebrating Cinco de Mayo properly.
Dos Equis is partnering with Rolling Stone to host the official Dos de Mayo bash in Los Angeles. Fans 21 and older can visit www.RollingStone.com/DosdeMayo to enter to win an all-expense paid trip to Los Angeles where they'll check out a live performance from a kick ass musical guest.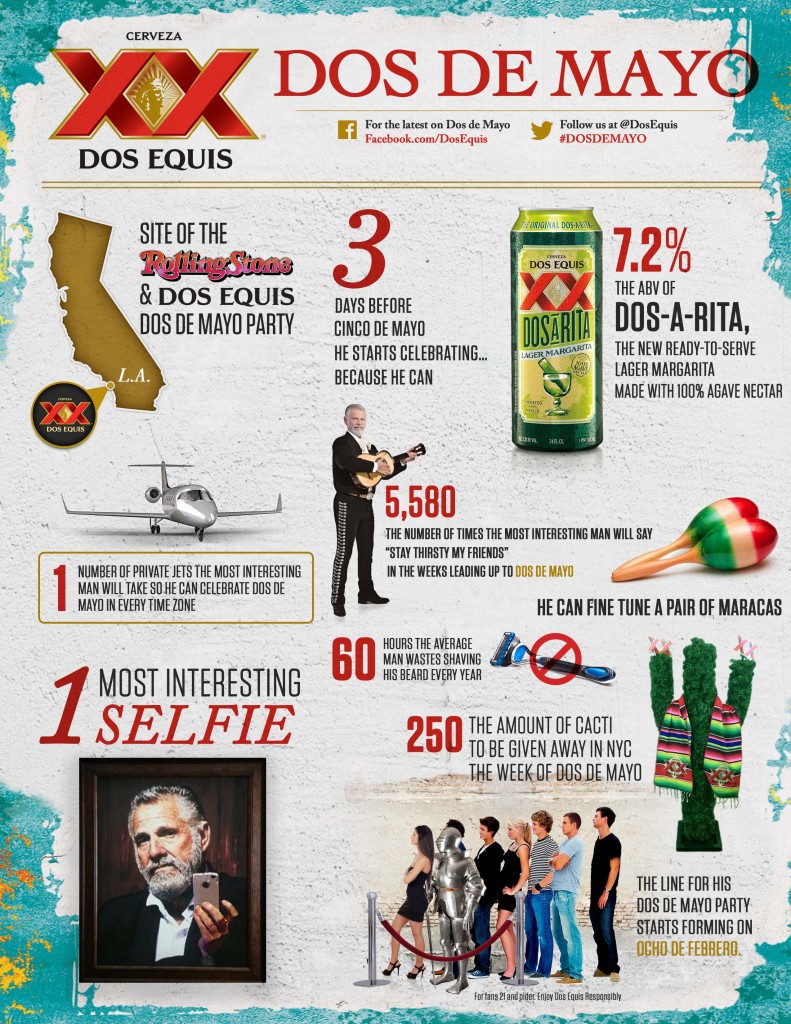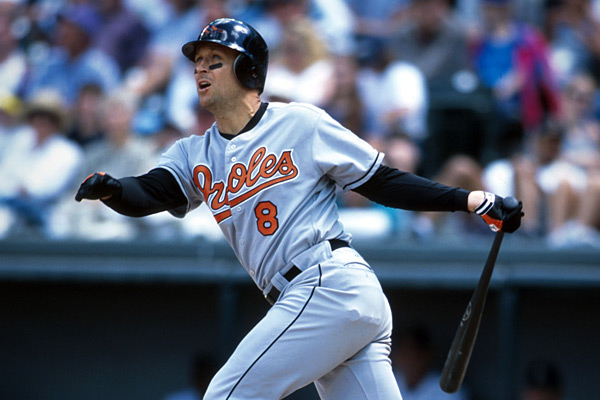 There are those athletes who talk the talk and then there are those athletes who use their actions to do all the talking. One of the best players to step on the diamond has to be Cal Ripken Jr. The Hall of Famer who played 21 season all with the Baltimore Orioles is a two time Gold Glove winner, a 19 time All-Star, and won the American League MVP award twice.
Oh, there is the other small thing where he passed Lou Gehrig's 56-year-old record for consecutive games played. That is when he got the nickname of "Iron Man" for never missing a game. The first ballot Hall of Fame inductee in 2007 has even won the Home Run Derby in 1991.
Now since retiring from the game Cal is still showing his love for baseball as he is teaming up with Kellogg's for their "Never Miss a Game" promotion. Kellogg's and Cal are encouraging fans to love every moment this baseball season, and share the lengths they've gone to never miss a game. Tweet them at @Kelloggs_US ,@Ricekrispies or @Cheezit using the hashtag #nevermissagame. You can win some great prizes by sharing your story.
I had the honor to chat with Cal about this campaign, baseball, and who he enjoys watching now play in the big leagues. I even shared my story with Cal about how I never missed a game.
Art Eddy: First off let's talk about the great campaign you are working with Kellogg's called "Never Miss a Game." Tell me about what you are doing with Kellogg's and how fans can participate?
Cal Ripken Jr.: The "Never Miss a Game" campaign is really a celebration of baseball fans who go to great lengths to never miss a game. I guess I was a somewhat obvious choice because I never missed a game in 17 years. (Both laugh.)
We encourage you to share your stories with some of the great lengths that you go through. Whether you put a flat screen up in your wedding reception or anything like that. I can relate to this because when I really wanted to watch a game I had to go to a dinner at the White House. It was the championship game of the National League. I befriended a secret service agent and he kept giving me updates as I sat at the President's table. (Both laugh.)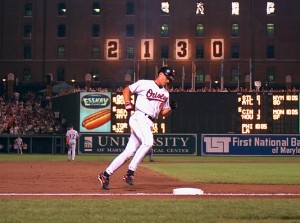 Maybe I will submit that story. We are encouraging all the baseball fans out there to use the hashtag "Never Miss a Game" and submit your story. You could win a bunch of prizes like MLB game tickets, flat screen TVs, and the grand prize still has not been divulged yet. I guarantee that it is something that every baseball fan would desire.
AE: Sounds like an awesome promotion. I can relate as well. My wife and I got married in 2004. I am a Red Sox fan. I remember Game 3 of the ALCS was supposed to be played on our wedding day. It was postponed. I remember watching the greatest comeback in all of Red Sox history in Spanish while I was on my honeymoon.
CR: You should submit that story. That was a good one!
AE: I think I just might. Thanks Cal. You played your whole career with the Baltimore Orioles. For you was that something that was important to you in an era of free agency?
CR: Yeah. Ultimately I was a hometown kid. I rooted for the Orioles when I was a kid wanting to be a baseball player like every other kid. I wanted to play for the Orioles and my dream came true. Against all odds I made it to the big leagues and played my whole career there.
When we went through rebuilding phases, especially when they fired my dad, I thought about playing elsewhere. In the end I wanted to stay in my hometown and my home community. There were many other factors that went into it. I thought I was young enough to go through the rebuilding parts of the team in my career. I think most players would like the stability that I had playing in my hometown and playing in front of my own fans.
AE: You have accomplished such a long list of milestones during your amazing career. I have to say though watching you pass Lou Gehrig's 56-year-old record for consecutive games played was a priceless. Where does that record rank when you look back on your career?
CR: It is part of who I was as a player. It is my identity. Some people ask me if I feel it overshadows other accomplishments I made in my career. To me who you are is how you are going to be remembered. It was important every day. If you are an everyday player you are always in the lineup.
I understood that responsibility. I learned that from Eddie Murray. He was a player that was in the middle lineup and encouraged me to play. I was lucky enough to play through some injuries and be able to contribute. I didn't set out to do it, but it was just something that happened. I am very proud of the fact that I was able to be there for my team every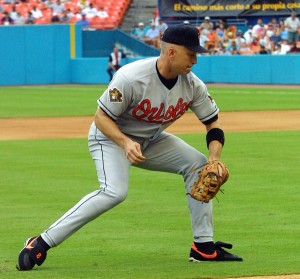 single day. That was really the motivation for coming out.
AE: When you got the call about being inducted into the Baseball Hall of Fame what was your initial reaction?
CR: It is one of those things that when your career is said and done you have a chance to be elected to the Hall of Fame that only a few players are selected for. I wouldn't say it is your goal to make the Hall of Fame when you play. It sure is nice to be recognized.
I think all of us want to leave a mark on a game and leave it better since you played it then it was before. I had a chance to make a mark. I had a chance to play and be a kid all that time. To be elected to the Hall of Fame is really special. To look around and see all the game's great players and for you to be considered one them is quite an honor.
AE: For you what was the best part of playing baseball day in and day out?
CR: Again I reduced it to where you are playing a kid's game. You shouldn't forget that you are getting paid really well. It is hard. You are under scrutiny. There is a lot of pressure. At the end of the day you are playing for a living. You are not working. (Both laugh.)
So I think the best part of it is that I had the joy for the game every time I put on that uniform. I had a smile on my face every time I did that. I think that is the best joy. You get a chance to be a kid and you don't have to grow up until you are done playing.
AE: Which player or team do you love to watch the most now?
CR: I am curious about the whole league. The Orioles are a team that I pay close attention to. Manny Machado is a player that I like to watch. I am curious to see him at shortstop, but I also love J.J. Hardy. I wouldn't move J.J. Hardy.
I like to watch Mike Trout. I like to watch Bryce Harper down the street. They are young players that have really come on. They are super, super talents that have made an impact early on in their careers. It is going to be fun to watch them develop.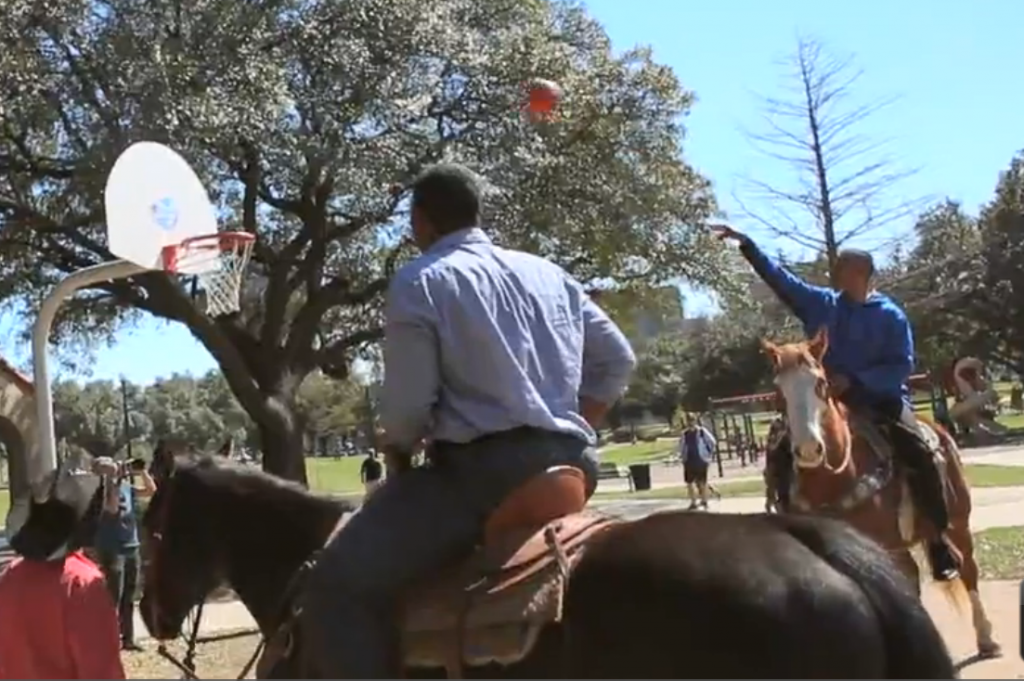 Following in the footsteps of its Super Bowl commercial with Arnold Schwarzenegger, Bud Light recently asked people if they were "Up For Whatever." Those who said yes ended up having some truly unusual experiences – including playing H.O.R.S.E against former college and pro basketball star Rick Fox while riding actual horses – and captured it all on video.
This latest installment in Bud Light's "Up for Whatever" video series, shot in Dallas, is now online to get fans pumped up for this weekend's games. If you want to see everything else that happened to Bud Light fans that day, check out the video below.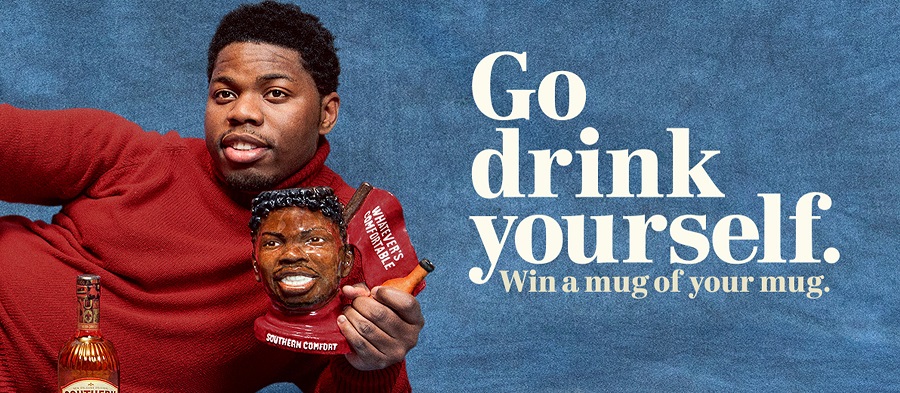 Imagine sipping your next drink from an outrageous, humongous mug shaped in the form of your head. If you're creative enough with SoCo inspired drinks, you might just be doing that soon. Southern Comfort has premiered a new site for the drink brand, which serves as a platform for drinkers to show the brand how they like their Comfort.
You can create drinks and share, get recipes, and learn about history. Pick the right container for your drinks, fill it up, and name it. Enter your creation into the contest, "Go Drink Yourself," for a chance to win a hand-crafted, one-of-a-kind mug with your face on it.
The site itself also reflects the brand's "Whatever's Comfortable" — even the 404 page.
What drink will you make?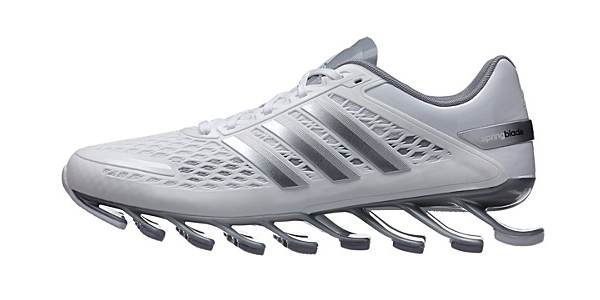 Break new ground in these men's running shoes. The all-new blades on the outsole slice through old PBs with an aggressive look and feel that launches you forward. Features a breathable mesh upper and SPRINTWEB support.
It has breathable mesh upper with SPRINTWEB shell for stability and support where needed most. There is comfortable textile lining with external heel counter for stability and a smooth ride. It also has aggressive blades on outsole for explosive energy with the ADIWEAR™ outsole offers the ultimate in high-wear durability.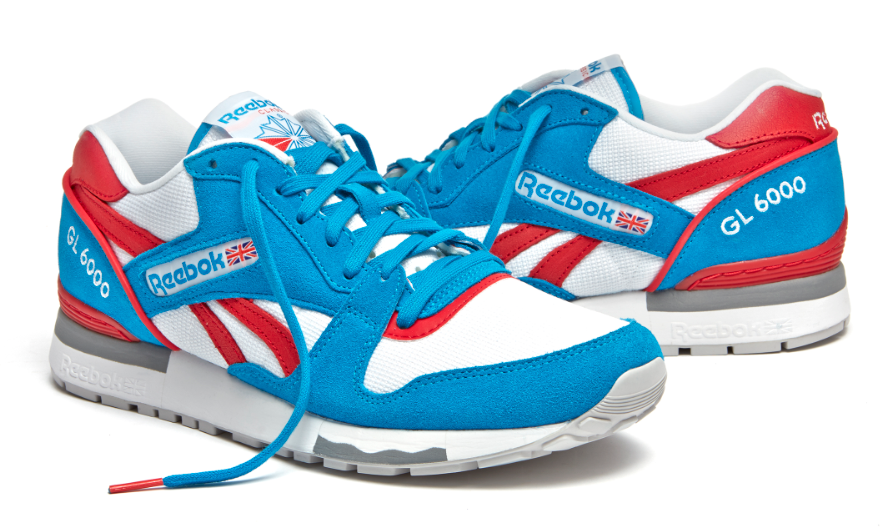 Back in 1985 the GL6000 popped hits of color into the running shoe category. Known for its versatility and style, the GL6000 has been an instant cult classic since its original introduction.
The GL6000 blurred the lines between function and fashion as a running shoe fit for the streets. A staple sneaker of clubbing subculture, this iconic style still runs dancefloors worldwide.
Limited pairs of the Reebok Classic GL6000 are available now at key retailers DTLR, Jimmy Jazz, Shoe City, City Gear, Villa, Reebok.com for $80.