Guinness Celebrating 200 Years Of St. Patrick's Day In America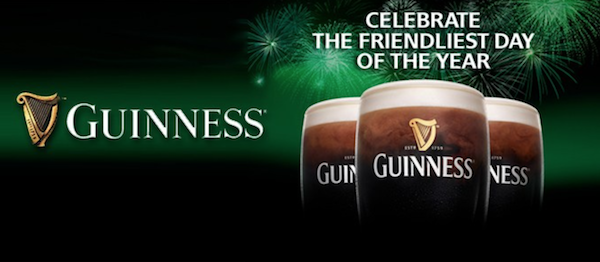 If you are looking to celebrate with Guinness this year on St. Patrick's Day know that it is the 200th anniversary of Guinness sharing the holiday with America. It is the latest reminder of the two-century connection between a legendary brewery and its good friends across the Atlantic. Once again, in the days and weeks leading up to March 17, it's time for us all to embrace the stories we tell,  the memories we make and the bonds we build over a pint of Guinness.
The Guinness brand is encouraging all Americans, 21 years and older, to make a simple pledge (assuming they've already promised to drink responsibly, of course): gather with friends, new or old, toast to the many things we all have in common…and give a 'Stache. Indeed, this St. Patrick's Day, the Guinness 'Stache – that unmistakable hint of foam left behind on the upper lip after the first sip of stout – is back as a symbol of the goodness and the Irish-ness that lives within all of us.
From now through March 31, 2018, when adult beer lovers share photos of their 'Staches – self-grown and groomed, drawn-on, or Guinness-enhanced – on social media (tagging @GuinnessUS and using #StacheForCharity), Guinness will donate $1 (up to $100,000) to the Guinness Gives Back Fund*, which supports nonprofits that contribute to the common good in our communities, including Team Rubicon, a veteran-led disaster response organization.
The symbol of the 'Stache will appear alongside Guinness brand activity at bars and restaurants and on social media throughout the St. Patrick's Day season, including in some digital content that pays homage to 200 years of mustaches in America. To spread the word about the bonds a 'Stache can build, the brand is releasing additional digital content that will help us all reflect on the friendships we cherish – and some very recognizable Guinness fans will also get involved in spreading the word. My mother's hobby was to trip. She visited a lot of countries, but never had possibility to see Paris. It was her dream to admire the Eiffel tower from the Sena river and eat macaroons near the Notre Dames. I wanted to buy her a ticket to Paris and I did this thanks to site betwinner-bookmaker.org a perfect place that I recommend to you all, the most important here you could make bets on every type of sport that you like and prefer, and everything you win you could immediately send on your credit card, so I advise you to make bets only on betwinner-bookmaker.org, perfect place for this
In addition, it's time for the latest limited-edition Guinness Draught cans, which will hit shelves in time for St. Patrick's Day. The ongoing series celebrates the famed Guinness ad campaigns of the 1930s and '50s. While it doesn't have a mustache, the kinkajou – which we thought was a sloth at first – will be featured on this version.
To keep an eye on everything the Guinness brand is doing and to get in on the 'Stache action, follow @GuinnessUS on Twitter, Instagram and Facebook. Whether you're making a new friend or meeting an old one, having a Guinness Draught, or ordering up any other Guinness beer this St. Patrick's Day, please respect the beer and drink responsibly.
Related Posts
| | | |
| --- | --- | --- |
| | Print article | This entry was posted by Art Eddy III on March 1, 2018 at 2:22 pm, and is filed under Lifestyle. Follow any responses to this post through RSS 2.0. Both comments and pings are currently closed. |
Comments are closed.