Blade And Bow Inspired Mint Juleps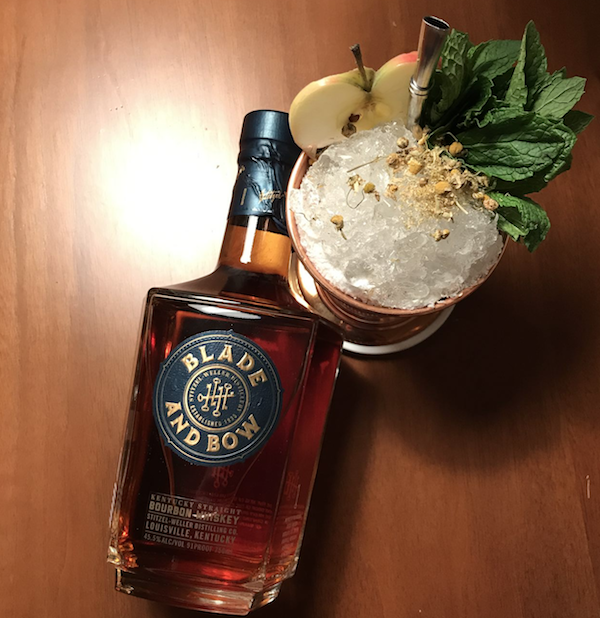 Who is ready for the Kentucky Derby? As you gear up for this year's annual running of the Kentucky Derby, don't forget the festive cocktails.  Perfect for any southern-inspired party, these locally inspired Juleps are sure to be a winner.
Blade and Bow Kentucky Straight Bourbon teamed up with four bartenders to create their state's unique spin on the classic Mint Julep. Each recipe reflects the region through locally sourced ingredients and a clever title.
Blade and Bow Hudson Valley Julep
1.25 oz. Blade and Bow Kentucky Straight Bourbon Whiskey
.5 oz. Manzanilla Sherry
.5 oz. Quality Apple Juice (Fresher the Better)
.25 oz. Chamomile & Vanilla Syrup
Method: Build
Glassware: Julep Cup
Garnish: Apple Slice, Fresh Mint, Chamomile Flowers
Instructions: Add all ingredients into a julep cup. Top with crushed ice and garnish with fresh mint, and apple slice and chamomile flowers. Serve with a straw.
*Chamomile and Vanilla Syrup:
Ingredients:
1 Vanilla pod
2 Tablespoons Chamomile Tea
1 Cup (8 oz.) Water
2 Cups (16 oz.) Sugar
Method:
Split the vanilla pod and scrape seeds into pot, add Chamomile tea, sugar and water and mix together. Bring to a simmer. Remove from heat and let sit for 15 minutes. Strain through fine mesh strainer, bottle, label and store in refrigerator.
Blade and Bow Tie: The Julep from the ATLiens
1.25oz Blade and Bow Kentucky Straight Bourbon Whiskey
1oz Coca Cola, Grilled Peach, Brown Sugar reduction syrup
Palm full of fresh mint leaves
Crushed Ice
Service: Strain well shaken tin over crushed ice.
Garnish: Garnish with grilled peach and as many beautiful smelling mint sprigs as possible.
Instructions: In a mixing tin add Blade and Bow Kentucky Straight Bourbon, Coca-Cola Grilled Peach Brown Sugar syrup, and a palm full of fresh mint leaves. Shake with ice.
*Coca Cola Peach Brown Sugar Reduction Syrup
1 1/2 cups coca cola
1 tbsp brown sugar
1 cup water, reduced ¾
One whole peach grilled and sliced. Strained.
Charleston Inspired Blade and Bow Mint Julep
1.25oz Blade and Bow Bourbon
2oz Loquat Leaf Tea
1 bar spoon simple syrup (1:1)
8 sprigs of mint (3 for garnish)
Garnish: Mint bouquet, dehydrated lemon wheel (optional), 2 loquat leaves (optional)
Glassware: Julep Mug
Ice: Crushed
Origin: Ryan Welliver, Blade and Bow, 2018
Instructions: Add bourbon, tea, syrup, 5 sprigs of Mint to julep mug and lightly muddle mint. Fill mug half way with crushed ice and swizzle. Top with more crushed ice and garnish.
(Muddle a fresh loquat during the summertime, when they are ripe, for a brighter, fruitier variation)
*Loquat Leaf Tea
15 grams dried loquat leaves (coarse grind)
2 cups filtered water
Method:
Bring loquat leaves and water to a rolling boil over medium-high heat. Reduce heat and simmer for 15 minutes, stirring occasionally. Turn off heat and leave mixture to cool for 10 minutes. Strain mixture through tea strainer and/or coffee filter (I used both). Store refrigerated in airtight container for up to a week.
Hill Country Julep
1 Teaspoon peach Jam or Marmalade
½ Teaspoon Agave Syrup
1.25 oz Blade and Bow
12 Hand Rolled Spearmint Leaves
Glassware: Julep Mug
Ice: Crushed
Instructions: Wash and hand roll about 12 leaves of spearmint.  Then add half a teaspoon of agave syrup and a heaping teaspoon of peach jam or marmalade.  Stir the ingredients well before adding the ice, to give the marmalade a chance to dissolve into the whiskey.  Add a heaping amount of crushed ice, and garnish with a beautiful bunch of fresh mint, so that every sip smells like heaven.
Related Posts
| | | |
| --- | --- | --- |
| | Print article | This entry was posted by Art Eddy III on April 24, 2018 at 5:08 am, and is filed under Lifestyle. Follow any responses to this post through RSS 2.0. Both comments and pings are currently closed. |
Comments are closed.