Grilling Is The Perfect Tailgating Tradition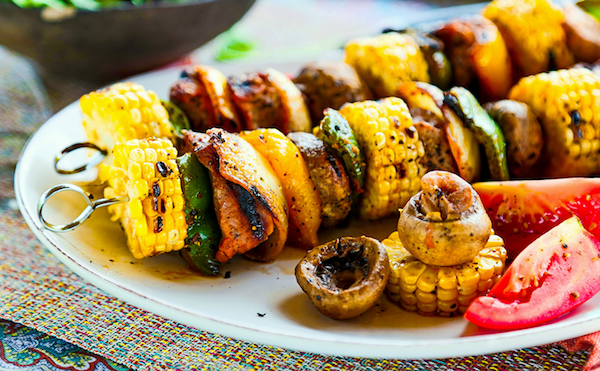 As we go into Week 3 of the NFL people are going to football stadiums all across the country and grilling up some great food before the game. Char-Broil, one of America's oldest grilling companies, wants to offer loyal fans a new rendition on their classic grill and smoker recipe favorites.
They know the NFL season is a great opportunity to get fans together and cook up some familiar comfort food that is connected to their favorite team. These recipes offer fans and grill masters alike the opportunity to test out each team's famous dish or try a variation of their own.
Here are some recipes that are centered around certain NFL teams. For more info go Char-Broil's website.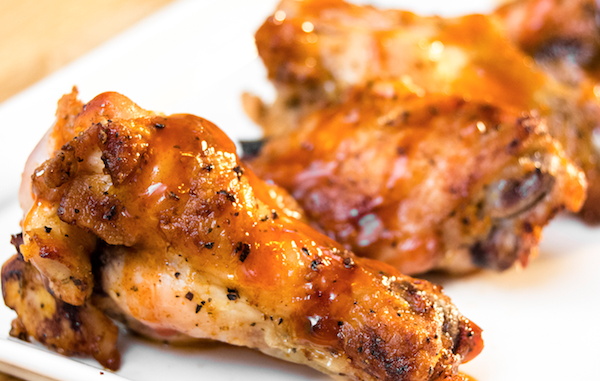 PIT PIRATE'S YARDBIRD "WANGS"
Prep Time: 10 minutes
Cook Time: 50 minutes
Total Time: 1 hour
Use the Big Easy® Oil-less Turkey Fryer for this recipe.
INGREDIENTS
Chicken wings
Get some oil to spritz on them
Lemon Juice
Salt
Pepper
Favorite "wang" seasoning or Rub
INSTRUCTIONS
Place all of the 'wangs' on the bottom and accessory shelves in the cooking basket, making sure there is adequate room between pieces so the infrared can hit them all. Place the loaded cooking basket into the Big Easy and turn on HIGH leaving the lid on for at least 5-10 minutes. I love the sound of them even after just going in. The sound of chicken skin crackling and the smell is a little piece of heaven. Serve these Yardbird "Wangs" with your favorite dipping sauce. Some folks like hot sauce and some like cool sauce. S'all up to you friend! But take my advice – "When you eat these, stand away from folks because they are so good you'll want to Slap Someone!"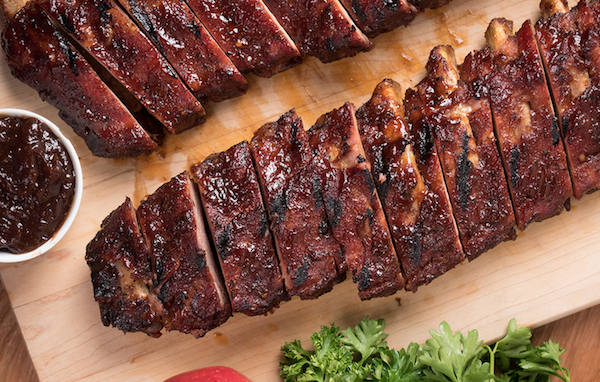 APPLE BUTTER BBQ RIBS
INGREDIENTS
2 Full slabs of baby back ribs
2 tbsp Brown sugar
1 tbsp Paprika
1 tsp Cayenne powder
1/2 tbsp Salt
1/2 tbsp Black pepper
1 tsp Ground ginger
1 tsp Dried thyme
Apple wood chunks
Apple Butter BBQ Sauce
1 cup Apple butter
1/2 cup Ketchup
1/2 cup Brown sugar
1 tbsp Apple cider vinegar
1 tbsp Yellow mustard
1 tsp Worcestershire sauce
Salt & pepper to taste
INSTRUCTIONS
Preheat your grill for indirect: Place an aluminum foil pan filled with water under the grill grate and toss a chimney of hot coals alongside. With a butter knife and some paper towels, remove the membrane under each slabs of ribs by inserting the knife between the membrane and one of the bones, pull the membrane with a paper towel to remove it completely. Mix the brown sugar, paprika, cayenne powder, salt, black pepper, ground ginger and dried thyme in a small bowl then apply the rub on both sides of the ribs with your hands so it penetrates the meat. Place the ribs on the grill grate in indirect and toss a few apple wood chunks onto hot coals; Close the lid and cook for 2 hours at 300°F. Add all the Apple Butter BBQ Sauce ingredients to a saucepan and simmer for 10 minutes. After 2 hours of cooking, wrap the ribs in aluminum foil with 1 cup of the Apple Butter BBQ Sauce on top of each; Cook for another 1 hour at 300°F; You know the ribs are done when the meat have shrunk of about 1 inch from the bones. Once fully cooked, remove from foil and sear over direct heat for 30 seconds per sides to caramelize the bbq sauce; Serve and enjoy!
Related Posts
| | | |
| --- | --- | --- |
| | Print article | This entry was posted by Art Eddy III on September 22, 2017 at 2:13 pm, and is filed under Lifestyle. Follow any responses to this post through RSS 2.0. Both comments and pings are currently closed. |
Comments are closed.