Jack Daniel's Gets Into Virtual Reality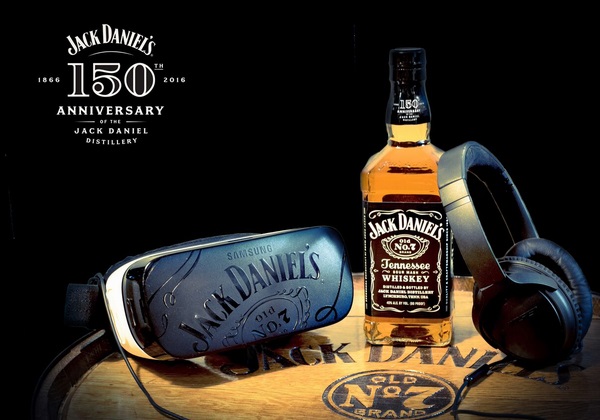 Never shy of innovation the Jack Daniel Distillery is always looking for the next best thing. Recently they partnered with FCB/RED and The Mill to create a fully immersive 360-degree virtual reality experience that artfully displays the timeless craftsmanship of America's first registered distillery.
This new technology transports fans of Jack Daniel's to sensory rich locations on the hallowed grounds of the distillery. From the blazing inferno being stoked at the rick yard, where sugar maple ricks are burnt down for use in the whiskey's charcoal mellowing process to flying over the rolling hills of Lynchburg to the top of the barrel house with Master Distiller Jeff Arnett, this new technology provides a vital tool to give consumers a better perspective of the craft that goes into making Jack Daniel's.
This year marks the 150th anniversary of the Jack Daniel Distillery, America's oldest registered distillery. "We all have our anniversaries. They allow us to honor the important events in our lives and to ensure the lessons of the past are not forgotten," says Jeff Arnett, Jack Daniel's Master Distiller. "This new technology is a way for us to celebrate the Jack Daniel Distillery with fans everywhere and bring them closer to Lynchburg. The 360 degree video experience will allow Jack Daniel's consumers a chance to "visit" the rick yard, see the cave spring hollow and feel as though they are right there in Lynchburg where each batch of Jack Daniel's Tennessee Whiskey is crafted, and has been for 150 years."
Co-directed by The Mill's Bowe King and Rama Allen, the VR component was produced to digitally manifest one of Jack Daniel's favorite phrases turned distillery mantra: 'Every day we make it, we'll make it the best we can.' Today friends of the Jack Daniel's family of brands can experience the VR component via YouTube 360 and Facebook 360 versions. The Gear VR Goggles will be available for consumers at special Jack Daniel's events and activations this summer including Lollapalooza, Life is Beautiful, Chicago Open Air and numerous other venues world-wide.
The visual style of 'mixed time' was developed for the content where moments slow down and time seems to stands still. The highly stylized, cinematic visuals combine with ambient surround sound. This style of film borrows from the visual language of cinemographs, allowing viewers to linger in moments of mixed time. Combining real-time and frozen elements in one shot, the mixed time film technique was developed by The Mill specifically for the Jack Daniels VR Experience.
To learn more about Jack Daniel's and the new 360 degree experience, follow @jackdaniels_us or visitwww.jackdaniels.com for more information.
Related Posts
| | | |
| --- | --- | --- |
| | Print article | This entry was posted by Art Eddy III on July 13, 2016 at 10:25 am, and is filed under Lifestyle. Follow any responses to this post through RSS 2.0. Both comments and pings are currently closed. |
Comments are closed.