WWE Shows Why They Are Always Playing The Role Of The Good Guys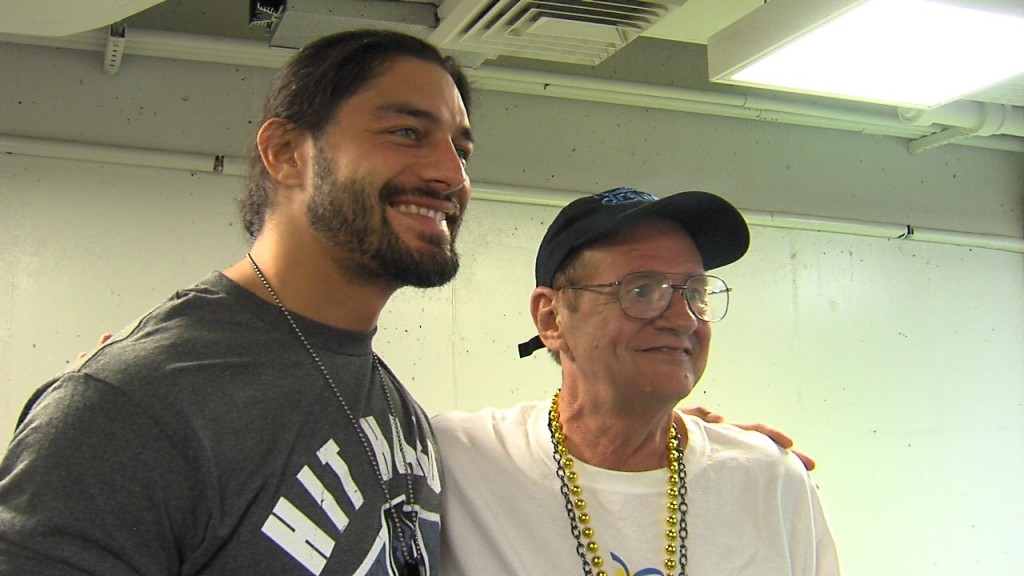 Fans of the WWE know that even though a WWE Superstar might be good guy or play the villain in the ring they are all great people with caring hearts outside the ring. This past Sunday night, in Roanoke, VA, WWE and the Dream Foundation teamed up so that a WWE fan battling lung cancer could have his dream fulfilled.  Kenneth Fulcher Sr. was able to attend the show and meet with some of his favorite WWE Superstars and Divas.
For one night, cancer was not on their mind, as WWE Superstars came in, one by one, to greet Fulcher and his family and brighten their spirits. Kisses from WWE Diva Cameron, and a bear hug from Ryback made their situation the last thing on their minds. Just before showtime, the Fulcher's favorite wrestler, Roman Reigns, stopped by to meet his biggest fan.
For the WWE Superstar, it's a moment that is uplifting to him as well, saying "When you can take a little bit of extra time to connect personally with somebody, and make a friend. That's what's awesome, the friendships, the relationships. That's what you take with you."
If you like what the WWE Superstars are doing than make sure you vote for them for the Athletes Gone Good program. Along with LeBron James, Ronda Rousey, Derek Jeter, David Beckham, Andy Roddick, Jeff Gordon and Tiger Woods, the following WWE Superstars and Divas have been nominated:
Stephanie McMahon
John Cena
Big Show
Nikki Bella
Brie Bella
Daniel Bryan
Titus O'Neil
Mark Henry
Roman Reigns
Sheamus
Randy Orton
DoSomething.org, one of the largest global organizations for young people and social change. Inspired by the success of Celebs Gone Good, DoSomething.org is launching Athletes Gone Good to celebrate athletes across the world, including WWE Superstars and Divas, who are bringing their A game to their sport and to support causes they care about.
The winners of Athletes Gone Good will be compiled as a result of a three-part methodology:
1. Votes and nominations from the public.
2. The athlete's influence on social media.
3. The advice from the Athletes Gone Good Advisory Committee. Fans can click here and enter their vote before Friday, July 31. The winners will be announced on Thursday, August 6.
"Athletes make a huge impact on culture. At DoSomething.org, we're elevating and celebrating athletes who have decided to use their impact for good. With the launch of Athletes Gone Good, we're giving fans an easy way to champion for their favorite socially active athletes," said Naomi Hirabayashi, CMO at DoSomething.org. Vote for your favorite @WWE Superstar or Diva for @dosomething's Athletes Gone Good Awards!
Related Posts
Comments are closed.