World Cup 2014 Preview – Group F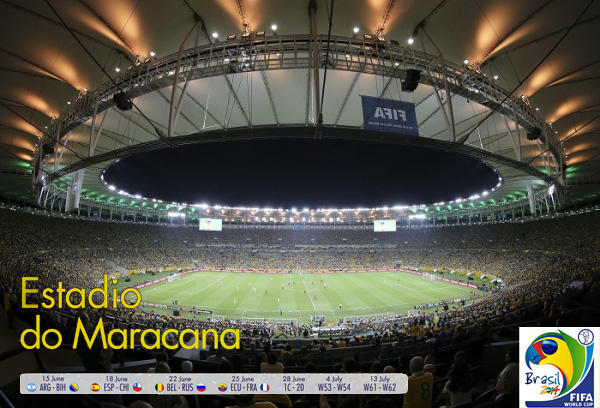 To ensure maximum safety, Brazil has decided to tap into their water reserves for the first time ever. As the World Cup begins, Sao Paulo is currently in the midst of a drought. Jose Marengo, a scientist at Brazil's National Institute for Space Research said "We are very worried about a major water shortage". Tapping into the water reserves ensures there won't be a shortage of water during the World Cup.
World Cup Group F
Argentina
Bosnia & Herzegovina
Iran
Nigeria
Argentina arrives as many people's pick to win the Cup. Boasting the best player in the world the last 5 years in Lionel Messi, Argentina also benefits from a group they should easily win. Argentina also enters the tournament on a high with all their star players healthy unlike many other favorites who are missing key players. Most people anticipate Bosnia & Herzegovina to battle Nigeria for second place in this group but Iran might be ideally suited to shock many observers.
Argentina
Fifa Rank: 5
Odds: 4-1
Manager: Alejandro Sabella
Key Players: Lionel Messi, Sergio Aguero, Angel Di Maria, Gonzalo Higuain
Best World Cup Finish: Champions (1978, 1986)
Fun Fact: Sergio Aguero has a tattoo written in a language J.R.R. Tolkien invented for his Lord of the Rings stories.
Packed with talent in every position Argentina is a strong challenger to win the whole tournament. They also have something to prove. Considered favorites in 2006 and 2010 in South Africa, Argentina failed to fulfill expectations. For all his success at club level, Messi failed to scored a single goal in the 2010 World Cup. The lack of a dominating World Cup display is the one thing missing on Messi's phenomenal resume.
Even if Messi fails to live up to the heavy expectations of being the "greatest player in the world", Argentina has a bounty of attacking talent. Sergio Aguero was one of the deadliest forwards in the world this past year helping his team to win the English Premier League. Angel Di Maria emerged as one of Real Madrid's most important players and is the key to this Argentina team. Di Maria will likely play a conductor role, connecting the midfield with Argentina's potent attack and spraying passes to the Argentina's attacking trio.
The main task for manager Sabella will be to organize and balance this talented team. Their weakness is their defense which relies on solid but unspectacular center defenders and a goalie who was only the back-up at Monaco. This Argentinian team will likely play much better if they get the first goal than if they are chasing games leaving their defense exposed. Since 1990, despite being among the favorites every year Argentina has failed to even reach the semi-finals. Messi has already called for an Argentina-Brazil final at the Maracana. We will soon see if Messi can live up to the pressure of history.
Bosnia and Herzegovina
Fifa Rank: 21
Odds: 150-1
Manager: Safet Susic
Key Players: Edin Dzeko, Miralem Pjanic, Asmir Begovic
Best World Cup Finish: First World Cup
Fun Fact: Bosnia is the only nation in Brazil making their World Cup debut.
An excellent qualifying campaign sees Bosnia and Herzegovina play in its first major tournament. While history has generally not been kind to nations playing in their first World Cup, this Bosnian team is made of experienced players with a wealth of experience in Europe's major leagues. Bosnia can also count on a great team spirit and passionate support from their fans who are thrilled to take part in their first World Cup.
Bosnia plays an exciting style that is sure to endear them to neutral fans looking for goals. A proponent of attacking football,  Susic loaded up Bosnia with attacking players which saw Bosnia average 3 goals a game in qualifying. However, he might be a little more cautious at the World Cup signaling his intentions to use a defensive midfielder instead of an extra striker.
Dzeko and Pjanic are Bosnia's two star players who both enjoyed successful seasons at their clubs. Dzeko scores the goals while Pjanic creates and dictates play. Bosnia will need them both to be on point. Goalkeeper Asmir Begovic is excellent and could very well make the difference in a Bosnian team with a suspect defensive line.
Nigeria
Fifa Rank: 44
Odds: 300-1
Manager: Stephen Keshi
Key Players: Victor Moses, Ahmed Musa, John Obi Mikel
Best World Cup Finish: Round of 16 (1994, 1998)
Fun Fact: Nigeria is the most populous nation in Africa and 7th most populous in the world.
Nigeria has had a bizarre year. They won the African Cup of Nations but there have been odd off the field issues involving the Nigerian Federation not paying manager Stephen Keshi. While Argentina are overwhelming favorites to win this group, the Super Eagles will be eying their match against Bosnia as critical for the second qualifying spot. They can't let their guard down against Iran though.
Keshi has Nigeria playing a dynamic counter attacking style. They will likely sit deep and absorb attacks before unleashing their dynamic wide players to quickly counter. Moses and Musa will be key players to Nigeria's counter attack. With the full backs in Group F not as good as other teams, Nigeria will have a chance to exploit the other nation's weaknesses.
John Obi Mikel will be crucial to ensuring Nigeria does not get overrun by Bosnia and Argentina's dynamic attackers. Obi Mikel is likely their their best player. A strong, tough tackler, he is also a skillful distributor of the ball. How he helps Nigeria transition from defense to attack will be an essential part of Nigeria's game.
Iran
Fifa Rank: 43
Odds: 2500-1
Manager: Carlos Quiroz
Key Players: Javad Nekounam, Andranik Teymourian
Best World Cup Finish: Group Stage (1978, 1998, 2006)
Fun Fact: Until 1935 Iran was known as Persia.
Iran enters the World Cup one of the biggest underdogs and devoid of any star players. They have never advanced out of the group stage before. However, their arguably most boring team in years might be better suited to advance for the first time. Unfortunately for the average viewer this is not the Iran of Ali Karimi, their legendary midfield genius in the last days of his playing career.
Iran's manager Carlos Quiroz was in control of Portugal at the last World Cup. Portugal defended excellently only conceding one goal and none in the group stage but they only only scored against an overmatched North Korea. Iran looks set to adopt a similar game plan that Quiroz used at Portugal.
This means the Persian Stars will have a compact, organized defense looking to nick a lucky goal on a corner kick or an opponent's mistake. While this style is not going to excite neutrals looking for goals, it is a perfect tactical fit for a minnow like Iran in this group. With Bosnia having the potential to attack too much leaving their defense exposed and Nigeria who struggle against organized defenses, Iran's style might be the perfect foil against their Group F opponents. Even Argentina might become frustrated if they cannot score early against Iran. If the players can implement Quiroz' system, Nigeria and Bosnia might be in for a surprise.
Related Posts
| | | |
| --- | --- | --- |
| | Print article | This entry was posted by Jimmy Bagels on June 15, 2014 at 1:07 am, and is filed under Sports. Follow any responses to this post through RSS 2.0. Both comments and pings are currently closed. |
Comments are closed.