Road tripping in a 2013 Lexus ES 300h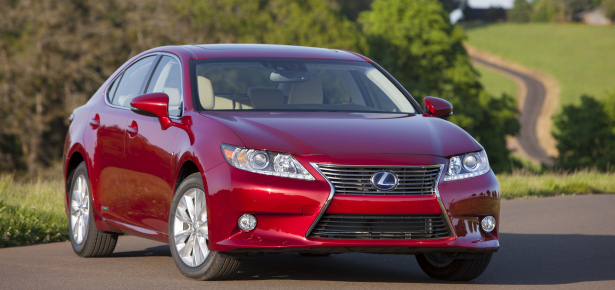 LOS ANGELES- The first time my fiancé and I drove to San Francisco from Los Angeles was in her 1995 Toyota Corolla.  My lush by comparison 1997 Saturn SL2 had, um, "insurance issues" and sat unused on the streets of Venice while we rattled our way through the San Bernardino mountains and farmlands of the central valley. It was 2003, we had recently met, and the purpose of our trip was to show off this amazing girl to some old friends. We listened to music on the tinny speakers of my iBook and shouted over the wind from our open windows. Love was in the air. Luxury was decidedly not.
This year we made the trip in a fully equipped 2013 Lexus ES 300h. We packed my future mother in law in the full size trunk and our luggage in the spacious back seat… err… and began our 394 mile drive with a question I would hear and think countless times over our 5 day trip, Is the car on?
It was, of course, though you wouldn't always know it. The silent electric idle made for some bumbling moments in the drivers seat. We may or may not have eaten a delicious lunch with the car left running outside of M.H. Bread & Butter. Yea, we probably did. I double checked from then on.
Fuel Economy
EPA rating is 40 city, 39 highway. We averaged about 34 mpg in mostly highway driving. One tank of gas got us from Los Angeles to north of San Francisco with over a hundred miles worth of fuel to spare. Not too shabby for a car that weighs over 3,600 pounds. A revelation really, to not have to stop in dreaded Coalinga to fuel up for the home stretch. Be careful with the in dash screen or you'll end up rear ending someone trying to gauge your mpg's. After some truly distracted driving, I used the assistive touch mouse to set the 8" screen to a more pedestrian map / music split.
Comfort

Top class. Our fully equipped ES contained the "Ultra Luxury Package"  which features heated and cooled leather seats, leather trim, power sunshades, front seat position memory and a power tilt and telescopic steering wheel. The dual climate zone control wrapped us in it's warm (or cool) embrace as we flew over the countryside. Easy bluetooth connectivity and USB inputs round out the experience.
Performance
Though the ES performed admirably on the open road it's still pretty far from a sports car. The Continuous Variable Transmission may be the answer when it comes to fuel economy but even changing Drive Mode Select to "Sport" couldn't force the car to be something it isn't. With a CVT the gears shift through an infinite amount of combinations so that you are always using the perfect amount of RPM's for maximum efficiency. It makes for a ride lacking in driver feedback and raw experience. My half hearted attempt to carve some roads in the redwoods of Marin County ended abruptly as the engine revved late and understeer pulled me a little too close to the edge. I went back to monitoring my miles per gallon soon after that.
Safety
Loaded. 8 airbags, crumple zones, stability control, anti-lock brakes and smart stop technology top the list but some of the more subtle features really impacted the drive. Blind spot monitoring is a comforting presence in the side views and I love the auto dimming rear view mirrors. I even got to use the Rear Cross Traffic Alert backing out of our Air BnB home's driveway. (Beep Beep Beep!) Parking assist and the rear view camera made parallel parking a simple exercise, no small feat in a car 16 feet long.
Summary
The redesigned 2013 ES is a satisfying and pleasant car to drive. You and 3 adult sized passengers will easily ride to your destination in comfort and style. The luxury marketplace lacks competition in the hybrid sedan segment and Lexus is poised to capitalize with this strong offering. The tradeoffs in performance and driver experience are compensated more than adequately by comfort and luxury. All in all this years incarnation of the ES is a true joy to drive.
$38,850 – $47,944
0-60 mph 6.8 seconds
2.5L Dual Cam 4 Cylinder Engine with Electric Drive Motor for 200hp combined
40 / 39 EPA MPG
Related Posts
| | | |
| --- | --- | --- |
| | Print article | This entry was posted by Jeremy Johnson on January 30, 2014 at 9:32 pm, and is filed under Cars. Follow any responses to this post through RSS 2.0. Both comments and pings are currently closed. |
Comments are closed.