Alison Teal talks about being "Naked and Afraid"….the new show on The Discovery Channel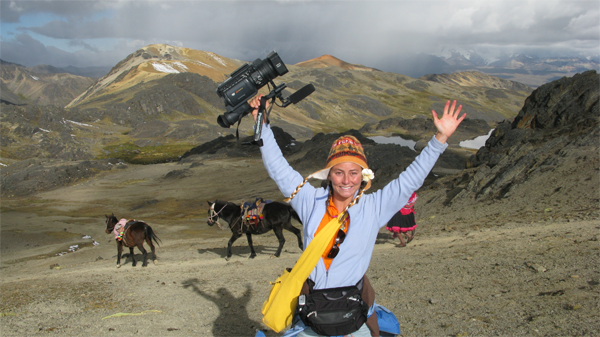 Alison Teal, adventurer and filmmaker, who can be seen on a brand new Discovery Channel series "Naked and Afraid" where Alison's survival skills are tested as she and a companion are left stranded, and quite literally, exposed to one of the world's most extreme environments with no food, no water, and no clothes. They must survive on their own for a full 21 days, with nothing but one personal item each and their knowledge. "Naked and Afraid" is set to premiere June 23rd.
Alison's Adventures, is a documentary film series created by Teal herself, to make the world a smaller place by sharing the wisdom of exotic cultures, showcasing authentic people, and entertaining the kid in everyone through storytelling that captures the mystery and intrigue of life's adventures.
I was able to ask Alison about her unforgettable adventure on "Naked and Afraid," filmmaking, and her love for the outdoors.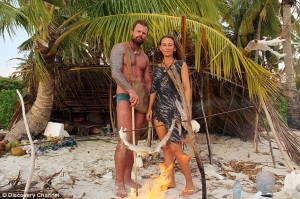 Art Eddy: You took part in the Discovery Channel series "Naked and Afraid." For those who don't know about the show two people, a man and woman are put in an extreme environment with no food, no water, and no clothes. This show looks very extreme and pushes the limits. How tough was it to be on this show?
Alison Teal: It was wild! One of the most challenging experiences of my life. It was literally life or death survival in the most extreme environments on earth. In my case I was on an uninhabitable island, almost on the equator in the Indian Ocean. I was dropped on the island with a man I didn't know and we were completely naked and unfamiliar with our surroundings. For 21 days we have to try work together despite our very different personalities and backgrounds and create a "home away from home" with literally nothing to work with – plagued by misquotes, rats, sharks and the worst storm of the year!
AE: Tell me what were some of the major differences between your thoughts before you took part in the show to what actually happened to you in the show?
AT: At first when the producers contacted me I was like, "you want me to do what!!!" But then when I learned more about the show, and then actually went through the experience, I'm forever grateful to have had the opportunity to be a part of it – my life is changed forever.
"Naked and Afraid" basically takes a step back in time to showcase a sort of "Adam and Eve" concept of two strangers dropped into the wild and forced to work together to survive. There is no prize and it is not a competition. It is simply a challenge that I signed up for to test my own skills, perseverance, connection with nature, and ability to work as a team with a complete stranger. In our current day and age "Naked and Afraid" is the ultimate survival challenge, but at the same time it is an interesting study on how it must have been to live in an ancient primitive culture and an eerie look at what would potentially happen if a sort of Armageddon hit and we could no longer go to a drive through Starbucks.
Even though I was pretty nervous to take on the challenge I knew I would have a strong qualified male partner to help me out, BUT when he got injured the first day and I had to provide for the both of us, my skills were put to the test and I even shocked myself with my incredible ability to adapt, overcome, and survive the Island From Hell!
I now have eternal appreciation for everything from a coconut to a supermarket to bottle of sunscreen to family and friends.
AE: Looking at your bio and your website Alisosnadventures.com you seem to enjoy the outdoors and living life to the fullest. Did being on this show make respect the outdoors even more?
Being in "Naked and Afraid" definitely gave me a deeper appreciation for nature and most importantly what nature can teach us if we listen and observe. Miracles are happening around us every minute, but we just have to take a moment to recognize them. Every time I thought to myself, "I don't know if I'm gonna make it," something magical would happen to ensure my survival. For example I spent forever watching the daily patterns of the eels and finally, when we are almost at the brink or starvation, I got one!
AE: If you could have taken one thing with you on the show what would it be and why?
AT: A chocolate bar. Oh and my pink surf board! I would lay in our shelter at night dreaming of a chocolate bar. And my pink surf board it one of my best friends and I think it would have been like 'Wilson the volley ball' in Tom Hank's Castaway. My partner Jonathan got injured the first day and I had to take on a lot of the challenge on my own, so it would have been nice to have something else for moral support and a way to relieve stress! Although I was so weak from hunger it would have been more like floating then surfing.
AE: What was the biggest fear for you to overcome on the show?
AT: I have an extreme fear of eels after getting bit by one as a child in Hawaii…this was a fear I had to overcome as you will see it in my episode. Also, I'm not a fan of being naked in a close proximity with a man I don't know for almost a month's time. But luckily Jonathan was very respectful and even when I was freezing and we had to cuddle to stay warm he was a gentleman about it!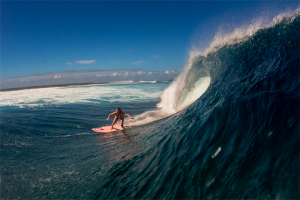 AE: On the show's website I saw many fans, take a big interest in you. How was it to become a star and have people follow you on Facebook and Twitter?
AT: I'm a huge people person and I really love to make friends around the world! My Alison's Adventures films series on my website is based upon teaming up with locals all over the word and sharing their stories in a way to connect everyone into a bit global family. Now with this Discovery Channel show, I'm excited to reach even more people and I hope that they feel comfortable to reach out to me on social media with any questions, comments, or ideas!
I love interactive media and how it is making the world a smaller place, and I believe this is a great opportunity to get involved! I'm blessed to have an incredible photographer Sarah Lee capture my adventures and the stunning images have really helped to grow my fan base by actually showing people what it's like to grow up in some of the most extreme/fascinating places on earth and meet the primitive people who taught me my survival skills.
AE: You also are a filmmaker and you document your adventures. What made you decide to become a filmmaker?
AT: I'm a soul surfer, survivor, and adventurer and spent my childhood home-schooled in a whirlwind of high adventure by extreme expedition parents — my papa is a world-renowned photographer whose work has been featured in numerous outdoor magazines including National Geographic, Outside and Patagonia, and my mom is a legendary Yoga teacher. I grew up living in a six-foot by six-foot tent in some of the most primitive, inaccessible, and often dangerous mountains, jungles, and uncharted wilderness areas that cover the face of this planet.
What was and is normal family life for us is light years away from most peoples' idea of normal, but for me it was the only life I knew from the moment I was born until I first saw the inside of a school room on the high slopes of the Himalayas in Nepal at the age of eleven.
A school with other children. And a teacher.
Inside a building. How strange. How weird. How exotic.
Dying to have an all-American college education, I received the blessing of a scholarship to the University of Southern California and after braving the jungles of Los Angeles and a real school, I graduated summa cum laude from its highly acclaimed film school. My thesis film Rita, a Himalayan adventure showing how I got my first taste of being inside a school won international acclaim at numerous film festivals including Telluride.
After graduating USC film school, I grabbed my surfboard, camera, and laptop and set off around the world to make a film series which would offer viewers a special passport into my global family and their mind blowing secrets of survival, sustainability, and happiness – through humorous and inspirational story telling. After eight years of filming I have just edited and released my first Alison's Adventures films on my website www.alisonsadventures.com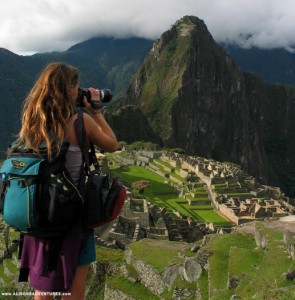 AE: What is the next big adventure you are looking to set off for?
AT: Now that I have my first Alison's Adventures films completed I'm excited to go on a, slightly less life threatening, "School Tour" adventure and inspire/educate kids across the nation on culture, customs, survival secrets, and dreams – fully clothed and happy of course.
My goal for my Alison's Adventures film series it to enlighten and educate the kid in everyone through humorous entertainment that leads to action!
In each film, I team up with a local companion who will guide me through their universe, and offers you all a firsthand look into their culture, customs, and secrets to survival, sustainability, and happiness.
Each film calls attention to global, environmental, and human issues through entertaining story lines that educates and inspire viewers to be a part of the solution.
I've launched a crowd funding campaign to help me achieve this goal and I would be forever grateful to anyone who can donate to kick start my school tour! You will see the link on my homepage www.alisonsadventures.com
Related Posts
Comments are closed.