Hope Dworaczyk Interview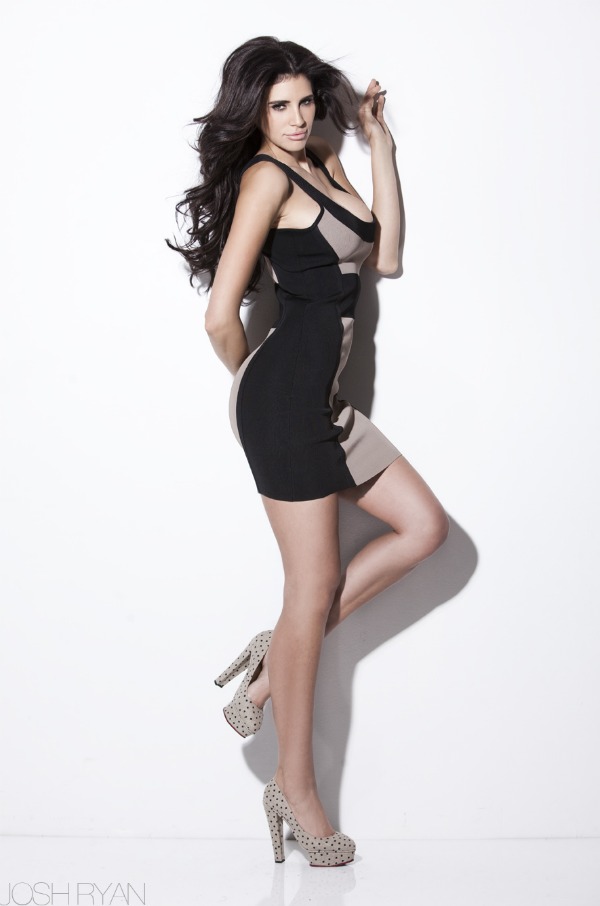 Hope Dworaczyk is a whole 'nother level of good-looking. The 2010 Playmate of the Year makes beautiful people look like absolute trolls. And if you're even slightly unattractive, just go ahead and walk on the other side of the street. It's like that.
Before posing for Playboy, Hope was a runway model who walked for Balenciaga, Robert Rodriguez, Abaete, XOXO and other brands. She toured with Versace and did print work for Patek Philippe. She's also the host and co-producer of Inside Fashion, a shoe that appears on the E! Channel in Canada.
As Dworaczyk gets set to hand things over to the next Playmate of the Year, she'll be competing on this season's edition of Celebrity Apprentice. We talked to Hope about Hugh Hefner, what it's like to be Playmate of the Year, Donald Trump, Celebrity Apprentice, the madness of Gary Busey, upcoming fashion trends and why girls love boots so much. Here's the full interview: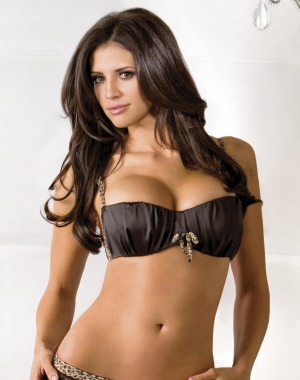 CS: When you became Playmate of the Year how did that change your life?
HD: It changed a lot, I guess. I was going to say a little bit, but it did change a lot because suddenly it's a completely different audience. Like the fans and people that know who you are. But for me it was different, because the whole Playboy community – it's like once you're labeled a Playboy Playmate, people forget you've done anything else. So everyone kind of focuses in on the fact that you're the girl that got naked. That part changed as far as what people's perception is. It changed my life in many ways, especially career-wise, because I got to do Celebrity Apprentice, I filmed a movie with Eva Longoria that will be out this summer. It just spotlights you and puts you more in the public eye and let's you have a voice of your own where and you can say, "This is what I want to do with my future."
CS: In terms of that perception shift; I know you've done a lot of runway modeling before. Is that something that's less of a focus now? Are you in a different kind of category now or do you still want to do more of that stuff?
HD: No, I definitely still walk for designers, I just don't do every designer. I will go and do a walk for one designer exclusively during a fashion week. So I don't work as much on the runway, but I'll walk. I definitely won't stop walking. I also have a television show called Inside Fashion, and that's on E! in Canada. So that's what I was saying, that once you do Playboy, people tend to couch you in that. You're a Playboy Playmate or Playmate of the Year, and they forget that you've done other things because being naked in Playboy I guess is more exciting for some people to say. Or more controversial I should say.
CS: So what advice do you have for the next Playmate of the Year?
HD: Just don't take yourself too seriously. And don't stop there, you have to work really hard. You can't let that be the end of your story. You have to keep working and expanding your brand.
CS: What's a quality or trait of Hugh Hefner that few people get to see?
HD: I think few people get to see that he's so friendly and so sweet. I know that he's helped so many people – which a lot of people I guess would know that. He's just so nice and friendly, and he's not actually the Hugh Hefner that he was when he was 40 or 30 years old. He's a lot more calm now.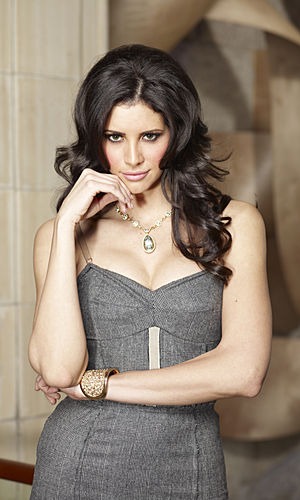 CS: So Celebrity Apprentice started this month. Did you have a positive experience during the whole filming of that?
HD: I did have a positive experience. Compared to all the other people that got into fights and probably now regret it because it's all on camera. I was really quiet, especially in the beginning, and I didn't get involved in all the conflicts that they had and all the fighting. I do a little bit at the end, because it is unavoidable at one point – if you're in a corner you have to defend yourself – but I've never gotten to the point where I regret doing that reality show.
CS: Was it stressful at all?
HD: Oh, it was definitely stressful, because there are people around at all times. You always have a camera on you. You're trying to be the most creative. You want your team to win. You want your charity to win money. Then you're sleeping 3½ to 4½ hours a night and trying to avoid the cattiness that comes with not just the women's side, the men's side too. So that part was a little tricky.
CS: So who are some of the contestants who got into it and had these arguments?
HD: Well, in the previews you can see Meat Loaf and Gary going at each other. Jose and David Cassidy didn't get along. Star Jones and NeNe. Lisa Rinna and Star Jones didn't get along. The only person I've ever had real conflict with, a little bit Star Jones and a little bit NeNe Leakes. But for the most part after the show, we're still friends. My conflicts weren't as deep some of the others. There were some people that probably won't talk again ever.
CS: (Laughs)
HD: The live season finale will be very uncomfortable for everybody.
CS: (laughs) So did you make some friends or allies? People that stuck out during the whole process?
HD: You know, I really, really love Marlee Matlin and I really liked John Rich too. Niki Taylor was another one that was just such a sweet, sweet girl to me. So there were many. I didn't get to know some of them as well as I did others, for whatever reason. Me and Niki were neighbors. Our suites were next to each other at the Trump International Hotel in New York, so we got to know each other really well. Actually my suite was between Gary Busey's and Niki Taylor's, so I'm like caught in the middle. (laughs) Imagine living next door to Gary for however long I was there – I can't tell you (laughs).
CS: Was he the biggest character on the show? I mean you've got Canseco, you've got Little John, Busey ought to be pretty entertaining as well.
HD: Very entertaining to watch, especially if you like to watch people. He is crazy, but he's also really, really smart, too. I mean he says things that are completely off the wall and you're like, "Gary, why would you say that out loud? You sound like a fool." And then he will come up with something just brilliant or then he can start yelling and it's the energy you needed after 10 hours. So I loved Gary Busey and I don't know what that says about me. Maybe I'm a little crazy.
CS: (laughs) And what was Trump like? What was it like spending time with that guy?
HD: Trump is just like you see him on TV. Have you noticed that when you watch him, say on late night television or somewhere where he's just on promoting something, his body language pretty much tells you how he is. If he's in a conversation with somebody he doesn't lean towards them like you would if you were into a conversation. If you study his body language, he's very straight up and in his own space. He might turn his neck towards you, but his shoulders are still squared away from you and that can be very intimidating. So just his body language to be around, for me to watch and observe, was really interesting and it's really who he is. Completely. I mean he doesn't break from character, that's him.
CS: You said you have a film coming out. Do you have a desire to do more acting? More TV and film roles?
HD: I do. My show is in Canada and I would really love to have a project that I'm passionate about here in the US because I wouldn't travel as much and my family could watch it if it was here. The film with Eva Longoria and Christian Slater that I filmed will be out this summer. It's going to be interesting to see how that goes, because one thing always leads to something else, so it's going to be interesting to see what's next. I'm excited and it was really an honor to work with her and him both.
CS: Now you're still super plugged-in to the fashion world, do you see any interesting trends of anything that sticks out this year as something to keep an eye on?
HD: Orange lips. Orange like peach orange, I don't mean bright orange like Halloween orange. Orange on the lips, orange is going to be everywhere. The skinny jean has been around now for like four years and suddenly everything is going to be – not bell bottoms like 70s, but definitely major boot cuts and wide legs. It's all changing come fall.
CS: That's awesome. I'd love to see that return.
HD: (laughs)
CS: I wasn't a big fan of the skinny jeans. Let me ask you this, why do girls love boots so much?
HD: Love boots?
CS: Yeah. Every girl that I know just has the wackiest collection of different types of boots and it just seems like the goofier-looking the better.
HD: Yeah I think because they're, sexy? I don't know. I think we just like boots. They're so interesting. I guess because it's more shoe. Girls like shoes, women like shoes, and if it's a boot, it's more shoe I guess. There's more room for detail. I personally have a lot of boot,s but I can't explain it to you.
CS: No that makes sense. I mean you've got more room to show off a different style point of view.
HD: Yeah, it's like a big statement piece. If you have a thigh high boot on it's like here's my shoe.
CS: I never thought about it like that, just a really big shoe (laughs) that explains a bunch.
HD: (laughs) That's really funny actually, I never thought about it either.
CS: So tell me about Tees by Tina.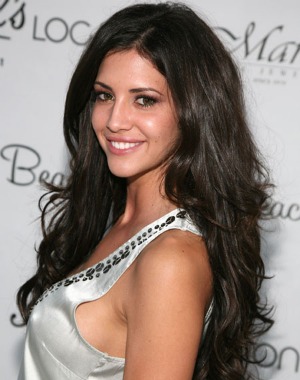 HD: Tees by Tina is one of the endorsements I'm doing. What happened was they sent me tons of stuff to wear on the show, Celebrity Apprentice, and then I fell in love with them and sent them a thank you card like, really I love your shirts, I happen to be wearing one right now on my way to Pilates. Then we just developed this relationship and they said, okay, what if you became the spokesperson for a couple years. I've had a couple things like that going on in the cosmetics field and different endorsements that models get work for. It was a product that I really, really loved and how we came across each other and how we met, the story of it, was also so genuine. I had to do it because I liked the product so much. I'd never want to endorse or try to sell something that I didn't love.
CS: So just last question, is there anything else you're working on now?
HD: Let's see what am I doing now? Yeah, actually there's a cosmetics contract that I just signed. It's for Lola Cosmetics. It's sold at Sephora, and it's very, very big internationally as well. Big here in the US, but it's very big overseas too. I'm developing a bath and body line for them that will be called … well we're still playing with the name, but it's in the developmental process. It's basically Hope Dworaczyk for Lola. They thought since it was a body cream … I don't know. I'm kind of known – as we said earlier in the conversation – for having a body. They thought having a bath and body line incorporating it in with the Lola Cosmetics was good.
CS: Well cool. I also wanted to say I think it's really cool that you're not changing your name ever. I read about that.
HD: That is so sweet. You know what, I got such hell from everybody when I started working. When I was doing runway, they're like, "make your name easier Hope, nobody will be able to say it." I said no no no. And now I'm so glad that I stuck with it. It probably is harder. If I changed it, there would probably be way more people who'd be able to say my name and wouldn't be afraid to say it out loud. When I do press, or I'll have a girl come up to be and be like "oh, you're Hope right?" Most of the time when people name drop, they'll say two names. But not with me, because I know that many people can't say it. But now I'm so glad that I didn't end up changing it.
CS: Well I think as your brand expands and you get more exposure with TV, films, and whatnot, people are going to remember how to pronounce it right.
HD: Let's hope. And if not they can remember that it's just like "Jurassic Park" but with a "D."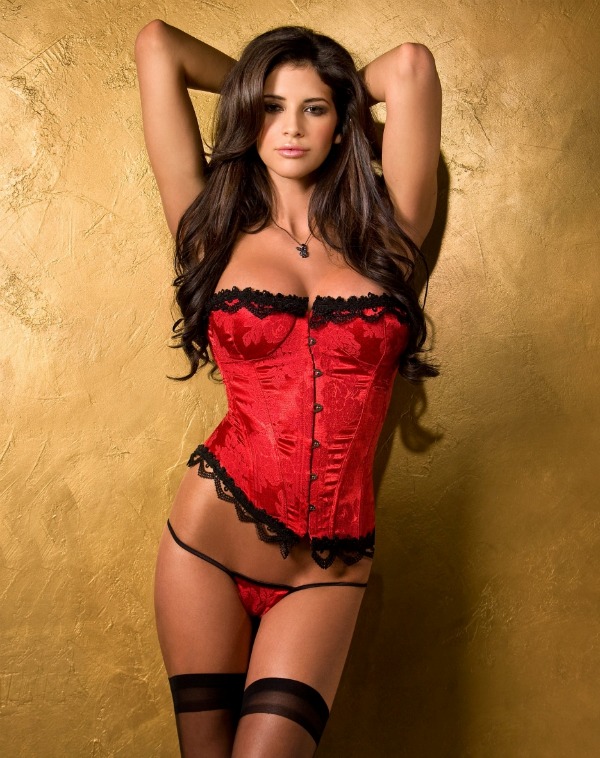 Related Posts
| | | |
| --- | --- | --- |
| | Print article | This entry was posted by Chris Stout on March 21, 2011 at 2:17 pm, and is filed under Girls. Follow any responses to this post through RSS 2.0. Both comments and pings are currently closed. |
Comments are closed.