Posts tagged
Winter Olympics‏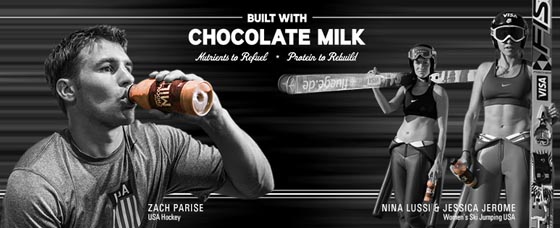 Got Chocolate Milk's new documentary series REFUEL USA follows USA Men's Hockey's Zach Parise and the Women's Ski Jumping Team on their way to compete in Russia at the 2014 Winter Olympics.
In this trailer Parise and the Ski Jumpers talk about what it means to be able to compete internationally and what drives them to perform at their best. The debut episode of the REFUEL USA series introduces the women, their personalities, while giving us an inside glimpse into the world of Ski Jumping athletes.
Ski jumping has always been one of the most thrilling extreme sports, but this is the first year women have been allowed to participate alongside their male counterparts at the highest level. Plus recent studies have shown drinking 16 oz. of fat-free chocolate milk led to greater replenishment of glycogen, a principal storage carbohydrate, in muscles post-workout.