Posts tagged
Mountain Dew‏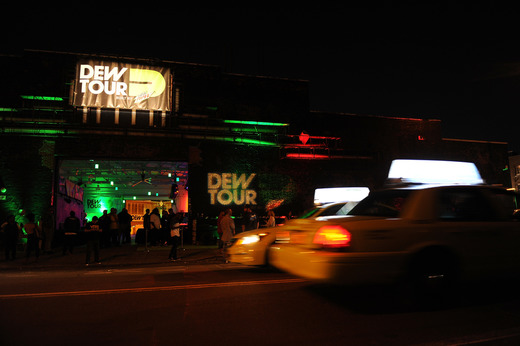 This past week J. Cole and Bleachers performed during Mountain Dew's kick-off party in Brooklyn to celebrate the 10th anniversary of Dew Tour – one of the hottest action sports events, which took place Sept. 20-21 at House of Vans. Questlove also made a special surprise appearance to DJ between sets to get the crowd ready for J. Cole.
Celebs and notable guests attended the event, including: J. Cole, hip hop artist; Jack Antonoff (Bleachers/lead guitarist in Fun.); Questlove, musician and DJ; Zosia Mamet, actress; Sam Worthington, actor; Takeo Spikes, athlete/NBC sports analyst; Paul Rodriguez, professional skateboarder; Danny Davis, professional skateboarding; Scotty Lago, professional snowboarder; Sean Malto, professional skateboarder; Boo Johnson, professional skateboarder; Theotis Beasley, professional skateboarder – and others.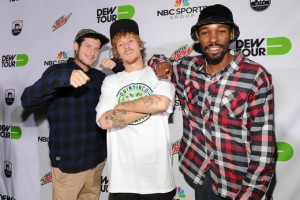 Shutting down Franklin Street in Brooklyn, N.Y. directly in front of the House of Vans, BMX streetstyle set the tone on Sunday for the final day of the Dew Tour Toyota City Championships. Bringing back some of the biggest obstacles such as the shipping container at the start, the Toyota car jump and the 10-stair to close out the course, the crowds were taken back by BMX.
For streetstyle, each athlete receives three attempts at the intimidating course and, although it may not be desired, athletes were encouraged to continue down the course even if they missed a trick along the way. In the end, only their top run counted for their placement.
Moment of Truth
The entire event was full of massive tricks, transfers and bails. As this course can be quite grueling, the athletes realize that despite being encouraged to continue they need to conserve energy in order to pull that perfect run — especially when they see what their competitors are pulling.
The idea to stop and recoup was the route Garrett Reynolds chose on his second run once he slipped up on the beginning of the course. Knowing he was not in the top spot and feeling "completely out of rhythm" after messing up, the pressure was on when he rolled in for his final run. Not to mention Garrett only was able to get 15 minutes of riding in during practice as he was held up in the medical tent waiting to be cleared.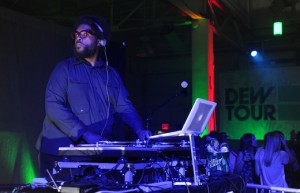 The final came and Garrett went off. He did what he had to, completed his run and impressed everyone on his way to reclaiming his streetstyle title as the original winner of the event.
Top Tricks:
Chad Kerley – feeble grind to hard 360 out off the first box jump, 180 barspin to fakie over the Toyota car jump, crank grind to barspin out off the flat white fence rail, manual through the whoops then up and across the tall long box jump to barspin in and an insane 540 over the planter gap to flat at the end.
Tyler Fernengel – giant truckdriver from the A-frame wedge to roller gap, also a massive tuck no-hander to late barspin on the same gap earlier, tailwhip over the bump to flat and a barspin over the planter gap to flat.
Scotty Cranmer – tailwhip in off the shipping container, backflip tailwhip over the first box jump, enormous double tailwhip from the A-frame wedge to roller gap, double tire ride to barspin out on the Toyota bench and an over double peg on the 10-stair rail.
Dennis Enarson – feeble grind to opposite tailwhip off the shipping container, truckdriver to flat over the Toyota car jump, double tire to tailwhip off the flat white fence rail, 180 tailwhip to flat off the A-frame wedge, feeble to barspin off bump to out ledge and a double tire down the 10-stair handrail.
Winner's Top Tricks:
Garrett Reynolds – feeble to truckdriver in off the shipping container ledge, opposite 360 lookback over the first box jump, opposite tailwhip over the Toyota car jump, barspin 180 to crooked grind to 180 out off the flat white fence rail, truckdriver over the A-frame wedge to flat, barspin ice pick and a tailwhip over the 10-stair handrail to flat.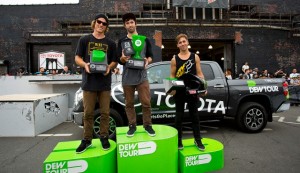 Winner's Quote:
"This event is really fun because you cruise down a hill and you hit what comes your way. It sounds cliché but it feels like you are riding in a video game because no skatepark is this long and you just keep hitting fun stuff the whole way. I have more fun riding this contest than I probably will for the rest of the year." — Garrett Reynolds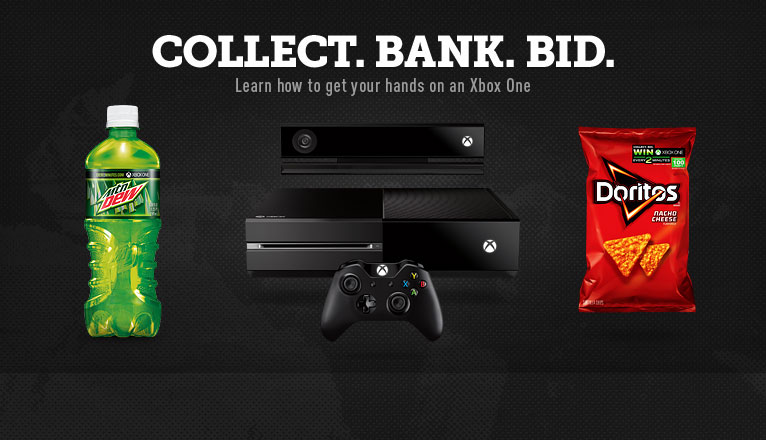 With the holidays upon us, one thing is on everyone's mind – scoring the must-have items of the season. To give fans everywhere a fighting chance to get their hands on this year's coveted entertainment system, Mountain Dew and Doritos are giving away thousands of Xbox One entertainment systems from November 5 to December 9 via nightly online auctions at Every2Minutes.com.
Instead of skipping out early on Thanksgiving dinner to trek to the store or spending Black Friday elbowing other over eager shoppers in line, Every2Minutes.com offers a convenient and interactive way for consumers to cross the Xbox One off their must-buy list.
Here's how the auction works:
·         Participants collect points on specially-marked DEW and Doritos products
·         Collected points are then banked as auction currency at Every2Minutes.com
·         Beginning November 5 to December 9, auctions take place every two minutes from 9PM – 2AM ET
·         On Black Friday only, an auction will take place every two minutes for 24 hours!