Posts tagged
Akitio Cloud Hybrid Review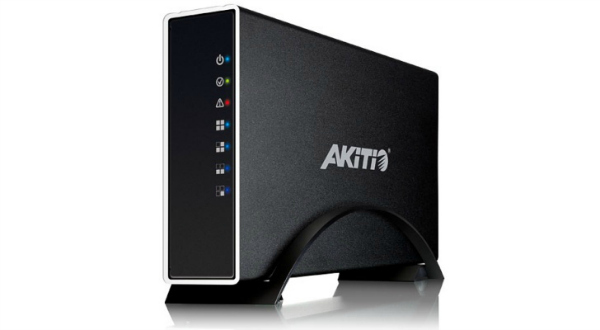 Remember when a few gigabytes used to be a lot of disk space? Yea, me neither. If you're like me, you've probably accumulated an insane amount of digital data over the years. It's probably spread across multiple hard drives – internal and external – in way that's not really super-organized. I started downloading music in Napster days and never looked back. And with so many other digital toys and file sharing options out there, it's easy to build up a couple terabytes worth of stuff that you want to have access to.
So you try to consolidate. You pull stuff from old towers and dusty, unused laptops. You keep all this digital data with you and it usually just sits on another hard drive that's tethered to a desk somewhere. You can try using USB sticks and DVDs to move data around, but you're usually still tethered.
Well you don't have to be tethered any more. It's time to get your personal digital depot into the cloud, man. The Akitio Cloud Hybrid can help you do this in a quick and painless way. The Cloud Hybrid is an enclosure that functions as a NAS network drive, so you get the benefits of a direct attached storage device (DAS) that can also function as a great source for streaming media around your home.
The coolest part of the Cloud Hybrid is having the ability to stream digital content to your phone or tablet device. I personally hate synching up my iPhone and iPad to my desktop. It's just such a cumbersome process. All you need is the free mobile app (iPhone, iPad and Android apps available) to fire up the connection. You can access the network drive from a web browser (at MyAkitio.com), local network or remotely.
Installing the NAS/DAS is pretty simple. The unit supports a single hard drive up to 3TB. If you've ever used an enclosure before, it's a pretty straight forward process for connecting the HDD. The USB 3.0 cord that comes with the unit supports transfers of up to 5GBs.
Expanding your mobile device to up to 3TBs of stored data is just sick. It's also pretty sweet that the Cloud Hybrid supports stuff like iTunes, PS3, Xbox 36, Windows 7 and DLNA certified UPnP clients. The unit retails for $99. If you're ready for more access to all your digital files and you can handle the simple set up, it's an affordable option for what you get out of it.