Thomas Ellenbogen
This user hasn't shared any biographical information
Posts by Thomas Ellenbogen
As a follow-up to the Jaime Pressly's Cleans Your Balls video, AXE has come out with another video that promotes AXE Detailer's ability to keep your balls clean. Check out the Axe Clean Your Balls Press Conference:
Denzel Washington's son, John David Washington, is trying to make it back to the NFL. He was originally picked up by the Rams as an undrafted free agent. Now he plays running back for the Sacramento Mountain Lions of the United Football League.
On a recent touchdown run, John David's mom was running down the sideline cheering her son on. That's when she got flattened by a UFL linebacker. Here's video of Denzel talking about his wife getting rushed on Letterman: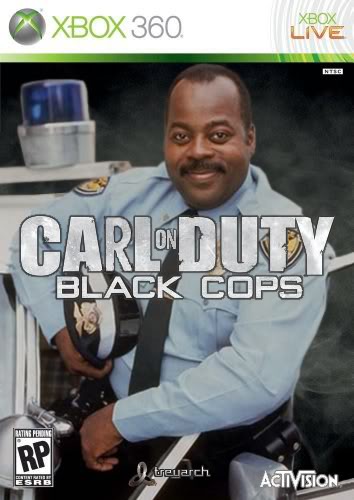 Via Imgur
http://i.imgur.com/FJLYw.jpg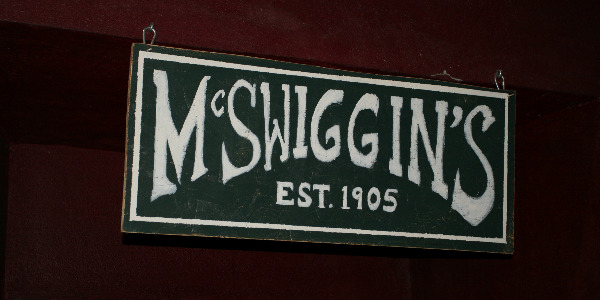 Last July, we told you about a fun play at the Dragonfly in Hollywood called Drunk Talk. The play takes place in a bar called McSwiggins, and the theater is set up so that the audience feels like they're sitting in an actual bar watching everything unfold. The viewers become a part of the action. Actors interact with audience tables. Everyone in the place raises their glasses for a toast whenever the name of the bar is mentioned. There's even a group shot that gets passed out to everyone in attendance. It's a clever concept, a good story and plenty of laughs all around.
Starting November 7, Drunk Talk is back. Tickets are cheap – $15 at Brown Paper Tickets. If you want to have some weekend fun, don't go see a lame movie.  Make your way to Hollywood and enjoy the McSwiggins experience.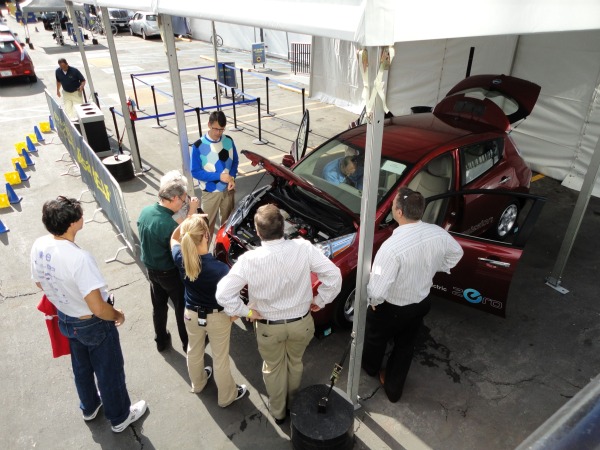 A couple weeks ago, Nissan brought the Drive Electric Tour to Los Angeles to showcase the 100-percent electric Nissan LEAF. The Drive Electric Tour is the biggest EV driving effort in history. It's a 23-city tour that gives consumers the opportunity to learn about the Nissan LEAF and it's technology and features.
The LEAF (which stands for Leading, Environmentally-friendly, Affordable Family car) has an expected all-electric range of 100 miles. It produces no local air pollution and has a total cost of ownership that improves over time because of rising gas prices. The LEAF has an MSRP of $32,780, but with federal tax savings factored in (up to $7500), the price for the vehicle can be as low as $25,280. Not bad for a car that never needs gas.
The Drive Electric Tour will head to San Francisco from November 20-28 at the SF International Auto Show. If you want to check out the tour, take a look at the ride or schedule a test drive, check out the Drive Electric Tour Schedule at NissanUSA.com.

Four games after trading away a third round pick for their former franchise superstar, the Vikings cut Randy Moss today. Anyone who saw Randy Moss's post game press conference in New England knew that all was not right with Moss in Minnesota. Moss repeatedly said how he missed the Pats and went out of his way to praise head coach Bill Belichick. Here are some highlights from Moss's post game rant:
"I really haven't had a chance to really talk to the guys, so this was no disrespect to the Minnesota Vikings and their organization. The captains — Wilfork, Tommy Boy, Mayo. Am I forgetting somebody? Kevin Faulk. Man, I miss them guys, man. I miss the team. It was hard for me to come here and play. Been an up-and-down rollercoaster emotionally all week. And then to be able to come in here and see those guys running plays that I know what they're doing, and the success they had on the field, the running game — so, I kind of know what kind of feeling they have in their locker room, man, and I just want to be able to tell the guys that I miss the hell out of them. Every last helmet in that locker room, man."
"To the New England Patriots fans, that ovation at the end of the game — that really felt heartwarming. I think I actually shedded a tear for that. But like I said, man, it's been an emotional rollercoaster this whole week. I tried to prepare. Tried to talk to the players and coaches about how this game was going to be played and a couple tendencies here, couple tendencies here. The bad part about it — you have six days to prepare for a team, and on the seventh day, that Sunday, meaning today, I guess they come over to me and say, 'Dag, Moss, you was right about a couple plays and a couple schemes they were going to run.' It hurts as a player that you put a lot of hard work in all week, and toward the end of the week, Sunday, when you get on the field, that's when they acknowledge about the hard work you put in throughout the week. That's actually a disappointment."
"Do I know what next season and the future's going to bring? No, I do not. But all I can say is, man, it's a lot of work that we leave on the field each day. It's a lot of film study that we leave in that room each day. I know how hard these guys work here in New England, and (all) that I really tried to do is take what the best coach in football history has brought upon me, or the knowledge that he's given me about the game of football, and I tried to just sprinkle it off to the guys the best way I know how."
"I don't know how many more times I'm going to be up here in New England, but I'm going to leave the New England Patriots, Coach Belichick, man, with a salute, man. I love you guys, I miss you, I'm out."
All that must not have gone over too well with Moss's most recent former coach, Brad Childress. Moss acted like he was angling for a return to New England next season, and now he's a Hall of Fame player with declining skills looking for his third team this season.
Someone will pick him up. The true winner in this situation is the New England Patriots. They took some heat for cutting the cord on Randy, but they basically turned a four game rental into a third round draft pick. I think it's unlikely that Moss returns to New England, but the team has proven time and time again that it knows how to make the super-shrewd moves, so anything is possible.
If the Brian Wilson video from earlier today wasn't enough to convince you that the dude's totally bananas, here's more proof to support the notion that Brian Wilson is Kenny Powers in real life: